Camas Organic Market holds open house in March
by
Douglas Wilks Clark Fork Valley
|
March 15, 2017 12:50 PM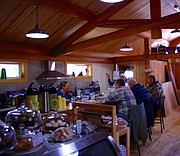 The Camas Organic Market recently completed a two-year remodeling project that added more space and a café to the business in Hot Springs. The 40-foot wood and concrete extension has a lunch counter where customers can sit visit with each other and the cooks, as well as sample some of the foods on the menu. There are several large deli cases, and many clear glass and plastic bulk food bins where customers can dispense the amount of foods they would like to purchase. What appear to be hand made baskets can also be seen in many places in the new wooden extension, which has the café on one side of the room. There are also wooden tables and benches near the back wall where customers can look out several of the windows as they eat their meal.
The café has a breakfast and lunch menu, which has many of the ingredients being organic. Customers can sit at the counter with their books or newspaper and watch their food being made. The cook prepares many of the foods from scratch in the café's kitchen, using traditional cooking techniques, including baking, pan-frying, and boiling. The café has daily lunch specials, gluten free and whole-wheat grain breads.
"There are 35 organic food producers between Arlee and Kalispell. Most of the food in the store comes from them, except for the apples and oranges. We get the apples and oranges from California, Texas, Washington, and Oregon," Ronniger stated. "This spring when things dry out we will have outdoor seating in back here on the outside deck. That will probably in early or middle of May. We will have an open house the entire month of March. The 31st will be the last day of the open house."
Reporter Douglas Wilks can be reached at dwilks@vp-mi.com or 406-826-3402.
---