Boukal performance expands the mind to infinity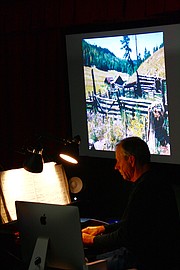 Rudi Boukal played to a large audience in The Paradise Center Thursday, March 16. Boukal is an enthusiastic, nervous, and persistent explorer who is also a musician, storyteller, and very inspired and inspirational. His music was a combination of classical, jazz, and experimental interspersed with his own life experiences, wisdoms, and stories of what inspired each musical piece he played on the keyboard. The music he composes and plays comes from a variety of life experiences he has had with family, friends and people he has never met face to face.
"When I practice, I learn to listen. When I write my music I am inspired by many things; living here in this valley, the people I meet, the art I have seen, my family, friends, and my own life," he said.
The first piece Boukal played Thursday was based on a painting by local artist, Katy Walton. As Boukal played the keyboard, a PowerPoint slide show revealed the title of the music, "Days Gone By" along with photographs and scans of artwork that were of a western theme and some were of locations in western Montana.
His second piece of music was much more personal and emotional, as it was based on his own life lesson when learning of his sister-in-laws diagnosis of stage four ovarian Cancer. He shared his thoughts and feelings with the audience before he played "Janet's Song,"
"This was a very, deep, long, and tough lesson about how to just be and not have to do or say something," he said. "The most important part of the journey is to walk. So often we feel we have to do or say something."
As Boukal played the music on the keyboard, his eyes were closed and he appeared to be recalling that challenging time. When he finished playing, there was a silence and one woman nearby could be heard saying, "I was in tears, this was vary personal and moving for me."
Boukal discussed how the composers like Bach and Beethoven would discover how different musical notes would flip and flop. He mentioned how the night music of Beethoven's "Moonlight" and Claude Debussy's "Clair de Lune" were so very different in musical keys, though he wanted to combine them into one long version he called "Evening Song." This piece featured a slide show of the stars, moon, nebulas, and other images from space.
Boukal played one of his experimental pieces of music, which had a mix of rhythm and blues, jazz, and classical mixed together at different times. The title and origin of the music has a unique background story, which he told to the audience.
"For my 60th birthday I wanted to create something jazzy," he said. "This piece I call "F" because it begins and ends in the key of F. It is not written down and I keep experimenting with it. It is my favorite, because it really relaxes me."
The next musical piece was a combination of a ballad, a memorial, and a haunting melody that was accompanied by slides of Boukal's family from many years ago. He explained the significance of the photos and how his life experiences of his marriage, raising children, and a divorce were all very inspiring to him and were things that helped him to create his music. Boukal stated before sharing the music and photos of his family.
As the photos appeared on the screen some people laughed at funny family moments, while others in the audience listened quietly.
Boukal spoke about a photograph of a feather he had seen. He contacted the photographer in the United Kingdom to get her permission to use her photography in collaboration with his music, which he wrote based on that one photograph. The music was titled "Tilley's Waltz" named after the photographer, Lisa Tilley.
After the final piece of music Boukal spoke about his belief about the arts and why they are so very vital.
"Art expands the mind and begins to explore the mystery. Art gets your mind to look at infinity and being comfortable not knowing," he said.
Boukal has been going into the schools and will have gone to all five schools in Sanders County to share his music with students and discuss how important the arts are to helping students in their education.
Recent Headlines
---