Superior Meats to use CDBG loan to expand business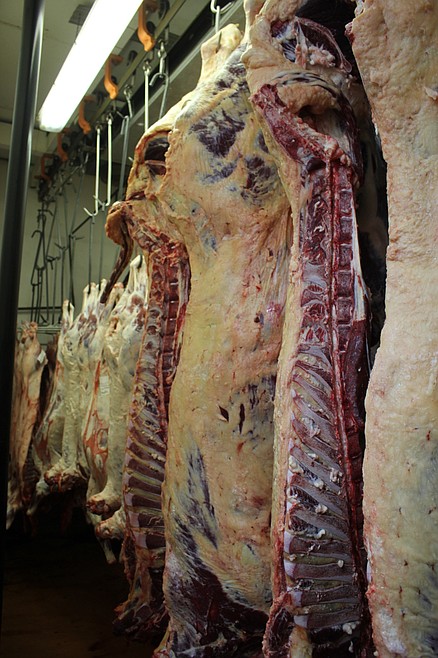 Beef, pork and sheep hang in the coolers for processing. Jerry Stroot, owner of Superior Meats, plans on doubling the size of company's coolers with funds from a CDBG grant loan.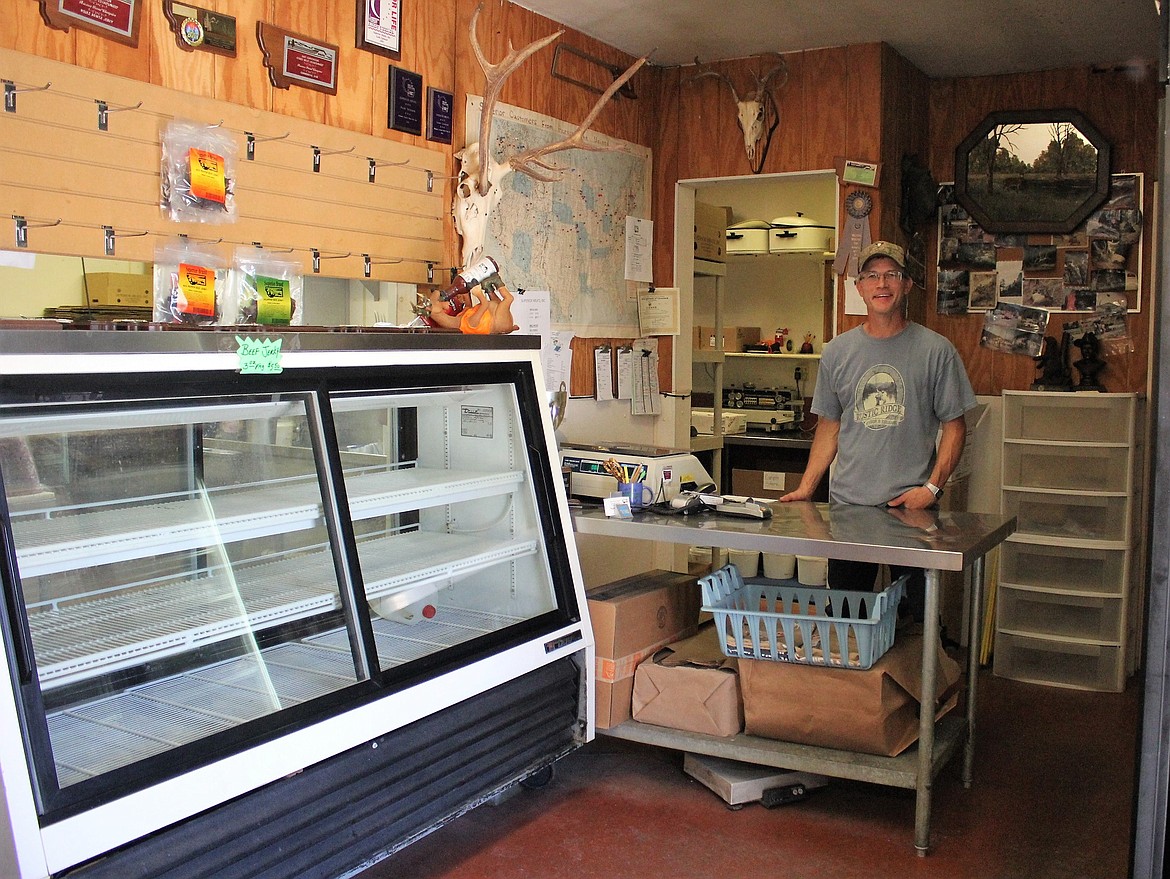 Superior Meats owner Jerry Stroot stands behind the counter in the processing plant's small retail space. With a recent CDBG grant, he plans to expand the retail area by 50 feet. (Kathleen Woodford photos/Mineral Independent)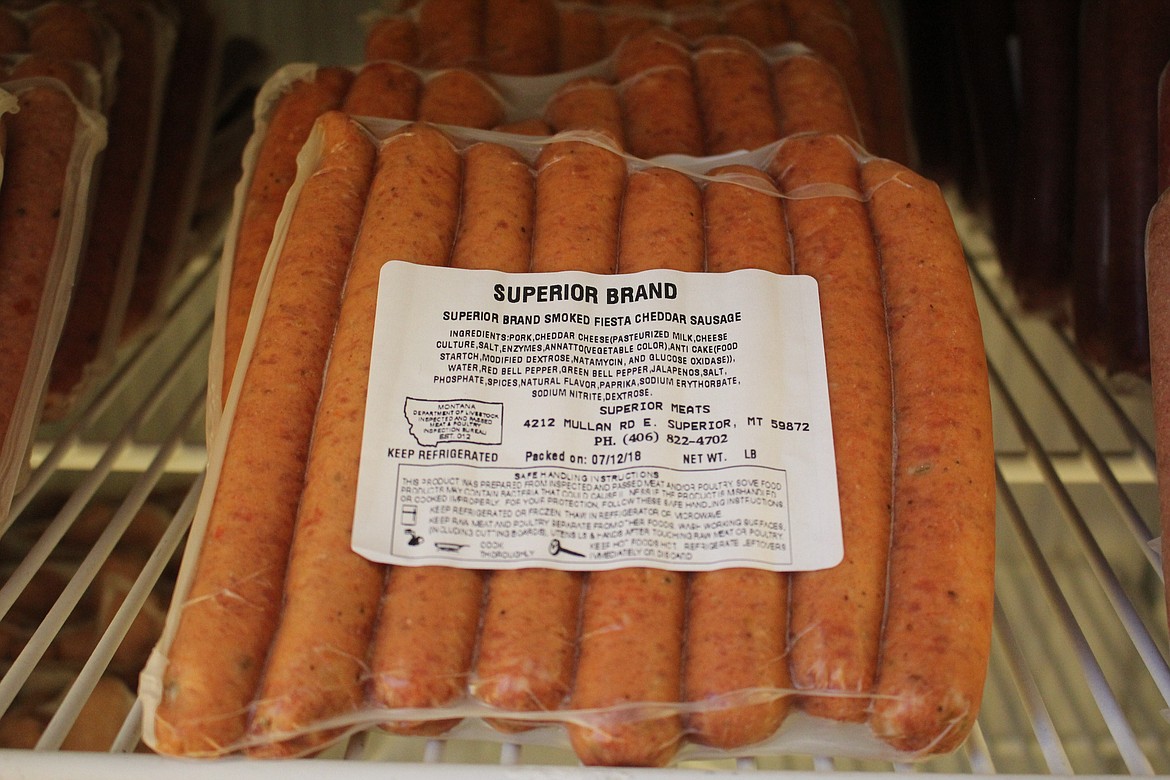 Summer Sausage, jerky and barbecue sauce are just a few of the products offered for sale by Superior Meats, along with cuts of beef, pork and chicken.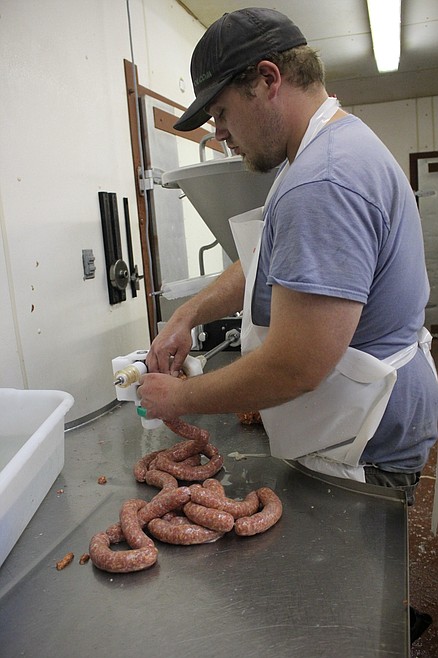 Superior Meats employee Josh Slavin fills sausage casing with a mixture from a recipe handed down to owner Jerry Stroot from his father.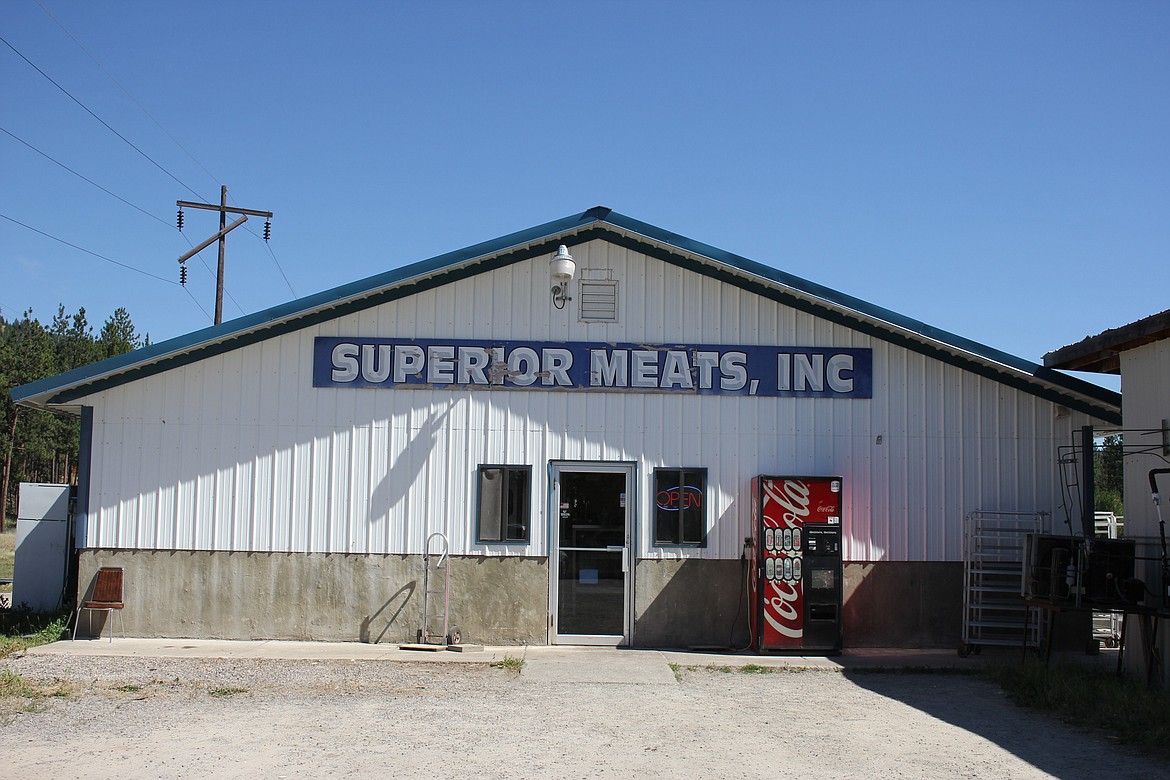 Superior Meats recently received a $200,000-plus Community Development Block Grant to expand its business. This is a 2-percent interest loan for 10 years.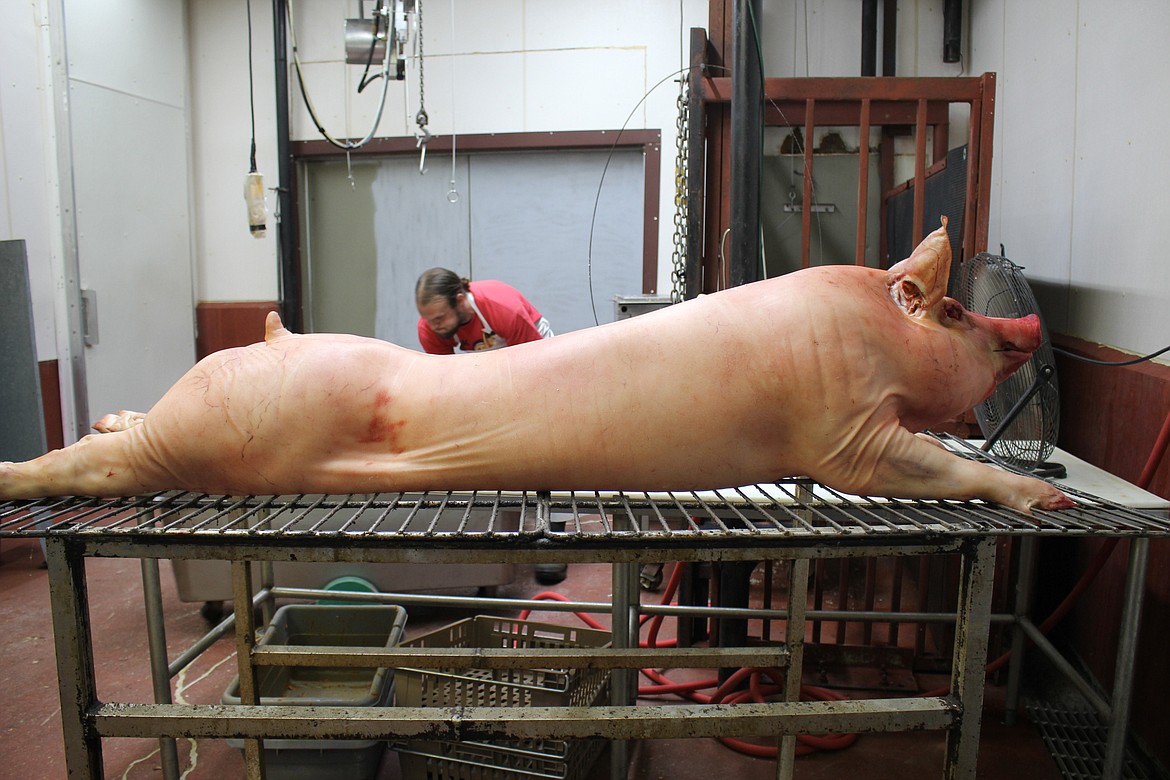 A pig is ready to be roasted for a wedding reception at Superior Meats as employee Russell Anderson throws hams in a tumbler for smoking.
Previous
Next
by
Kathleen Woodford Mineral Independent
|
July 18, 2018 4:08 PM
At Superior Meats, an entire pig sits prepped and ready on a stainless steel table in the back room. Waiting to be roasted and become the celebrated main course at an upcoming wedding reception. Next to the table, employee Russell Anderson throws hams into a tumbler. The hams had just been infused with brine in a machine where they are taken by a conveyor belt to an infusion device. A device which has several long prongs that pierce the meat and fills it with brine.
Hams are then tumbled for an hour and then sit for two days before they are smoked for another 10 hours. These are just a few of the activities this small slaughter and processing plant accomplish in any given day.
"Mondays and Thursdays are slaughter days and we process anywhere from 22 to 25 animals," said owner Jerry Stroot.
Jerry started his business in the mid-1990s when he moved into the area with his wife, Sandy. Now the successful business is starting to outgrow its facility. Jerry recently was the recipient of a $204,892 Community Development Block Grant (CDBG) loan through the Montana Department of Commerce. This is a low-interest, 2-percent, 10-year loan which will give him the chance to expand his operation with plans to hire 10 new full-time employees. This will be added to the approximately 13 employees they currently have on staff.
Superior Meats offers catering, retail and wholesale involving a variety of meat and meat related products. It is one of nearly 50 state-inspected plants across Montana, and one of only 20 plants that has both slaughter and processing. The rest of the plants are "single product," cater only to prisons or schools, or are "processing-only" facilities.
The small plant has nearly triple their sales since 2013. "We are overloaded and have no more space," Jerry said. "We're having a hard time keeping up with our orders and getting work done."
The blue building located just south of Mullan Road East has a tiny retail space with a couple of product coolers. In the back there is a small processing room and beyond that, two coolers and a slaughter area.
The initial loan application was for $350,000 but the amount was reduced to approximately $200,000 because the application did not meet all of the federal requirements. Grant applications need to be submitted by local government entities for development and preservation projects. Projects can range from affordable housing, to plans that help create and retain jobs.
"Job creation in any corner in Montana is important and supporting a business like Superior Meats helps to spurs growth in the local economy," said Jennifer Olson with the Department of Commerce. "In a low-income and high-poverty area like Mineral County, this is critical to the ongoing economic development. Jobs like this not only benefit Superior Meats but it also has ripple effects to the county, surrounding towns, region and state."
There is no minimum for a loan application, but the maximum that can be awarded is $400,000.
In 2017, Superior Meats processed 77,000 pounds of beef and pork in one three-month period, and averages 40 to 50 hogs per month. Approximately 150 animals are processed a week, "August will be a busy month because we will process animals from four county fairs," Jerry said.
This includes 4-H beef, sheep and hogs from the Mineral County Fair, around 80 from the Missoula Fair; animals from the fair in Deer Lodge; and approximately 50 from the Sanders County Fair; plus another 100 animals from across the state.
There are not a lot plants that do the work that Superior Meats does. "We take pride in what we do and we do it well," Jerry said about their success.
Back in the coolers there are rows of beef, sheep and pig carcasses hanging from large, metal pins. The freshly slaughtered meat hangs in a separate room from those already hanging. At a steady 37 degrees, the fresh carcasses need to cool down before being hung with the others. After a week, the meat will be processed.
JERRY PLANS on expanding the 44-foot coolers to 90 feet, nearly doubling its capacity, plus expand the slaughter room. He also wants to add 50 feet to the front retail section of the building. In the coolers, hamburger, steaks and other cuts of meat are available for sale.
During a tour of the facility, employee Josh Slavin was busy filling sausage casings, a popular Superior Meats product. Brats are a new product and the flavors were created from Jerry's original recipes. Recipes he has been working on since he was a sophomore in high school. Another product recently introduced is skinless hot dogs.
These will join other delectable treats such as beef jerky, bacon and barbecue sauce with names like "Sweet Fire," "Honey Kist" and "Bold Smokey." Some of these are made from recipes handed down through the family, like their popular summer sausage. Jerry's father was also in the meat business in Kansas, and so was his grandfather who originated from Germany. At a recent meat convention, Superior Meats entered 15 products into competition and placed in eight categories. A testament to their dedication: "I'm amazed that we've come this far. We just have a great crew working for us, they are just superior people," Jerry said.
IN ADDITION to sales at their shop, Superior Meats can be found in other stores, including Castles in Superior, and Orange Street Food Farm in Missoula. They also sell wholesale to other stores and restaurants where a truck makes deliveries three days a week as far away as Helena and Bozeman.
Jerry's son Travis, 27, is in charge of sales and marketing and with the expansion it will give him the opportunity to grow the business even more. Travis is one of three of the Stroot children. Josh Stroot works for the Superior Ranger District, and daughter, Nichole, is currently attending a university in Oregon where she is studying to become a veterinarian. All three graduated from Superior High School.
Superior Meats gets most of its meat from local ranchers including Haver, Butte, Charlo, and chickens from the Hutterites. Another area that has the potential to expand is their catering business.
"WE DO a fair amount of catering; for example, we have two events this weekend in Missoula where we'll be feeding over 500 people," Jerry said.
But at this point they don't have the room or the manpower to expand the catering end of business, and currently have to turn customers away.
With the $200,000-plus Community Development Block Grant, plus an additional $150,000 loan, Jerry hopes to get expansion plans started soon. The CDBG paperwork will be completed this week. The entire process took about nine months from submitting the application to receiving the loan.
Jerry said he appreciates all the work Emily Park from the MSU Extension Office did, as well as the county commissioners, County Planner Tim Read and House District 14 Rep. Denley Loge in helping with this loan and his business plans.
---