COUPLE ARE THE NEW OWNERS OF TWO PLAINS EATERIES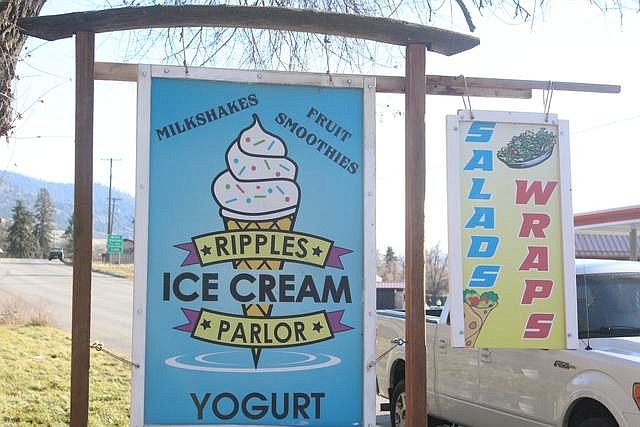 RIPPLES ICE CREAM sign in Plains.
(John Dowd/Clark Fork Valley Press)
by
JOHN DOWD Valley Press
|
November 27, 2019 1:00 AM
Ripples has been a staple in Plains for and in September it came under new ownership.
Bill and DeDra Bradley moved to Plains a little more than two years ago and have loved living here ever since. The pair moved from Bismarck, North Dakota and purchased a farm just outside of Paradise.
One of the first things DeDra fell in love with was Ripples. She adored the small-town store atmosphere and entertained the idea of one day owning it. Many months later the day came when she heard from a community member that Ripples had come up or sale and that it had been purchased already.
In somewhat of a panic, she journeyed to the store to ask the previous owner if the rumor was true. He said it was not, however that he would sell it if she was interested. Soon, DeDra and her husband became the proud new owners of the little ice cream shop just at the edge of town.
Ripples is not the only place the couple owns in Plains.
In May the couple bought Heather's Country Cooking. Heather's has been out of commission for several years and Bill decided that it could be not only a good investment, but a great way to give back to their newfound community.
Bill plans to open the restaurant, if all goes well and quickly, by the new year and has many big plans for the little eatery.
Heather's has been renamed the Farmhouse Café and it will be open seven days a week from 7 a.m. to 8 p.m. The hours are subject to change during the summer months. They have hired a new cook, Kelly Hamell, who worked for several hotels and is said to be a fantastic cook. The little restaurant should also provide many more jobs for the community.
The Farmhouse Café will have a simple menu. Bill wants his restaurant to put its energy into a few options, instead of tiering itself out on a vast menu of choices. He says that he wants it to be traditional Americana country food.
"The basic staples," he says, "keeping the menu simple and doing it well."
He wants to keep his food at a reasonable price, as well as to provide a reasonable, and different, alternative to increase the variety of restaurants in the area.
Bill is also planning on eventually adding a back porch to the café, giving customers a view of the mountains behind the town while they dine on their "good ole country cooking," as Bill explained.
In traditional divide-and-conquer style, Bill manages the café and DeDra takes care of Ripples. The two places will possibly share in some merchandise and assets, however, will still stand alone. DeDra wants to keep Ripples the same as it has always been and has in fact kept the same staff in order to do so. She explained that she learned how the place works from them.
Dedra hails originally from Utah, and Bill comes from Missouri. Bill worked construction for many years as a project manager and worked on many large-scale projects throughout the U.S.
DeDra was a school substitute and took most of her time raising their three kids. They, like many, have fallen in love with the charm of the northwest and Montana and hope to give back to their new community.
---