Trotters volleyball team will bank on attitude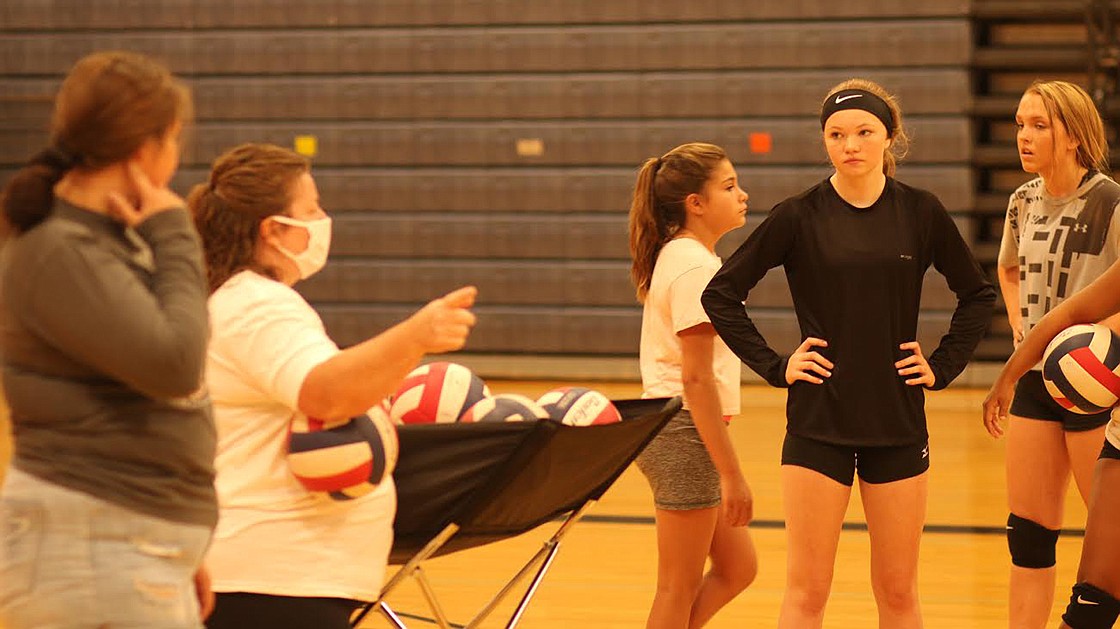 Plains volleyball coach Jesse Butcher directs a recent practice. (Chuck Bandel/Valley Press)
by
Chuck Bandel
|
August 25, 2020 5:42 PM
This year's Plains High School volleyball team will have a very different look than the 2019 team.
Gone are six key seniors, including all-everything Kylee Altmiller, a 6-foot-2-inch force at the net who was also a star on the basketball court. Also missing from this year's team will be four-year letterwinner Miera Loberg who also graduated this past spring.
But head coach Jesse Butcher has a solid group of replacements waiting in the wings.
"We will definitely have a different look this year," Butcher said. "We had a lot of height last year, but this year our tallest player is 5-10. This year's team on average will be the shortest we've had in 10 years."
That lack of altitude will be replaced with attitude, Butcher said.
"We will be quicker and more aggressive than before," she said. "I don't feel we will be any less of a team than last year."
A large group of underclass players give Butcher reason for hope. As of last week 22 girls had turned out to compete this year. As opposed to last year, the 2020 Lady Trotters have only two seniors on the roster.
Now entering her 12th year as Plains' volleyball coach Butcher and her team will kick off the 2020 season with a home match against Noxon, one of the early season conference favorites.
"Noxon will be strong this year," she said. "And Charlo is always tough, along with Hot Springs. It will be a very competitive conference."
The Trotters and Lady Red Devils played Tuesday at the Plains gym.
"This is always a tough district for volleyball," Butcher said. "But our strength this year will be our competitiveness."
---