Plains' Bean Bug wants to spread good food and cheer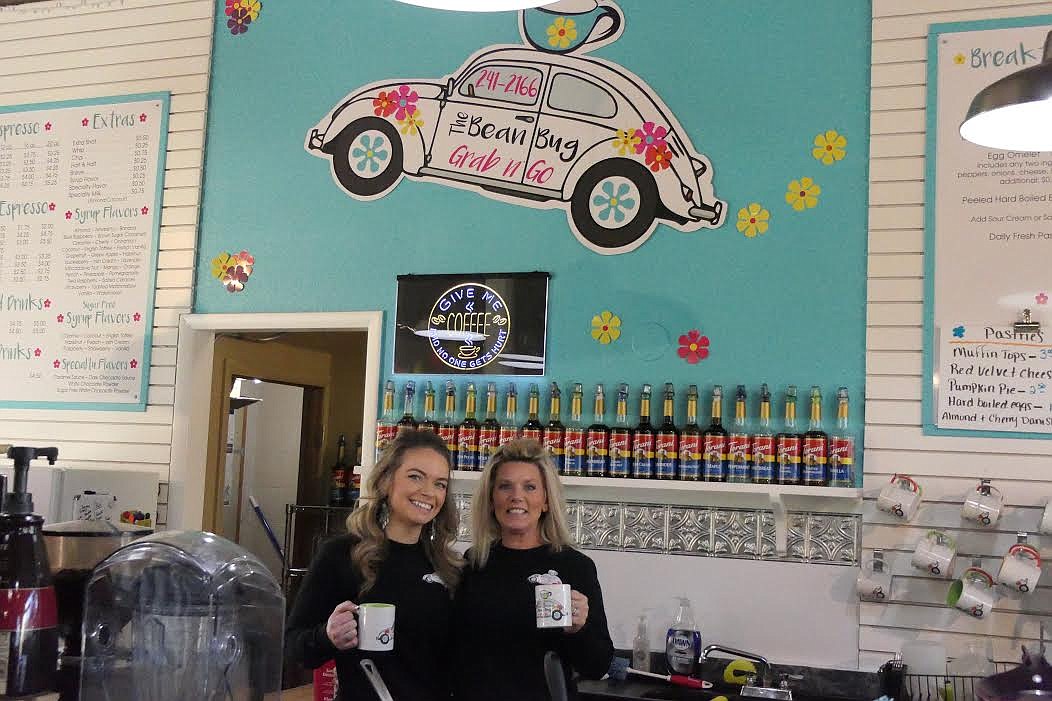 Business partners Suzy VonHeeder (right) and Emmalie Galvak (left) in their new establishment in downtown Plains. (Chuck Bandel/Valley Press)
by
CHUCK BANDEL
|
December 9, 2020 12:00 AM
They bill it as a "grab-and-go" type business. A quick stop for coffee, breakfast, lunch and baked goods.
Call them up and your order will be ready and even brought to the comfort of your vehicle when you arrive.
But the real magic of the Bean Bug is on the inside, where good karma reigns supreme and smiles are in abundance.
"We want to spread some cheer, to make people smile," said co-owner Suzy VonHeeder, who along with her future daughter-in-law Emmalie Gavlak recently took over the business that was formerly known as the Dog Hill bistro. "God knows we could all use more cheer in our lives."
The new business, which shares space with Mountain West Clothing in the same structure that houses McGowan's Grocery, features daily lunch specials, hearty breakfast choices and a wide range of specialty espresso and coffee drinks.
VonHeeder, former owner of the Circle drive-in and the Farmhouse Restaurant, is a veteran of the Plains hospitality scene. Gavlak left her job as a teacher in Thompson Falls to join the venture, which officially opened Dec. 1.
After several months of remodeling, they created a bright, open space with indoor and seasonal outdoor seating. The interior retains its openness to the clothing business, creating separate shop and eat business in one large space.
"People can come in and place their order, then go shopping for clothing and other items while they wait," VonHeeder said. "We want to provide a happy environment for people who want to get something quick and be on their way while at the same time offering a good place to sit and relax."
The two soon-to-be in-laws said they weren't really planning on going into the restaurant business but circumstances came together that made it possible.
"This kind of fell into our laps," she said of the deal that became available when the previous owners decided to sell. "In our opinion it was just perfect timing and both Emmalie and I felt it was right for us."
Gavlak was a teacher in the Thompson Falls school district for three years before the big change in her life's work.
"The whole covid and quarantine thing created a lot of time for both of us to think about what we wanted to do," Gavlak said. "It took a lot of work to get to this point but we are both the same in our thinking that there is so much negative these days and we can hopefully make people smile while providing good food and good service".
VonHeeder said the name of the new business was the result of her love and remembrance of happier times from the 70s.
"I always loved the '70s and the whole disco, colorful thing," she said. "I also have always been a fan of Volkswagon busses. The name Bean Bug came from the idea of putting a coffee pot on top of a VW beetle."
That creation, which is part of the business logo as created by The Printery, will soon become a delivery vehicle as the venture expands to include outside delivery service.
The Bean Bug is open Monday through Friday from 7 a.m. to 4 p.m., and 8 a.m.-3 p.m. Saturdays.
The partners offer a different lunch special every day, such as Oriental chicken as was the case this past Thursday and tacos earlier in the week. They also serve breakfast six mornings a week including waffle and egg omelets.
The daily menu also offers two kinds of soup each day.
They are counting on ambiance in the form of smiles and happiness to keep the customers coming.
"People don't like coming into a place where the people who work there don't look like they want to be there," VonHeeder said. "We like what we are doing and hope our customers feel good about coming to the Bean Bug."
---