Alberton Farmers' Market a sweet step back in time
by
MONTE TURNER
Mineral Independent
|
July 30, 2020 5:55 PM
Every Thursday evening from 5 to 8 during summer the town of Alberton seems to revert back in time.
It might be a weekly farmers' market, but the atmosphere is extra care-free and casual.
"Everybody here knows everyone's first and last names. These are our friends and neighbors," smiles Michael Davidson, owner-farmer of Crescent Ridge Farm.
Davidson's farm grows veggies and flowers and he has a good clientele in Missoula that he delivers to, but his heart is in Alberton. A former Fish, Wildlife and Parks fish biologist on the Blackfoot River, this is his fifth year at the Alberton Farmer's Market.
Kavita Bay, owner of Rivulet Apiaries with her husband Justin, serves fresh squeezed lemonade and has a generous supply of their different honeys and health products.
Steve Gregory and his son Brian set up their table in the shade of a big maple tree selling zucchini relish, pickled garlic and eggs. "My daughter-in-law, Racheal, brought over some duck eggs but they were snatched up in the first 10 minutes," said Steve.
Werner's meat snacks were next to him with Montana-made jerky and pepper sticks.
Quilts were on sale at the far end just past Janis Lasky's booth where she has copper bracelets that she makes in Arizona over the winter. She and her husband are reverse snowbirds with their home in Tucson, but they are in their second year as volunteers at the Nine Mile Visitor Center.
"The people are so genuine and friendly in this area. We came on a fluke a couple of years ago but now it's our summer-home with our fifth wheeler parked by the center."
Other jewelry booths are set up and baked goods are a big seller at several with a variety of goodies. Anna Smith is a volunteer across the Clark Fork River at the Northwest Indian Bible School where she and her husband have lived for eight years. Their children are instructors, and their grandchildren all attended the school but are now grown and gone. Her lattice top pie crusts belong on the cover of Good Housekeeping as she has been selling them for three summers in Alberton. As Davidson had said that everyone knows each other, it's not a clique as visitors from Maine were made to feel welcome with laughter and wonderful conversation. A yellow lab meanders around the crowd while children are playing in the grass of the front lawn of the Senior Center/Library.
Usually live music is heard but not this Thursday as ominous clouds did keep a few regulars home. An evening market on a weekday might seem unusual, but it sure has been the hot ticket for Alberton each summer.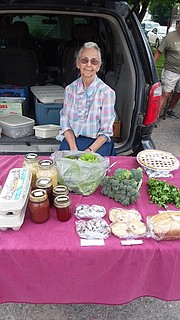 ---