Fixing water, sewer systems is uphill battle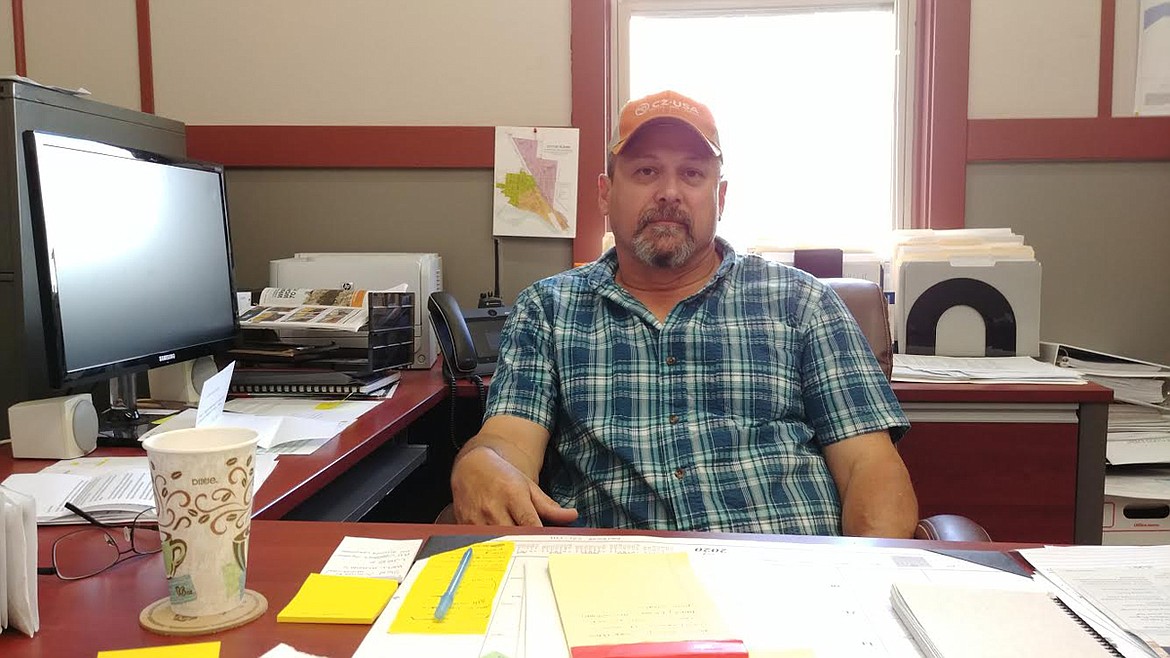 Plains Mayor Dan Rowan is overseeing a number of sewer and water improvement projects in town this year. (Chuck Bandel/Valley Press)
by
Chuck Bandel
|
July 30, 2020 5:52 PM
While residents in other parts of Sanders County are dealing with sewer and water systems of their own, Plains has been faced with that and more.
And while others have wrestled with those problems, Plains Mayor Dan Rowan has taken them on head-first while at the same time dealing with a meandering river that has threatened the town's sewage treatment lagoon system for decades.
Using a proactive approach to the problems has helped Rowan and Plains get a plan ready and another underway to correct years of neglect.
"We are moving forward on replacing and upgraded parts of the water line system that are outdated and need to be replaced," Rowan said during an interview from his office in Town Hall.
Residents throughout the central Sanders County community have noticed crews marking roads in town as work crews have embarked on the first phase of what will eventually be badly needed replacement and realignment of underground water supply pipes.
Many of those pipelines are decades old and were built with materials considered obsolete by today's standards.
"Many of the existing lines were built with galvanized steel and copper components," Rowan said. "That's not a good combination of metals. And many of them are leaking or showing signs of future problems. We are trying to be proactive in heading off what could be bigger problems in the future."
Leaking pipes can be hazardous to groundwater and also cause damage to already bumpy streets as erosion caused by the leaks undermines other buried infrastructures, Rowan said.
One of the first projects among those that got underway a few weeks ago is along Garber Street on the town's east side. Rowan said those are the initial digs in what will eventually be more than 400 pipeline upgrades and or replacements in the year ahead.
"Many of those pipes are already failing and have been for years," he said.
Workers hope to complete one water line project per day, which involves digging up the old lines and installing new, sometimes reconfigured sections of the system. An equipment and worker shortage is slowing progress for now, but actions are underway to secure more of both in the near future.
The town of Plains currently has only three employees who can work on the projects and that trio is putting in a lot of long hours.
Another project involving marking the streets is the painting of arrows pointing to water shutoff and meter "holes" throughout Plains. Rowan explained those marks were made to help facilitate implementation of a high tech system that will allow water workers to better track and maintain the water delivery system.
"We will be implementing a GIS (Geographic Information System) that will keep track of many aspects of the water system and allow us to have an electronic map for quicker access and information."
Among that information is keeping track of the town's water supply situation as it continues to grow and use more resources from the underground aquafer that is Plains' drinking water source. The system will also aid in monitoring for potential contamination problems.
"There are some pretty shallow wells that we need to keep an eye on," Rowan said. "There are also places where the water source is close to farms that use pesticides and other chemicals we do not want in the water supply."
Also on the agenda, and a problem that has been an issue since 1984 is developing a new sewage lagoon system. The old system has been a nagging and potentially catastrophic problem for years, Rowan said and never should have been built in its current location.
"The lagoons were built too close to the Clark Fork River to begin with," he said. "They are in an area where the river has historically meandered back and forth for years."
To correct the problem, the town has decided to build a new lagoon system west of the airport and safely away from the Clark Fork. Many attempts have been made to shore up the banks along the river near where the current lagoons are located but the river keeps winning in the erosion battle.
The new system, with a $5.25 million price tag will include new sewage lines to bypass the old ponds. The cost of the lagoon and the other projects now underway are funded in part by the recent increase in water/sewer fees and federal sources, Rowan said.
Crews are scheduled to being the lagoon project next spring and hope to have it completed by October 2021.
And while the $10 average per household increase in water/sewer fees last year was not popular with many residents, Rowan said many of these issues could have been and should have been addressed years ago.
"If there had been a more pro-active approach over the last several years it would be easier to handle now," he said. "There probably should have been smaller increases spread out over the years. I guess one way to look at it is most people pay more for satellite TV than they do for their water and sewer bills.
"The town council and I all live here too and we don't like paying higher bills either," Rowan said. "These are things that require a pro-active approach as this town grows and changes."
---