Plains man celebrates 100th birthday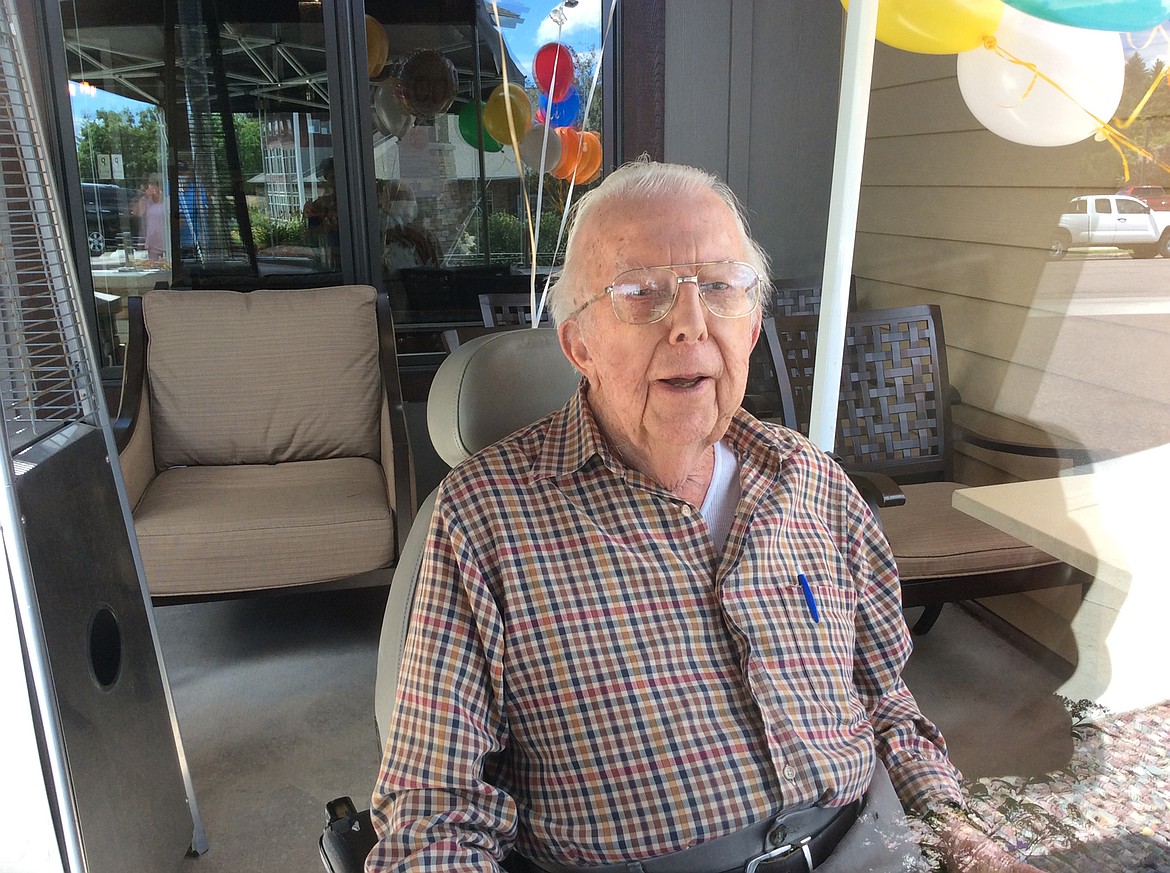 Long-time Plains resident Millar Bryce recently celebrated his 100th birthday at Buffalo Hill Terrace in Kalispell. (Courtesy photo)
by
Clark Fork Valley Press
|
July 30, 2020 5:54 PM
Millar Bryce, long-time resident of Plains, celebrated his 100th birthday on July 24 with a few close friends and relatives at Buffalo Hills Terrace in Kalispell.
Bryce spent most of his working years with the Flodin Lumber Company, of which he was a partner. Millar might be remembered as a light plane pilot who enjoyed flying over the Clark Fork River.
Millar was born in Saskatoon, Saskatchewan, Canada.
When he was a young boy his family moved to Austin, Texas, where he grew up and finished his education.
When he was 15, he started a summer job in Washington where his brother, Eric, was working for their uncles, Swan and Walter Flodin, at a small sawmill near Granite Falls.
He was to return to that summer job every year until World War II broke out and Millar immediately volunteered for the Royal Canadian Air Force, and was accepted.
He was trained as a navigator and stationed in England for three years, from which he made bombing runs over Norway.
After the war, Millar returned to Plains and resumed working for Flodin Lumber Company, where he later became a partner.
In 1958, Millar married Gertie Smith and inherited two sons, Pat and Mike Smith. Millar was a true community leader for many decades, serving on many boards and was instrumental in building Clark Fork Valley Hospital in Plains.
After the mill was sold to Thompson River Lumber in 1986 Millar worked briefly for another sawmill in Polson before retiring.
Then he went to live at Grizzly Peak in Missoula to be near his brother Eric. He was still very much physically active. Millar lived briefly in New Mexico near Mike and Fran Smith before returning to Plains, where he hoped to spend his remaining years.
He moved to Kalispell in 2018.
At 100, Millar enjoyed visiting with the folks who gathered to wish him well, even though he remains in lockdown because of the Covid virus.
---