Homesteader Days Rodeo this weekend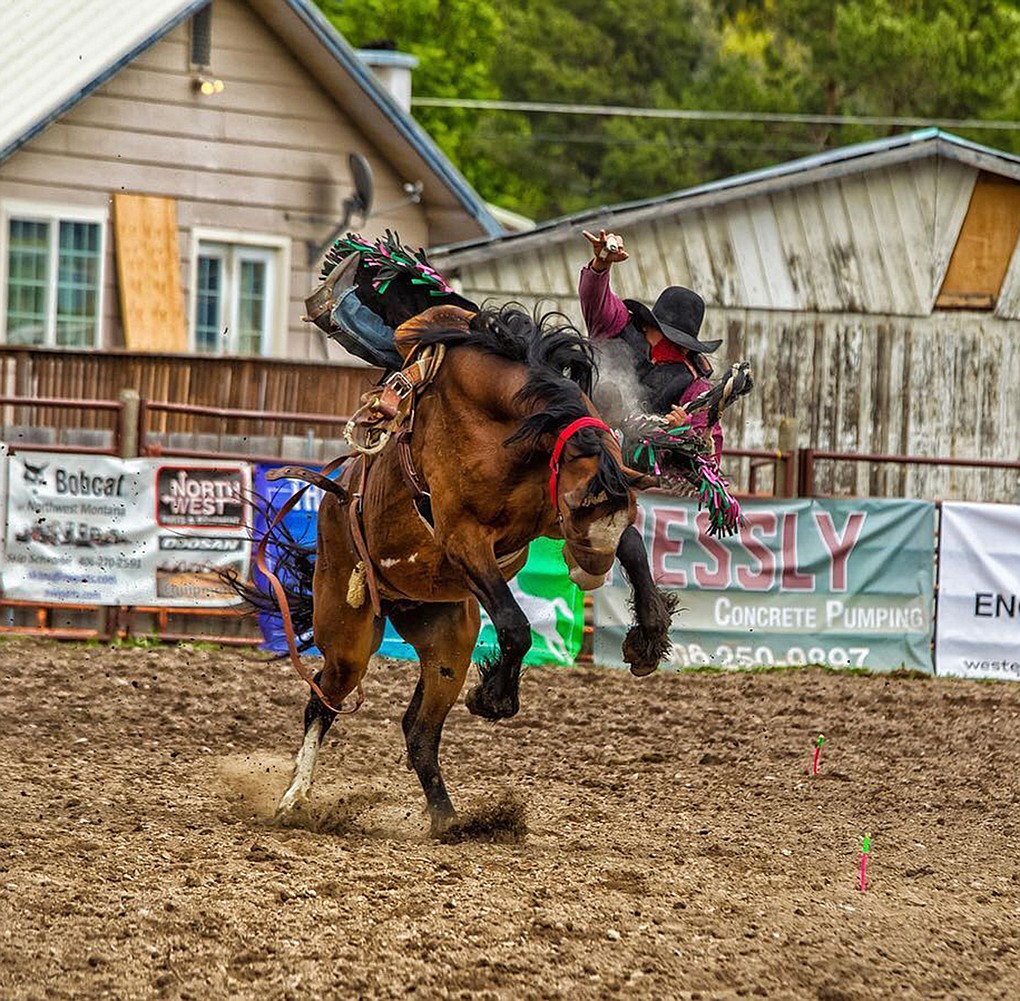 Hot Springs Homesteaders Days will still feature a rodeo June 13-14. (Photo courtesy Danny Nestor/Brash Rodeo)
by
SCOTT SHINDLEDECKER
Clark Fork Valley Press/Mineral Independent
|
June 10, 2020 3:38 PM
Homesteader Days in Hot Springs may look somewhat different in 2020, but for fans of the rodeo and live music, those are two things they can count on at next weekend's event.
Northwest Montana band The Good, the Bad & the Ugly will be performing on Main Street from 8-11:30 p.m. June 12-13.
The rodeo will be held at the arena on Montana 77. it begins at 6 p.m. Saturday, June 13 and at 2 p.m. Sunday, June 14.
Lawrence Walchuk, one of the event organizers, said it was a tough decision to make.
"We know there's worry and concern because of COVID-19, but there was a lot of support for it to continue from the sponsors and community members," Walchuck said. "We just ask people to be responsible and respectful of others.
"People showing symptons or for those whom feel concerned they are at risk, we ask they don't come."
The open rodeo is in its 71st year, making it a mainstay in Western Montana.
"There was a lot of interest from people to have it and also the tradition of keeping it going were important factors," Walchuk said.
Entries are due Monday, June 8 and can be made by calling or texting 307-223-2156.
Among the events are bull riding, saddle bronc, ranch bronc, bareback, calf roping, team roping, chute dogging, ladies barrels, ladies breakaway, junior breakaway, junior steer riding, junior barrels and kids (9 and under) barrels.
Brash Rodeo, based in Columbia Falls, which operates the weekly rodeos at the Blue Moon Arena, is back to run the Homesteaders event.
Also, there will wild cow milking Saturday and the calf bloomer race Sunday.
Admission is $10. Children 6-and-under get in free.
Food and beverage will also be available.
---