Woman's Club rummage sale is a Plains staple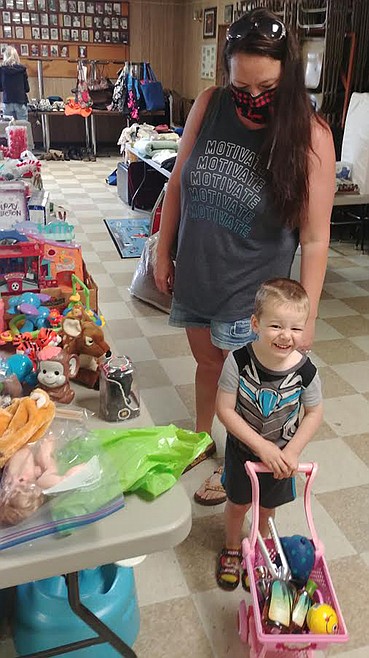 Plains residents three-year-old Kade Kinder and his mom Lisa, seek bargains at the Plains Woman's Club rummage sale Saturday. (Chuck Bandel/Valley Press)
by
Chuck Bandel
|
June 23, 2020 4:32 PM
Generosity and community were on full display Saturday at the Plains VFW meeting room.
Smiles fueled by bargain basement prices were the outcome.
A steady stream of buyers throughout the eight-hour event sponsored by the Plains Woman's Club allowed the club to advance its goal of raising more than $1,000 to aid their community help efforts.
Beginning at 8 a.m., shoppers were allowed into the meeting hall where a wide variety of donated items were available for purchase. On display and available were items ranging from children's toys to old but still stylish furniture to cookware and dinnerware of seemingly every kind and style.
"Even the piano (a vintage piano in the corner of the room) is for sale," said club Treasurer Deb Cleveland, who greeted customers and townsfolk just inside the entryway. "There are too many things to count," she said, laughing.
The annual sale has been a community staple for more than 20 years, according to Cleveland and other Woman's Club members who are part of the 33-member group.
Money raised from the sale is used to fund several important community help efforts, including the club's popular Christmas sock sewing program and support for the locally popular Missoula Children's Theater events.
Shoppers entering the facility Saturday were greeted outside by volunteers who had made washable, homemade face masks to help the event in the fight against the spread of COVID-19. The cloth masks were available for free with only a voluntary donation asked of those who wished to do so.
Cleveland said the club meets monthly and is a great way for local members to socialize and do something good for the community.
"I joined four years ago and being part of this club and what it does has been a blessing," Cleveland said. "It's a great way to socialize and be part of helping out where we can."
The myriad of donations were all donated and began arriving at the hall early last week. Club volunteers spent the week sorting, pricing and arranging the items on long tables that filled the hall.
One particular shopper summed up the bargains to be had and the treasures to be found without saying a word.
As he pushed a toy shopping cart down the aisles, three-year-old Kade Kinser, guided by his mother, Lisa Kinser, let his expression do the talking.
When asked if he was having fun and finding some great toys, he flashed an ear-to-ear grin that filled his little face.
"I'm pretty sure he's happy," Lisa said. "This is such a great thing for the community."
---