Firefighters climb in memory of Franklin Reed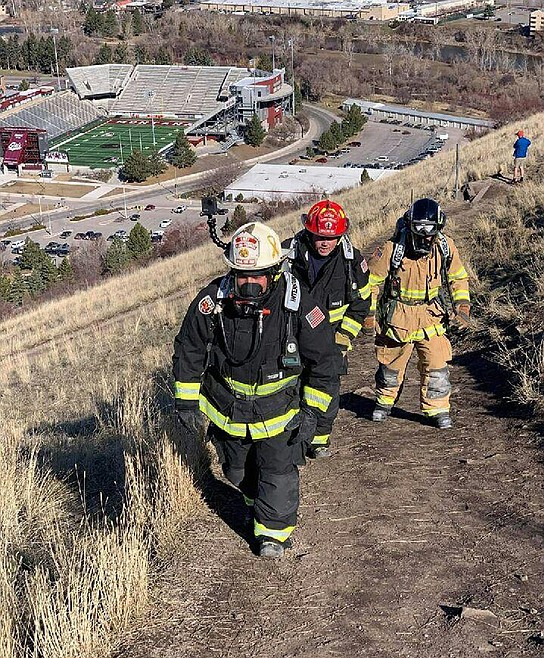 Local firefighters head up Mount Sentinel in Missoula last Sunday. Firefighters from Plains-Paradise and Hot Springs were going to walk up 69 levels of the Columbia Tower in Seattle Sunday, but the coronavirus altered their plans. (Photo courtesy Braden Starika)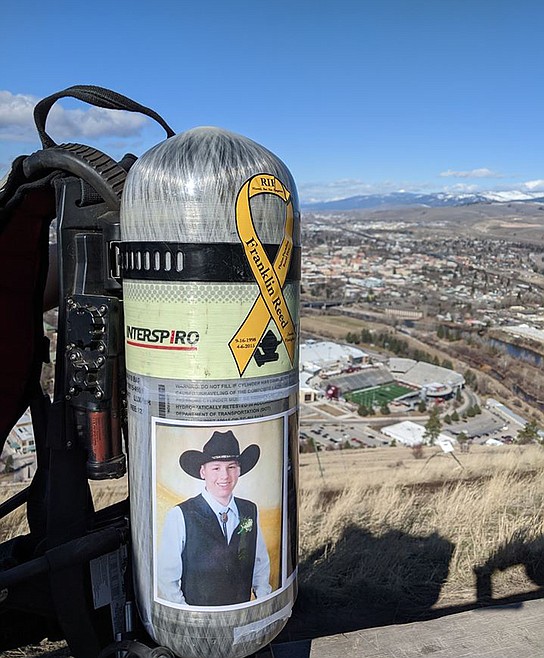 A photo of Franklin Reed is emblazoned on an oxygen tank of a Plains-Paradise fire fighter. Members of the department climbed Mount Sentinel in Missoula Sunday in memory of the junior firefighter who died of leukemia in 2015. (Photo courtesy Braden Starika)
Previous
Next
by
Scott Shindledecker
Daily Inter Lake
|
March 12, 2020 9:33 AM
Concern with the coronavirus led the Leukemia and Lymphoma Society to postpone its annual firefighter stair climb in Seattle last weekend.
But for firefighters from the Plains-Paradise Rural Fire District whom were prepared to climb the 69 levels of the Columbia Tower in Seattle, they were undeterred.
Instead, firefighters hiked to the "M" on Mount Sentinel in Missoula in their full turnout gear and self-contained breathing apparatus.
According to a Facebook post, the men climbed in honor of junior firefighter Franklin Reed. Reed is the son of department Captain Brian Reed.
Franklin was diagnosed with leukemia and died in 2015.
With individual donors and McGowan Grocery contributing to the fundraising effort, the climb raised $970 toward finding a cure for blood cancer and providing patient services from The Leukemia & Lymphoma Society.
The climb was 640 vertical feet and three-quarters of a mile in length.
Firefighters, survivors, family, and friends were invited to join the men in a Facebook message on the department's page.
Plains-Paradise Chief James Russell, Captain Brian Reed and Hot Springs firefighter Lyle Fisher trained for months in preparation for what would have been the Society's 29th climb at the Columbia Tower in Seattle.
But the deadly virus led the non-profit organization to postpone the event.
No announcement has been made when or if the climb will be rescheduled.
The Leukemia and Lymphoma Society, which launched in 1949, has raised millions of dollars a year for research to find a cure for cancer.
In 2019, firefighters whom climbed brought in a record $2.9 million for blood cancer research and patient services. Now in its 29th year, this event has raised more than $20 million for LLS.
Firefighters endure grueling training in order to perform at their best under strained circumstances and often have to put their lives on the line. The original stair climb was an extension of that effort, and a common training exercise of firefighters is to run stairs or climb ladders; exerting themselves, while wearing their gear, which can weigh as much as 45 pounds.
The Seattle climb is 788 vertical feet and includes 69 flights of stairs or more than 1,356 steps. Most participants are able to complete the run in 15 to 30 minutes. However the best of the best tout doing the marathon in just over 11 minutes. Currently the best time is near 10 minutes.
Two thousand firefighters register for the competitive event and each participant accepted must raise a minimum of $300. The overall goal is $3 million. There is also a $100 registration fee and the registration is quite competitive.
In fact, Reed and Russell said registration was closed within 15 minutes after opening. They have attempted to make it into the competition for four years.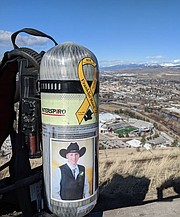 ---