Local schools closed; students still being fed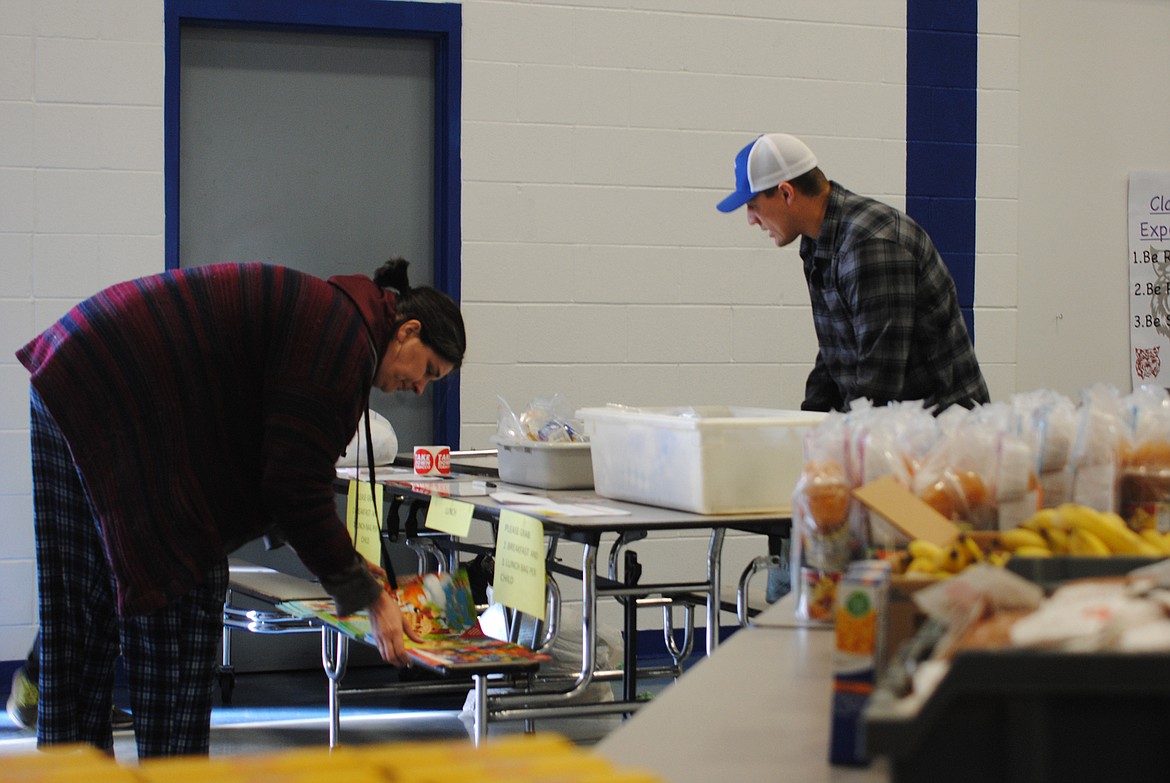 Superior elementary principal Logan Labbe distributes take home instruction packets on March 18 to families. (Amy Quinlivan/Mineral Independent)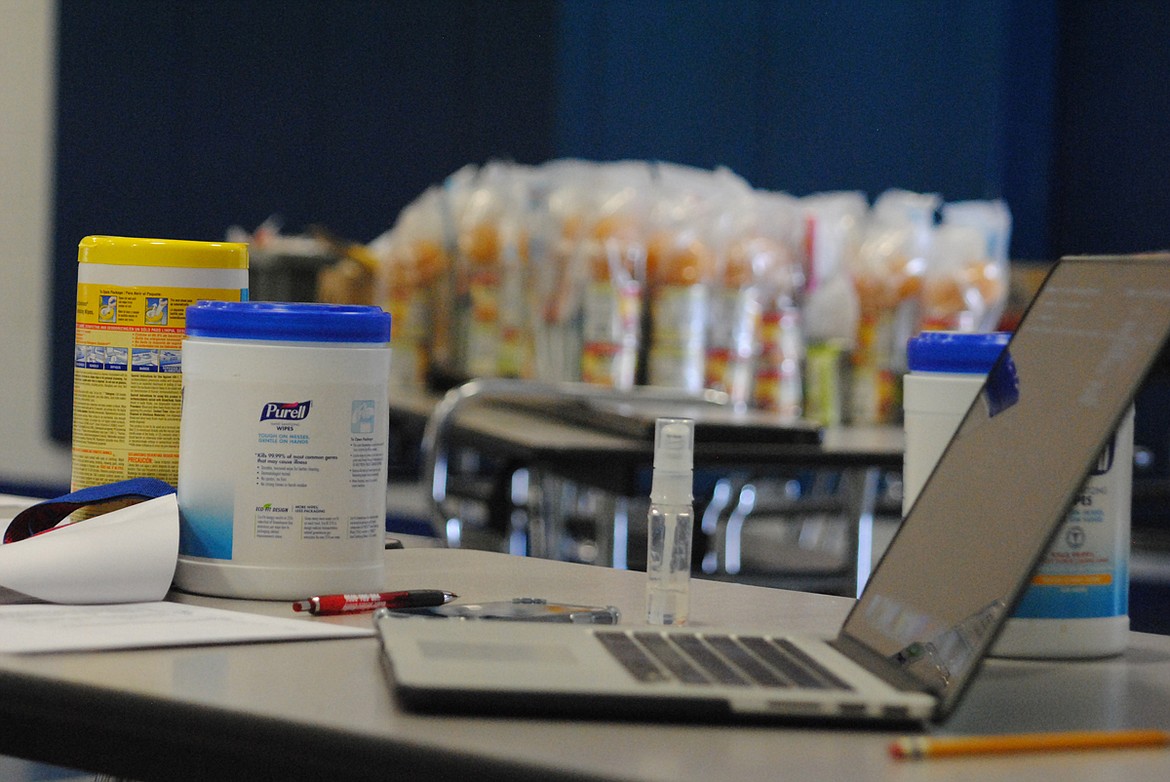 During Superior School pickup day for curriculum and lunches, sanitation is an integral part of keeping the community healthy and safe. (Amy Quinlivan)
Previous
Next
by
Amy Quinlivan
Mineral Independent
|
March 26, 2020 8:55 AM
Before Gov. Steve Bullock's directives were even issued March 15 for Montana public K-12 schools to close, the Alberton school district already had plans in place to shut down for two days at the beginning of the school week.
But as news spread of statewide school closures late last Sunday evening, this left parents, teachers, school staff and administration, across Mineral County reeling as they began to instate a course of action. Students are learning from home from March 16-27 in an effort to slow the spread of COVID-19, or coronavirus.
Alberton began last week with staff completing phone surveys with families of students to address distance learning needs during the closure. District employees then made arrangements for the first day of delivering instructional packets and meals March 18. The district repeated the service, and picked up completed packets, Monday, March 23 and Wednesday, March 25.
In St. Regis, teachers spent the last week printing materials, creating online lesson plans and home instructional packets, posting grades, and cleaning classrooms. While the teachers worked from home, volunteers along with custodial staff deep cleaned the school.
One of the greatest concerns in each of the communities has been the ability to continue the much-needed lunch programs for students. Many of which rely on the schools for breakfast and lunch during the school week.
Dawn Palmer is the head cook at the St. Regis cafeteria, she has been busy coordinating the efforts of a grab-and-go lunch and breakfast system to keep students well fed during this time.
Now in a drive-through restaurant manner, parents and students follow directions on a large whiteboard on the west end of the building. Through the back doors of the school's cafeteria, kitchen staff, teachers and volunteers hand out food to students between 10 a.m. and noon for the duration of the closure.
The school has also implemented the backpack food program to supplement children with snacks and food over the weekends. For students in the West End, the lunch program will also be provided for pick up at Deborgia Schoolhouse.
Superior School District also followed suit with a pickup lunch program for students on Mondays, Wednesdays, and Fridays during the two-week closure. March 18 students and families were allowed in the schools to retrieve necessary books, musical instruments, students computers, chargers, and printed materials in instruction packets for students without internet access.
A large percentage of the educational coursework was formatted for distance learning, with students accessing and submitting class work through online platforms like Google Classroom.
The districts are taking advantage of the high-tech tools of this time period and have gotten creative with ways to keep everyone involved while at home.
St. Regis students and families can tune in on the school's Facebook page and follow along as Superintendent Joe Steele reads a children's book on Youtube.
Superior Administration has also developed a series on their Facebook page called the "Principal's Viral Challenge."
Each day during the closure 7-12 principal Chris Clairmont and elementary principal Logan Labbe will do a video showing students and families what's happening at the school, and also challenging them to a task.
Monday, kindergarten students were asked to learn how to tie their shoes, and the older students needed to clean their bedrooms. March 19 the principals requested that students write letters or emails to patients and nursing home residents who are unable to socialize right now at Mineral Community Hospital.
"With this being my first pandemic, we've all been busy, and things have been a little hectic this past week, but my staff is fantastic and rising to the test of making sure our kids are fed and that academic work is going home to students," Superior Schools Superintendent Scott Kinney said.
In terms of calendar dates for St. Regis, Principal Shaun Ball noted that all extracurricular events have been cancelled, with the exception of track and golf, which have been suspended until April 13. All other activities, such as open house, prom, drama, and band concerts have been cancelled in an effort to minimize the effect of COVID-19. If parents or community members want to see an exhaustive list of school events that have been cancelled, they can visit the school website.
"During this time, it's important to communicate well with each other, keep calm, and be merciful to all of those impacted by COVID-19," Ball said.
In Superior, classified and transportation staff are performing an intensive deep clean of all its buildings and buses as well as supporting the modified food service program.
Monday, April 13, the Montana High School Association is going to reassess the situation to determine if schools will have any spring sports, such as golf and track.
For Superior after the two-week closure the district's normally scheduled spring break is March 28 through April 5.
Alberton and St. Regis have spring break during the first full week of April.
"As for the future, it is anybody's guess how this will all play out, but I think there will be invaluable lessons learned by Montana schools as well as society at large moving forward," Kinney said. "We'll get on the other side of all this by being mindful of ourselves and others. As we've repeatedly told staff, 'If you are sick, stay home and lay low.'
"No amount of "Cowboy Up" is going to fix this…we have to actively minimize transmission vectors by following the advice of the experts who are tracking the virus by the minute globally."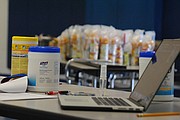 ---