Louise Tenney Cochran, 95
Louise Cochran passed away peacefully in her sleep at home with her family on May 20, 2020 in Missoula, Montana.
Louise was born to Heber and Fanny Tenney in Taylor, Arizona in September of 1924.
Louise was raised on the family ranch outside of Taylor along with two sisters, Teddy and Florence and four brothers, Rex, Chet, Frank and Wayne. The Tenney family moved to Sandpoint, Idaho in 1940, where Louise graduated high school in 1943. After high school she moved to the Spokane Valley where she began a 30-year career as a dental assistant.
In the summer of 1959, she met John (Johnny) Cochran at a dance in Sandpoint, Idaho. Johnny and Louise were married in Bonners Ferry on February 27, 1960.
They moved to Superior, Montana where Johnny was working in the woods and together Louise and Johnny started the Cedar Salvage Shake Company. Louise would hand split cedar shingles and bundled them for sale.
In 1961, they bought Frosty's Drive-In, in St. Regis, which Louise ran until 1972. Louise was a natural in the hospitality business given her love for people. Her years at the Frosty's Drive-In resulted in many life-long
friendships with both customers and employees alike.
After selling Frosty's Drive-In, Louise returned to work as a dental assistant for Dr. Bauer in Superior until her retirement in 1987.
For many years throughout her life she cared for her sister Florence who suffered mental and physical challenges. Louise included her in every aspect of her life as often as she could throughout their 92 years together.
In 1983, at the age of 54 Louise became the mother of her 16-month old granddaughter Cory whom she and Johnny raised in their home in the mountains above St. Regis.
Without a doubt Louise would consider Cory to be her greatest joy and accomplishment in seeing Cory become the person she is.
She was a wonderful mother to Cory and the wife of Johnny's dreams.
Her garden was brimming with strawberries, and her raspberry patch was held in high regard and a must stop for friends both far and wide.
Flowers abounded in every nook and cranny, animals of all kinds, particularly birds, moved through the property looking for what she had left for them. Her home was migratory stop for many, her kindness always the draw.
Her cellar was packed to the gills with canned goods, and on many a day there were pies and cookies, and fresh baked bread, cooling on the counter. Her greatest joys in life were time spent surrounded by her family, animals, flowers, and her many, many friends and loved ones.
There was nothing she wouldn't do for them and stopped at nothing to give Cory and Johnny a wonderful life. She and Johnny traveled the world together through Europe, Asia, South America, Canada, and Mexico, often with Cori in tow. When not traveling, you could often find them in good company on the shores of Flathead Lake.
Louise was a loving wife, mother, grandmother, sister, and aunt. She was impeccably kind to every single person, and living thing she ever met. She will be remembered for her gentle nature, playful humor, and her million dollar smile.
Louise is survived by her husband Johnny (Missoula), daughter Lori (Spokane), son Curtis (St. Regis) granddaughter Cori (Missoula), grandson Ben (Spokane), 13 Tenney nieces and nephews and 15 Cochran nieces and nephews.
Grave side services will be held at noon Wednesday, May 27 at the St. Regis Cemetery and followed by a reception at the St. Regis Community Park. Sunset Hills Funeral Homes officiating, 200 Willis St. Plains, Montana 59859, sunsethillsfuneralhomes.com.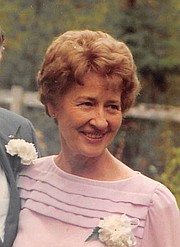 ---