Charlo tops Hot Springs for District 14C volleyball title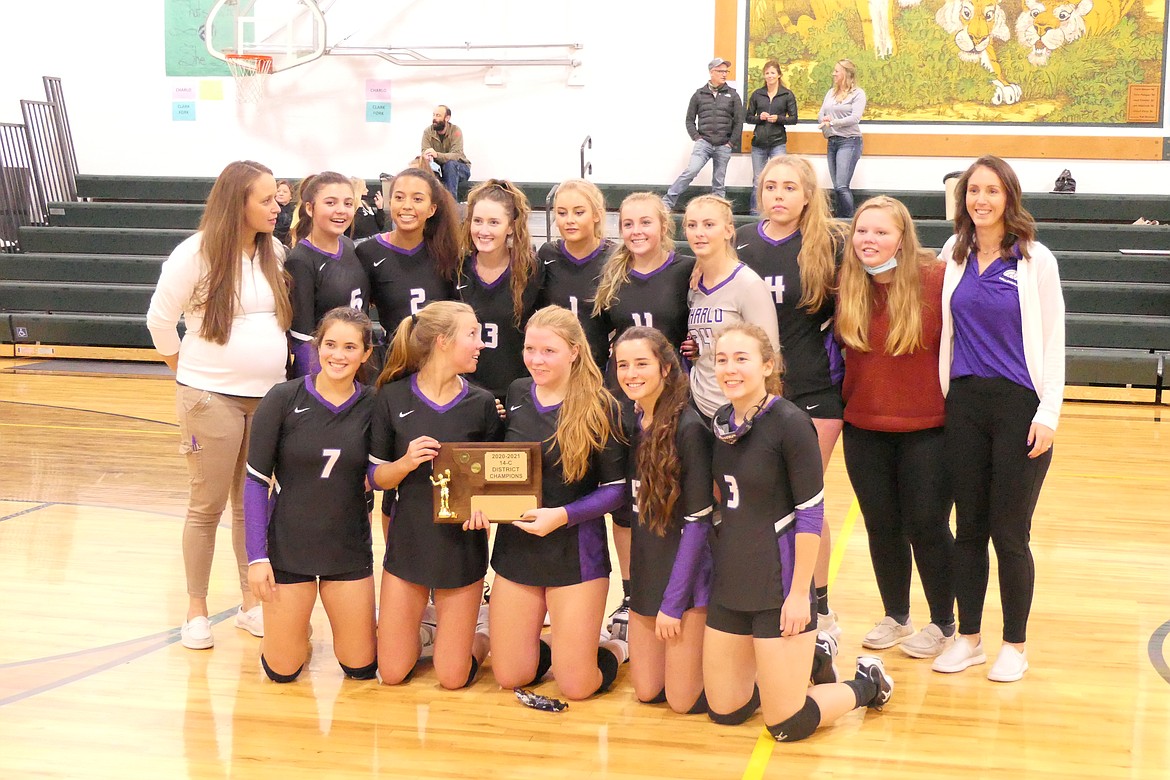 The Charlo Lady Vikings display the championship plaque after winning the District 14C title last week in St. Regis. (Chuck Bandel/Valley Press)
|
November 4, 2020 12:00 AM
By CHUCK BANDEL
Valley Press
The Vikings came to the village and left with the treasure.
A tale from centuries ago?
Not this time, although the results were just as devasting to the defenders as they battled in vain to prevent the inevitable onslaught.
In this case, the raiders were the Charlo High Lady Vikings and the defenders were the rest of the 14C Montana volleyball conference.
The treasure was in the form of a first place plaque and a trip to this weekend's divisional playoffs where they will try to continue their season-long quest for volleyball supremacy.
The Lady Vikings unleashed a balanced and powerful attack as they rolled past Hot Springs for a 3-0 sweep and the conference's top seed in the next round.
In so doing, they ran their mark against the Lady Savage Heat to 3-0 this year.
Led by the Fryberger clan consisting of seniors Carlee and Conner, Charlo took the first set.
The seniors were dominant and deadly at the net with numerous blocks and kills that kept the Lady Savage Heat on their heels. The initial set was tied three times in the early going, the last deadlock at 11-each.
From there they used a late surge to wrap up the opening game and take a 1-0 match lead.
Hot Springs fought back in game two, overcoming an early Lady Viking advantage in a match that was tied 10 times and ultimately entered volleyball's version of overtime.
Lady Heat junior standout Katelyn Christensen was instrumental in rallying Hot Springs, including blocking numerous Lady Viking shots at the net and zinging a barrage of kill shots to keep the game close.
With Hot Springs leading 24-23 and one point away from tying the match, Charlo tied the score at 24, then held onto a one point lead before finally subduing the Savage Heat 28-26 to take a commanding 2-0 match lead.
Game three was relatively easy for the Lady Vikings in comparison. There was only one tie in that set, 1-1 in the opening minutes of play. From there, Charlo built a slim lead, then steadily pulled away for a 25-13 set victory and a 3-0 match sweep.
Christensen finished the championship game with seven kills, seven blocks and nine digs but it was not enough to offset the Fryberger duo.
With the win Charlo kept its season record unblemished at a sparkling 14-0. The loss dropped Hot Springs into a challenge game later in the afternoon against surprising Noxon, which earlier in the day eliminated Clark Fork 3-2 in a down-to-wire finish.
---