Hot Springs reaches 14C final; Noxon eliminates Clark Fork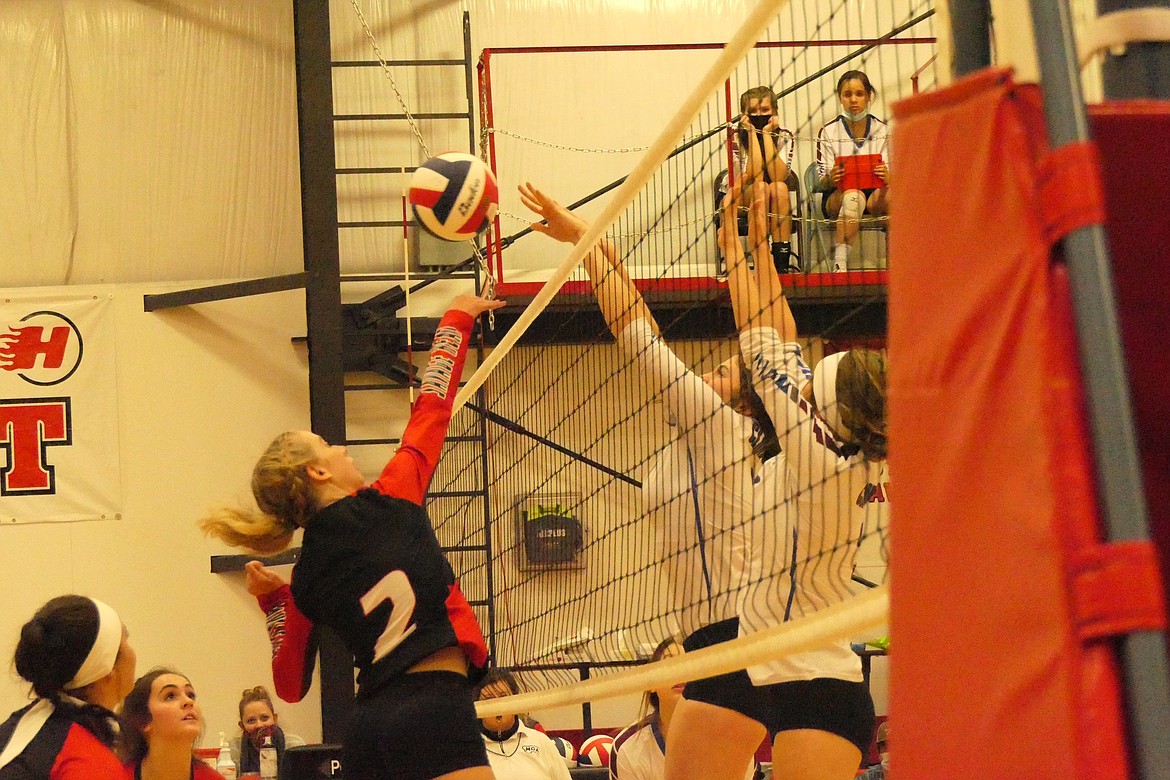 Hot Springs Savannah Roosma (2) tries to block a shot by Clark Fork's Sorren Reese during last week's match in the District 14C tournament. (Chuck Bandel/Valley Press)
|
November 4, 2020 12:00 AM
By CHUCK BANDEL
Valley Press
Thursday night in Hot Springs, the host Lady Savage Heat took on the Clark Fork Mountain Cats in a second-round District 14C playoff match that was also the rubber match in their battles this year.
In a doozy of a match that went five sets, Hot Springs emerged with a 3-2 win and a trip to the championship game against Charlo Saturday in St. Regis.
Clark Fork earlier effectively eliminated Mineral County rival St. Regis via a 3-0 sweep on their home court. That set up the highly anticipated meeting with Hot Springs and it did not disappoint the sizable gathering of fans who attended what turned out to be a slugfest.
In the opening set of the match, the visiting Mountain Cats opened a quick lead early on that at one point had them ahead 10-4. Junior standout Sorren Reese led the Clark Fork surge with outstanding play at the net.
However, Hot Springs fought back to eventually tie game one at 20-20. The Lady Heat took their first lead of the opening set at 21-20, then survived three more deadlocks before icing the set when Reese's shot was blocked at the net, giving the host team a 26-24 game one win.
The battle at the net continued throughout the second game, with both teams swapping kill shots and point-producing blocks. Midway through the set, Clark Fork built a 20-13 and won 25-21 win.
Games three and four were nearly carbon copies of each other. In game three there were six ties and multiple lead changes along with long, spectacular volleys by both sides. With the score knotted at 16, Hot Springs was able to edge ahead and hold off Clark Fork for a 25-22 win and a 2-1 match advantage.
Game four favored Clark Fork. It featured nine ties and several lead changes before Clark Fork edged ahead and held off the Lady Heat 25-22.
In the fifth game, Hot Springs established a slim lead behind shot blocking and wicked kill shots from Katelyn Christensen and Lily Winn, many of which were assisted by senior Lizzy Fisher.
Hot Springs built their lead to 11-4, then traded points with Clark Fork the rest of the way and secured the match victory with a 15-8 game five victory, the final point coming on an emphatic kill shot by Christensen.
Christensen finished the match with 17 kills, four blocks and nine digs, while teammate Winn added 10 kills, three blocks and 11 digs. As was the case most of the season, the kills shots were often set up by Fisher, who finished with 23 assists for the match.
In the consolation final, Clark Fork fell to Noxon, 3-2.
Both teams lose just one senior and they met Saturday.
Noxon's win earned them the right to advance to the challenge round for the district's second divisional seed. They got outstanding performances from a pair of sophomores, Avery Burgess and Emily Brown in their victory over the Mountain Cats.
Clark Fork came out strong to open the first match, going ahead 11-4 then holding off a series of runs by Noxon before securing a 25-10 set victory.
Noxon won the second set, 25-21, behind strong net play from Burgess and junior Riley Richter whom each had several kill shots.
Noxon held on for a third-set 25-22 win that put them ahead 2-1 for the match.
The fourth set featured more long rallies and timely kills from both sides. Noxon held an early lead before Clark Fork roared back and went ahead to stay at 14-13. A pair of kill shots from Reese were instrumental in expanding that lead and paved the way for a 25-17 game four win and a 2-2 match tie.
Game five proved to be one of the most exciting matches of the tournament. The lead changed hands five times and was tied at 13 when Noxon scored the final two points and won game five 15-13 to ice the 3-2 match victory.
The win sent Noxon to the challenge round three hours later where they were eliminated by two seed Hot Springs.
Richter led Noxon with 15 kills, 15 assists and 10 digs, while Burgess had 13 kills and Brown chipped in with eight kills and a game high 21 assists.
Noxon, which lost to Charlo 3-2 in the tournament semi-finals, eliminated Plains earlier in the week before losing to the tournament's top two seeds.
---