Thompson Falls gridders roll to 50-6 win over Simms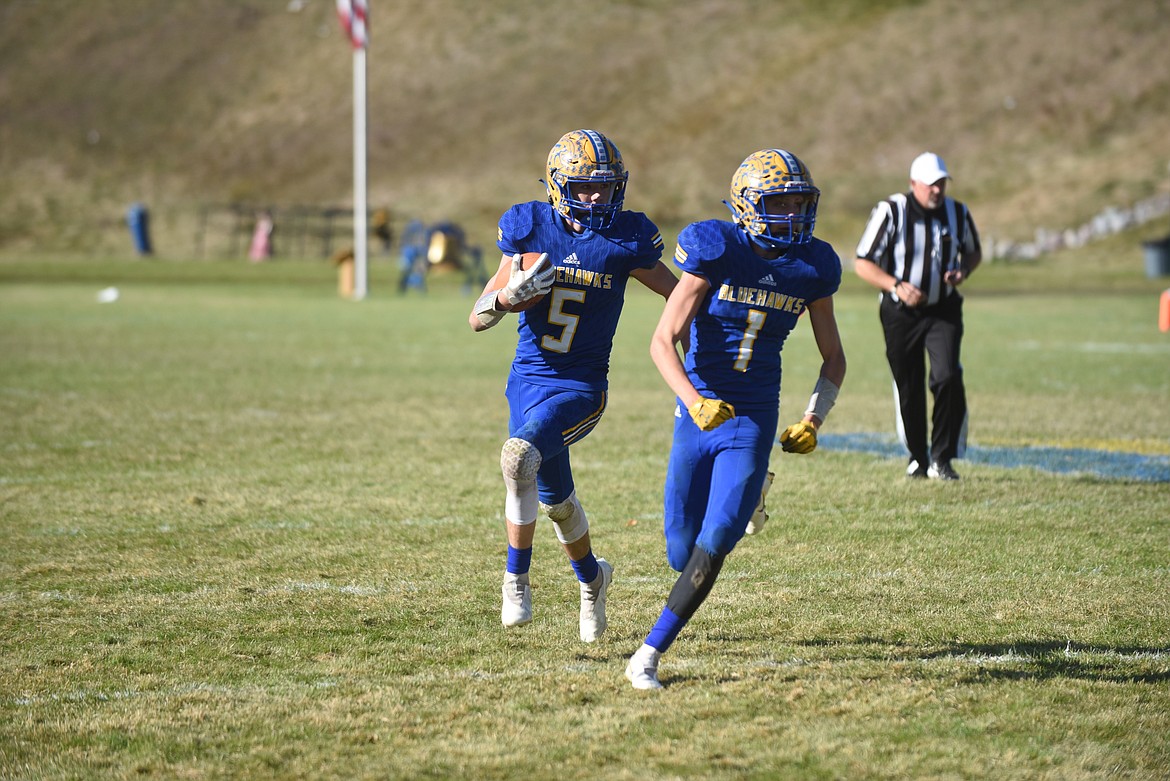 Thompson Falls' Kade Pardee (5) runs behind teammate Roman Sparks (1) during last Saturday's state playoff game at Previs Field. Sparks scored four touchdowns and Pardee had two in a 50-6 win. (Scott Shindledecker/Valley Press)
|
November 4, 2020 12:00 AM
By SCOTT SHINDLEDECKER
Valley Press
The Thompson Falls Blue Hawks football team marched into the Montana 8-man state quarterfinals with a 50-6 demolition of Simms Saturday afternoon.
A big second quarter turned a tight game into a rout by halftime as the Blue Hawks led 36-6.
Thompson Falls (9-0) will now make a 600-mile plus trip this weekend to take on Scobey (8-1) for the chance to play in the state semifinals.
Scobey won their playoff opener, 50-0, over Cascade last Saturday.
Thompson's usual suspects provided the offensive firepower. Roman Sparks, Kade Pardee and the Andersens, Derek and Lucas, ran, threw and caught balls while combining for seven touchdowns.
The Blue Hawks have scored 50 points or more six times. They are averaging 48.7 points per game.
Defensively, it was another dominant performance as the Tigers (5-3) managed just two sustained drives while scoring once.
The Blue Hawks have shut out six opponents and allowed an average of 4.9 points per game.
Pardee, who had a huge all-around performance on both sides of the ball, started the game with a 55-yard kick return.
It set the Blue Hawks up on the Simms 30-yard line and they needed just six plays to hit pay dirt. Sparks scored the first of his four touchdowns with a 2-yard run.
Simms responded with its longest drive of the game - 59 yards on 12 plays. But the Tigers didn't score after reaching the Blue Hawk 23.
Sophomore defensive back Elijah Ratliff made a big play when he batted down a deep pass by Simms quarterback Stephen Links.
Linebacker Trae Thilmony also made a stop for no gain on a Tigers' running play on third down.
The Blue Hawks went to the second quarter with a 6-0 lead but it quickly became 30-0.
Sparks scored his second TD on a 7-yard run with 10:34 left in the first half and Derek Andersen caught the conversion pass from Pardee to make it 14-0.
After Pardee intercepted a Simms pass, Blue Hawks coach Jared Koskela dialed up a play which has worked in the past.
Luke Andersen took a handoff, but he stopped and hurled the ball to twin brother Derek Andersen who shook off a Simms defender and scored on a 30-yard play. Pardee's run made it 22-0 with 9:28 left.
Strong defense and confusion among the Simms' coaching staff set the Blue Hawks up for another easy TD.
On first down, Thilmony sacked Links for a 10-yard loss and an illegal forward pass on a trick play resulted in a loss of down. Simms' coaches still thought it was second down when it was third. After a short gain, Simms ran the ball from its 6 on fourth down and gained just one yard while needing 29.
The Hawks, starting at the Simms 7, were in the end zone two plays later when Pardee scored from five yards out. Luke Andersen caught the conversion from Derek Andersen to make it 30-0.
Simms reached the end zone on the next possession as Caden Smerker caught two balls for 41 yards, including a 6-yard TD with 2:08 left.
But the Blue Hawks got the lead back to 30 points when Pardee scored on a 4-yard run with 1:11 left. He added an interception on the next play and the Blue Hawks went to the half up 36-6.
After stopping Simms on its first second-half possession, Thompson put together a nine-play, 65-yard with Sparks scoring on a 5-yard TD pass from Pardee.
With a 42-6 lead, the mercy rule went into effect and the running clock made short work of the rest of the game.
Sparks scored the final TD on a 9-yard catch and the conversion pass, both from Pardee.
---