Lady Hawks make memorable run to state playoffs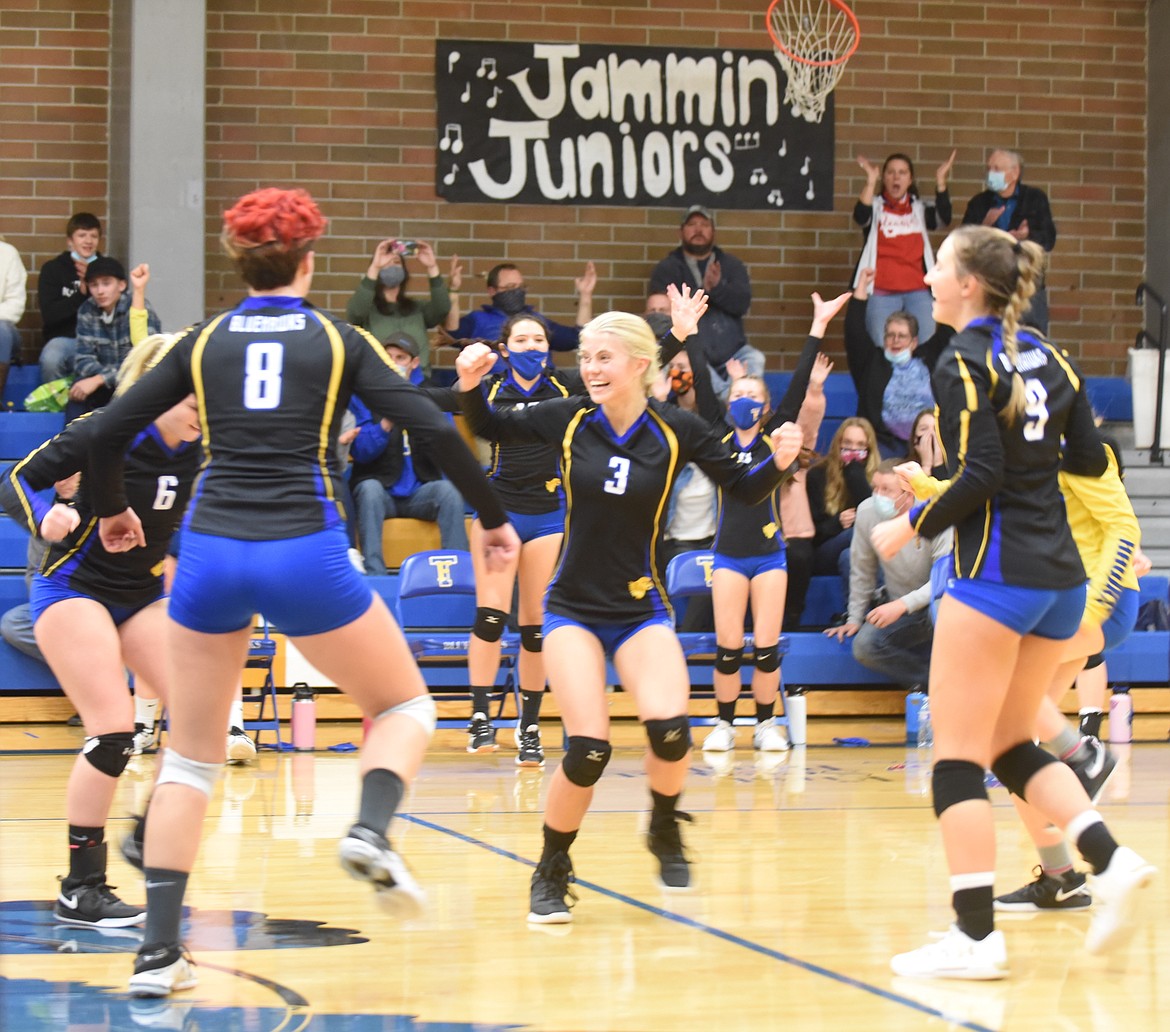 The Thompson Falls volleyball team celebrates its 7B title Oct. 30. The Lady Hawks made the state tournament last weekend. (Scott Shindledecker/Valley Press)
|
November 18, 2020 12:00 AM
By CHUCK BANDEL
Valley Press
They made it to state, a goal set by every high school sports team in Montana and across the nation.
In that respect, the Thompson Falls Lady Blue Hawks volleyball team had by all accounts a really good year.
While winning the ultimate prize was beyond their grasp, they won a lot of games and delighted a lot of fans along the way.
This year's Montana Class B Volleyball's top prize was claimed by Joliet, a growing town southwest of Billings.
The Lady Hawks opened the 2020 tournament with a 3-0 loss to Choteau Thursday afternoon in Shelby.
The Lady Bulldogs took the opening game 25-18, then built a two-zero match lead with a 25-16 win in set two. Thompson Falls kept things close in game three before falling 25-19 as Choteau advanced to the quarter finals and the Hawks fell to consolation round play.
Talented junior Scarlette Schwindt, who will be among a solid core of returnees on next year's Blue Hawk squad, paced Thompson Falls with nine kills, 10 assists and 14 digs, while senior standout Jody Detlaff added four kills and three blocks to the Blue Hawk effort.
Up next for Thompson Falls was a Friday morning match with the Florence-Carlton Falcons who dropped their opening round match 3-0 to eventual state runner-up Huntley Project.
Thompson Falls stormed to an early 1-0 match lead with a resounding 25-9 win in the first set before the Lady Falcons tied things up with a 25-16 victory in set two. The third set was a down-to-the-wire battle with the Lady Hawks squeaking out a 25-22 win.
Thompson Falls then had an easier time in set four, securing the match win via a 25-16 win in the fourth set.
In that match, senior Riley Wilson had an astounding 26 assists to go with 14 digs. She got ample support from Schwindt who had an equally impressive 15 kills, 15 assists and 20 digs. Detlaff chipped in 12 kills and two blocks to the Blue Hawk cause.
Florence-Carlton's Kassidy Yoeman also had an outstanding match, recording one ace, seven kills, 15 assists and 21 digs for the Lady Falcons.
Thompson Falls' victory in the consolation round sent them to a matchup two hours later with the Colstrip Fillies, who came away with a 3-0 match victory that kept their consolation hopes alive and ended those of the Lady Blue Hawks.
Colstrip won the first set 25-17, took game two 25-16 and wrapped up the match win with a 25-15 conquest in set three.
Schwindt continued her outstanding tournament for the Blue Hawks in that game, wracking up 12 kills, nine assists and 13 digs. Wilson chipped in 13 assists, one block and seven digs, while Detlaff added five kills, three blocks and seven digs.
Thompson Falls finished the season with a 15-7 overall record. They will lose Detlaff and Wilson from this year's squad but have a tall and talented group returning for the 2021 campaign.
---