Montana Highway Patrol advises safe driving on winter roads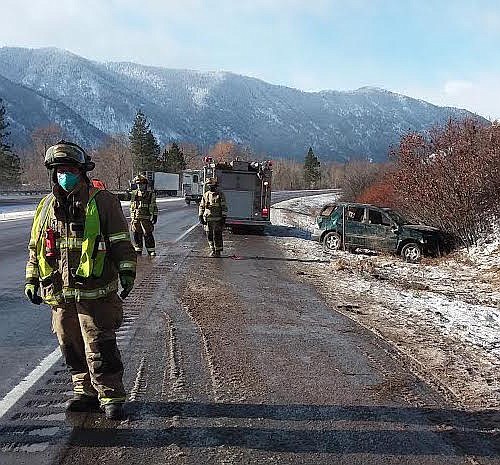 A driver from Missoula wrecked on Interstate 90 while driving to Superior. A Montana Highway Patrol Trooper said the driver was traveling too fast for conditions when the vehicle rolled over. (Monte Turner/Mineral Independent)
|
November 18, 2020 12:00 AM
By MONTE TURNER
Mineral Independent
Everyone should know winter driving requires different techniques and skills, yet still too many do not drive as conditions permit.
We've had a couple of snow dumps and then shirt sleeve weather, which is typical around here, but drivers need to treat every road as if it has ice on it.
One unlucky, but extremely fortunate driver from Missoula was traveling on Interstate 90 to see buddies in Superior Saturday, Nov. 14.
Trooper Thompson with the Montana Highway Patrol was the incident commander on the scene and said this was a multiple roll over.
"He was driving too fast for the conditions as the lane just looks wet, but there is ice and slush in the shaded areas," Thompson said.
The accident happened at about 10:20 a.m. near mile marker 70.
"He was wearing a seatbelt which is probably the only reason he's alive and wasn't ejected," Thompson said.
The Frenchtown Fire Department had several vehicles with their emergency lights flashing as the driving lane had been closed. This had been their third accident it responded to on I-90 in the last 24 hours. Even though the accident was in Mineral County its territory is to mile marker 64 where the Superior Volunteer Fire Department takes over.
The Frenchtown Ambulance responded and reported bruises and scratches from the glass breaking but the driver was in good condition and the medical crew returned to the station.
The driver was alone, and visibly shaken, but very thankful as it could have been much worse.
---