Veterans service to their country celebrated in Sanders County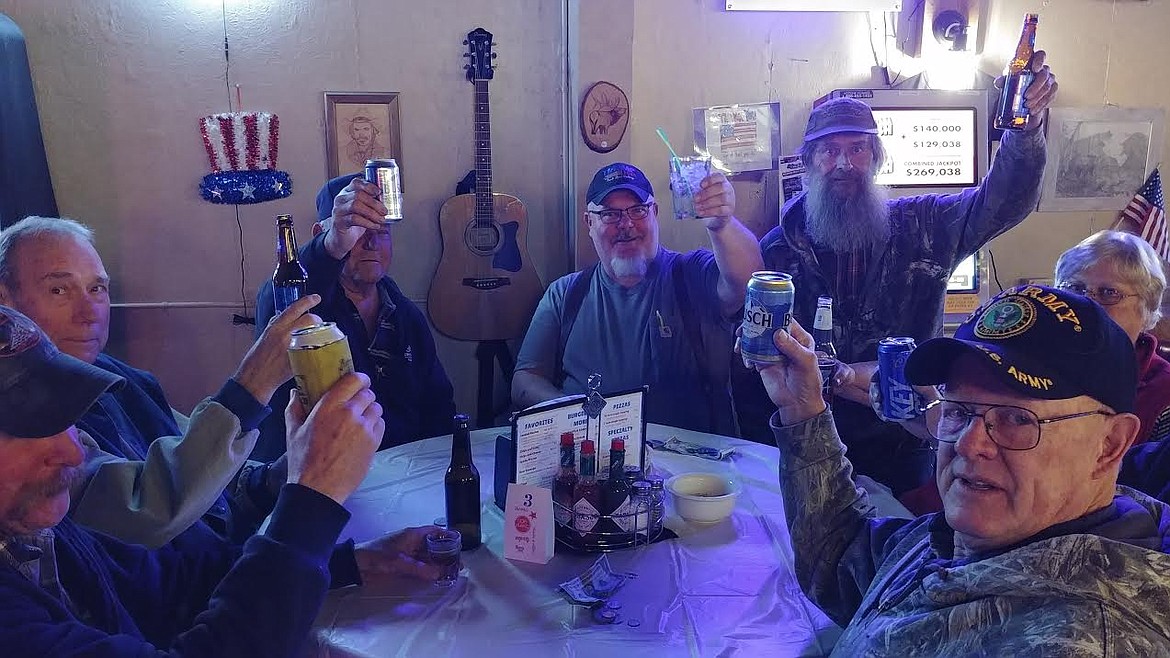 U.S. service veterans enjoyed their time at a party at the American Legion in Paradise Saturday. (Chuck Bandel/Valley Press)
|
November 18, 2020 12:00 AM
By CHUCK BANDEL
Valley Press
The veterans' community came out in force this past week in Sanders County.
Not force of arms, been there done that for many. And they speak in humble tones about their service to the country.
But make no mistake, they are a tight-knit group of men and women who served their country with pride and honor and when it's time to celebrate with their comrades in arms, they know how to do it up right.
That was evident in two separate events recognizing their sacrifice, beginning with a Veterans Day dinner at the American Legion Club in Paradise and culminating with a lively dinner and live-music dance at the Horse Plains VFW in Plains.
A gathering of more than 50 veterans, along with their friends and in many cases family, started the week's festivities Wednesday night in Paradise.
Hosted by the American Legion Post 129 and commander Darren King, the Veterans Day dinner was by all accounts an overwhelming success.
A spokesperson for the VFW Auxiliary, which cooked and presented the roast pork with all the trimming dinner said an estimated 50-55 dinners were served at no cost to the throng of veterans who attended.
"It's a good thing to do and we are happy to be part of it," the spokesperson said.
The dinner also marked a milestone in the Legion Club's literal rise from the ashes of a fire several years ago that burned the club to the ground. A prolonged effort to bring the facility back to life has created a second place for veterans to gather and share stories over drinks and good food.
There was an even larger gathering at the VFW up the road in Plains Saturday night as Post 3596 celebrated its 83rd year of existence as a meeting place for area veterans.
"The Post has been here since 1937," said club manager Gary Jensen. "We've been doing this a long time."
The VFW gathering also featured free dinner for the more than 100 veterans and others who attended, this one a lasagna feed with big slices of cake decorated to mark the event.
Local musicians Brett Barber and Craig Barton, who appear every other Thursday night in an "open mic" forum at the club, provided the evening's dance tunes. The two long-time fixtures on the regional music scene were scheduled to appear with their band Highway 93 but two members of the band were unable to attend.
Nonetheless, the dance floor was a busy place throughout the night as the barroom and adjacent meeting hall were joined into one big entertainment center to accommodate the large crowd.
Prizes awarded by raffle drawings were part of both events.
With comradery, friendship and fun being the goal, it was clearly mission accomplished.
---