Thompson Falls volleyball keeps rolling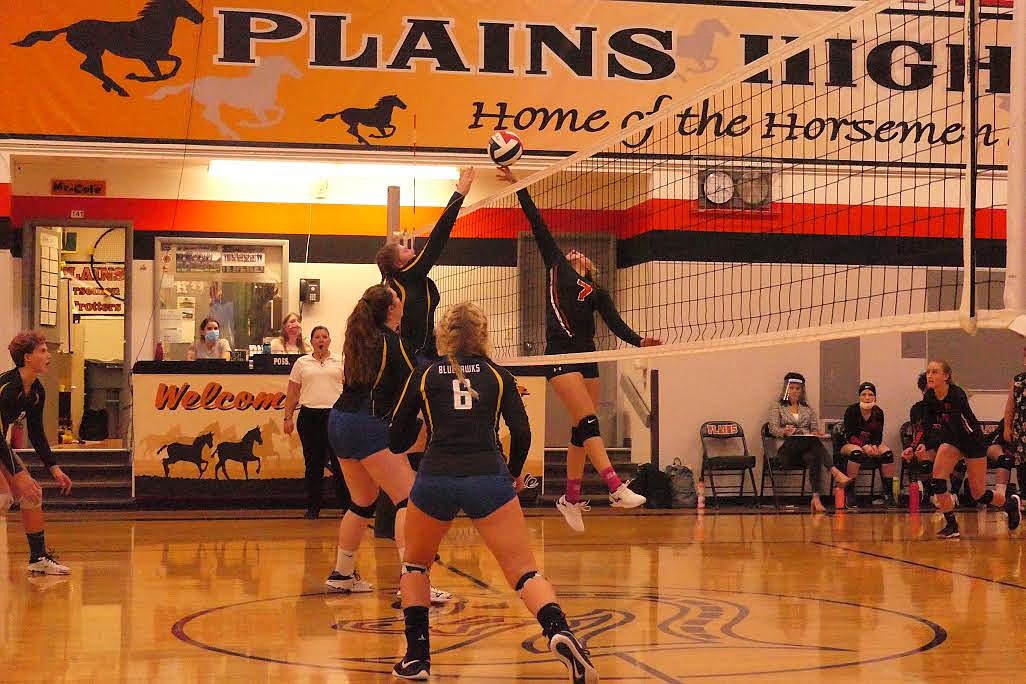 Thompson Falls players battle Plains' Kaylah Standeford at the net during their match last week. (Chuck Bandel/Valley Press)
|
October 14, 2020 12:00 AM
By CHUCK BANDEL
Valley Press
Thompson Falls showed it is approaching playoff form this week with a dominating win last Tuesday evening against Sanders County rival Plains.
The 3-0 win boosted the Lady BlueHawks to 9-3 on the year, and gave them a two game season sweep of Plains, which fell to 2-8 with the loss.
With a powerful front line dominating play at the net, the Blue Hawks overcame an early 6-2 game one deficit when they tied the set at 9-9. Thompson Falls then went on a 10-1 run to take a 19-10 advantage on their way to a 25-14 victory in the opening set.
In game two, Thompson Falls standout Jody Detlaff set the tone early on with a powerful block that broke an early 1-1 tie. The game was tied again at 5-5 before Detlaff and crew outscored Plains 8-0 on their way to a 25-7 win and a 2-0 match lead.
Game three was more of the same, with Detlaff opening the set with a powerful kill shot, then another just a few points later. The Lady Bluehawks dominated the rest of the way, building a 22-3 lead en route to a 28-5 game win and a 3-0 match sweep.
Plains junior Lexa Craft did not suit up for the game.
Next on the schedule for Plains was a road game against Clark Fork. In that contest, Clark Fork recorded a 3-0 match sweep, winning game one 25-12, game two 25-21 and clinching the match with a 25-11 win in game three.
Thompson Falls, meanwhile played at Ekalaka Saturday afternoon.
---