What is the meaning of graffiti in Mineral County?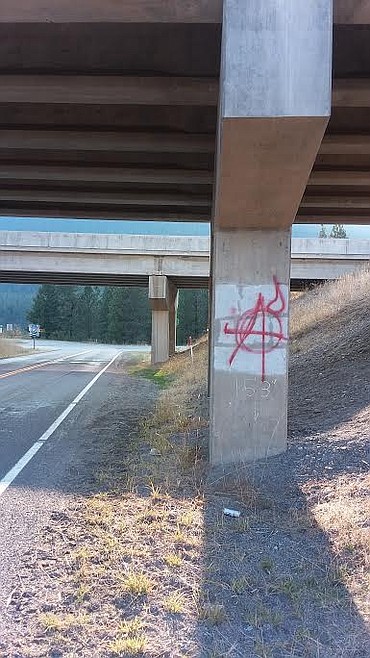 Graffiti, such as the symbol for anarchy and an open teardrop, has shown up in a few places in Mineral County in recent weeks. (Monte Turner/Mineral Independent)
|
October 14, 2020 12:00 AM
By MONTE TURNER
Mineral Independent
Is it the work of bored teen-agers or warnings from outsiders seeking to establish new territory?
Graffiti which has shown up at a few places in Mineral County has some residents talking.
The anarchy symbol and an open teardrop are two such examples.
The "circle-A," is a common anarchist symbol and has been used since the 19th century.
The teardrop is commonly used by gangs, but it has many meanings.
From Lookout Pass to Seattle, it is 371.3 miles, or about five hours and 28 minutes. From Lookout Pass to Portland, it's a six-hour and 45-minute trip using I-90 and I-84 West that comes to 450 miles.
Both the cities and many more have been making the news for months now with riots and shootings involving law enforcement, private citizens and Antifa.
Definition: 'a political protest movement comprising autonomous groups affiliated by their militant opposition to fascism and other forms of extreme right-wing ideology.'
It's common talk at the local coffee clutches with the shaking of heads and unanimous agreement, "Sure am glad we live here! Just another reason this will be home for my family even with the challenges we have. They're nothing compared to what those people are living through."
Those living in this region consider themselves fortunate enough to be watching the chaos from their safe little corner of the world.
Many theories of why it's happening and what will be next as many feel that the election could be the deciding factor.
But whatever the case turns out to be, we know there are many, many people whom refer to themselves as anarchists. It appears that they 'work' at night and live in large cities. Would there be any interest or reason Mineral County would be on their radar? Graffiti which has been spray painted throughout downtown areas affected by the rioting in cities has shown up in a few places in Mineral County.
Speculation can lead to all types of rumors as local law enforcement is aware of this vandalism, but not concerned.
"Where it's been painted is just off of I-90 and places we've noticed people pull off and use as a 'natural restroom' especially at night," said Mineral County Sheriff Mike Toth. "That's not to say that incidents like this should be ignored. We always encourage people to keep an eye out for suspicious people or activities and let us know."
Sgt. Shawn Smalley with the Montana Highway Patrol agrees and believes it's not serious.
"I am not aware of antifa setting up in our area at this time. DOT (Department of Transportation) would be in charge of painting over it," when asked which department should remove or cover it.
The affected area at the Tarkio exit has already been handled.
---