Plastic keeps St. Regis band making beautiful music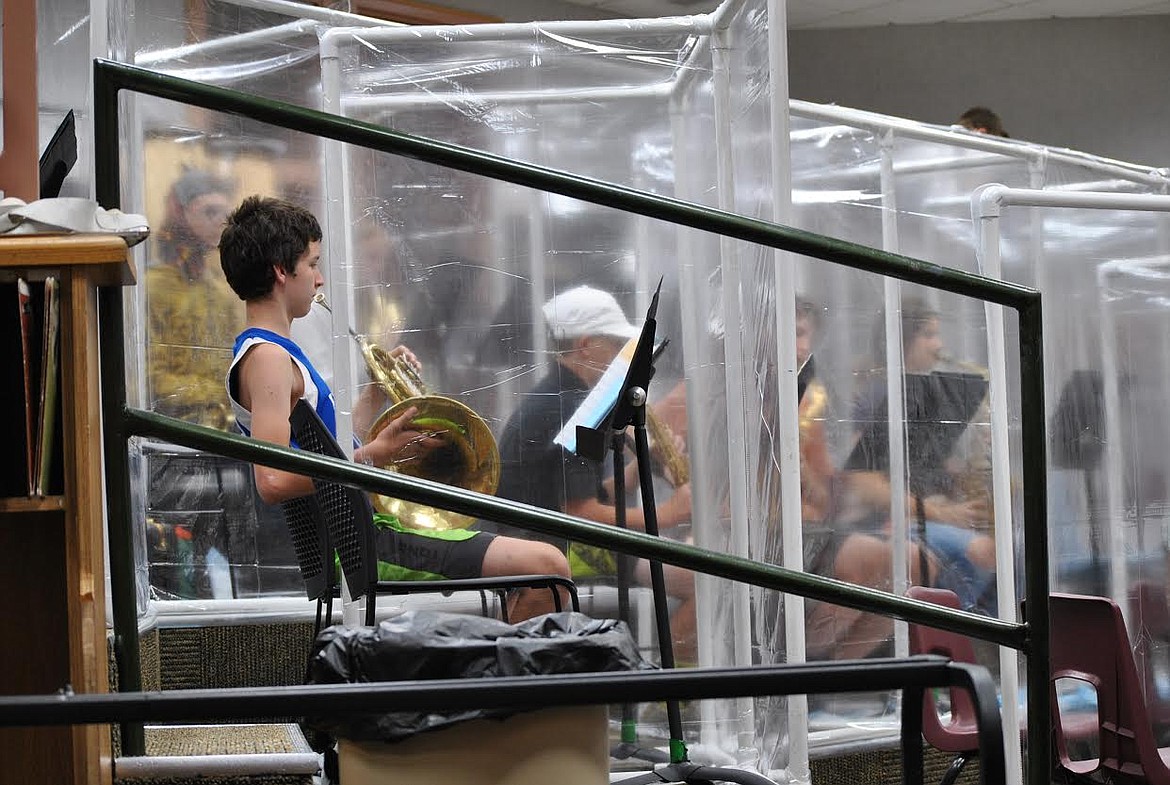 Jeremy Hegg plays his French horn within the confines of his plastic-framed band cubicle during music class at St. Regis High School. (Amy Quinlivan/Mineral Independent)
|
September 9, 2020 12:50 AM
By AMY QUINLIVAN
Mineral Independent
Sometimes you've just gotta' roll with it.
Such as rolls of plastic, or in this case hordes of plastic table cloth coverings.
Approximately 9,500 square feet is what it took to safely divvy up the band members of St. Regis High School into musical little cubicles. It took roughly 20 hours of labor and 640 feet of PVC pipe to construct these melodious bubbles.
"Surprisingly it doesn't sound too weird," commented music teacher Derek Larson.
The scene looks like something out of a hospital or laboratory, but these are simply the measures in place for Larson and his students to be able to play their instruments during the ongoing pandemic. Since most students have to remove their required face masks to play, unless you're a drummer or on a string instrument, this plastic film setup will have to do the trick.
Larson remarked, "Most of the teachers with whom I've visited feel that shutting down the building and doing remote learning is a losing situation. For myself, losing face to face contact is the biggest loss and this structure that I built ameliorates it a little bit."
Clarinet player Rylie Burnham shared, "The plastic isn't hard to see through looking forward, but it is a little side to side." This might cut down bandmate chatter between pieces, Mr. Larson will have to see.
Larson explained, "It's still fairly blurry, but it's a good way to get the kids to trust their ears a bit more and learn how to keep track of musical timing elements themselves and not just wait for me to cue them in."
Despite the plastic retrofitted music room, Larson is overjoyed to be back in school with his students. Overall, it's a small obstruction to endure compared to several local school districts not being able to have band at all this semester.
"It has definitely been the most challenging start to a school year since I started teaching 9 years ago," said Larson, but he added, "I'm very glad to not be staring at them through the computer screen."
"The band is pretty young this year, but we have a good start with some new faces and I'm hoping to be able to present some concerts this year, somehow," stated Larson. Check with the schools facebook page and the St. Regis Schools website for updates on possible concerts this fall and winter.
---