Plains man ready to take flight in latest creation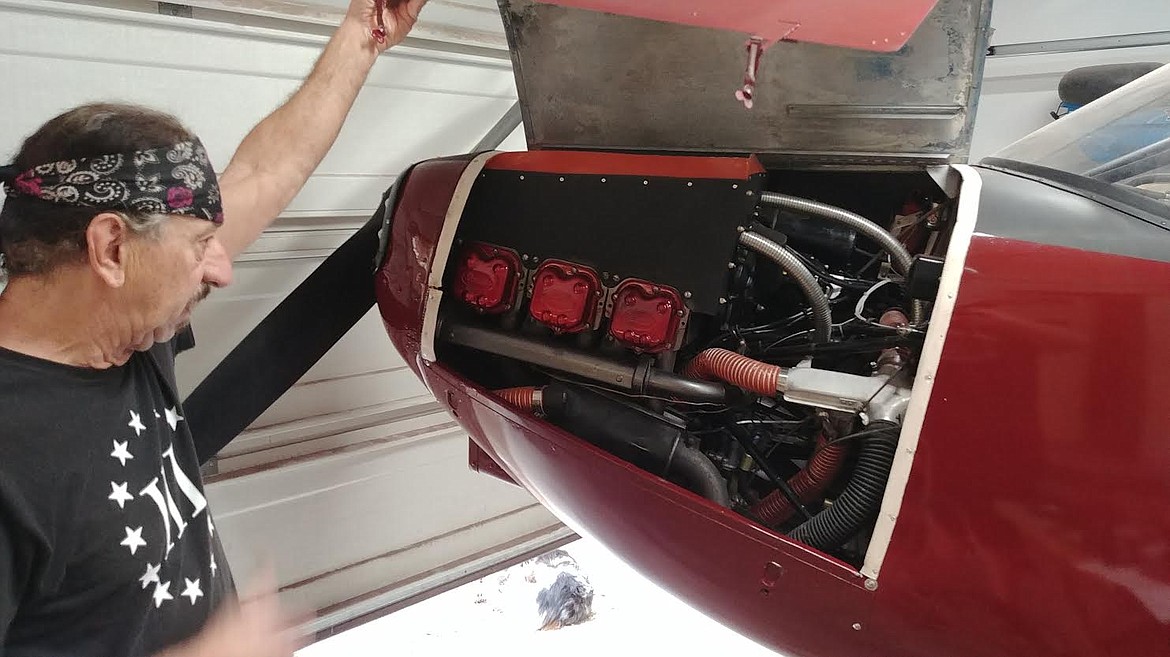 Ned Beigney checks the rebuilt engine of the vintage 1947 Stinson 108 model plane. (Chuck Bandel/Valley Press)
|
September 16, 2020 12:00 AM
By CHUCK BANDEL
Valley Press
There are creative, ambitious people in this world.
Then there's Ned Beighey.
A truck driver, builder of custom motorcycles and aircraft mechanic, Beighey's latest creation is close to taking flight.
Inside his garage in the woods northeast of Plains, Beighey has spent more than a 1,200 hours restoring a vintage 1947 Stinson 108 model airplane. He estimates he's two weeks from the first flight.
The Stinson 108 was a popular general aviation aircraft produced by the Stinson division of Consolidated Vultee, an American company which began producing the airplanes immediately after World War II and continued up until 1949.
Having worked on airplanes a good part of his life, Beighey felt the need to take on what has become a serious project.
"Over the years I've worked on restoration projects for planes like the B-24 and B-17," he said of the iconic WWII bombers that saw extensive action in Europe and other theaters of the war. "I felt like if I didn't do this now, I would never do it."
Beighey tracked down a farmer in Minnesota who had two of the classic planes. The one he bought was in need of repairs that amounted to a full-scale restoration effort. Including purchase price and costs involved with shipping the plane from Minnesota to Plains, as well as replacement parts, he figures he has about $6,000 invested in the project so far. The real, total, he said, would be much higher.
"I figure I have around 1,300 hours into working on this plane," he said from his garage turned mini-hangar. "If I could charge myself for the time I've spent it would probably be about $60,000."
Several of the replacement parts Beighey has crafted himself.
One of the first tasks was restoring the piston engine that powers the lightweight aircraft. He completed that job several months ago and has a video showing the wingless fuselage with the propeller churning up the mountain air on a ground test.
Along the way he has removed the wings and tail wings of the plane and replaced or restored all of the fabric that covers the light steel tubing making up the frame of the aircraft.
He also enlisted the help of his wife Marichu who has experience working with upholstery, to restore the large portions of the interior cabin, which has room for a pilot and four passengers. Several of the interior panels have been redone with a new, red fabric.
He still has wiring work to do to hook up the plane's control and other electronic equipment. During his many years working as an aircraft mechanic, including time at the airport in Thompson Falls, Beighey was once involved with re-wiring a B-17.
The plane's wings are currently on saw horses in a nearby outbuilding, having been fully refabricated.
While removing the old wing covering, he discovered a mouse nest and four mice inside one of wing panels.
"A friend said not to worry about the mice, he had a cat," Beighey said.
Beighey's career in aviation mechanics took on a star quality when he was working at an airfield in Florida. The site was used in filming the movie Hot Shots, which was a spoof of the Top Gun movie.
He was chosen as lead mechanic for keeping the F-5 aircraft depicted in the movie in flying condition.
A truck driver for a good part of his life, dabbling in things mechanical is nothing new. Over the years he has built or restored several classic motorcycles, including Harley-Davidsons like the two he still owns and rides.
"I've had a lot of people bring their bikes to me for work," he said. "It's something I like doing."
Beighey has been a licensed pilot for the past 30 years and is eager to get his Stinson in the air. At one point in his flying career he also did aerial photography, taking airborne pictures of ranches and other properties for use by realtors and others.
Sometime in the next two weeks, he hopes to be ready to load the aircraft minus the wings so he can get it out of the narrow road leading from his house and on its way to the Plains airport. The wings will be transported separately and attached at the airport.
Once assembled and checked out, he hopes to take the plane on its first flight in many years.
"I'm looking forward to getting it in the air," he said. "Been a lot of hard work but I'm sure it's going to be worth it".
---