Superior Schoolhouse hosts outdoor concert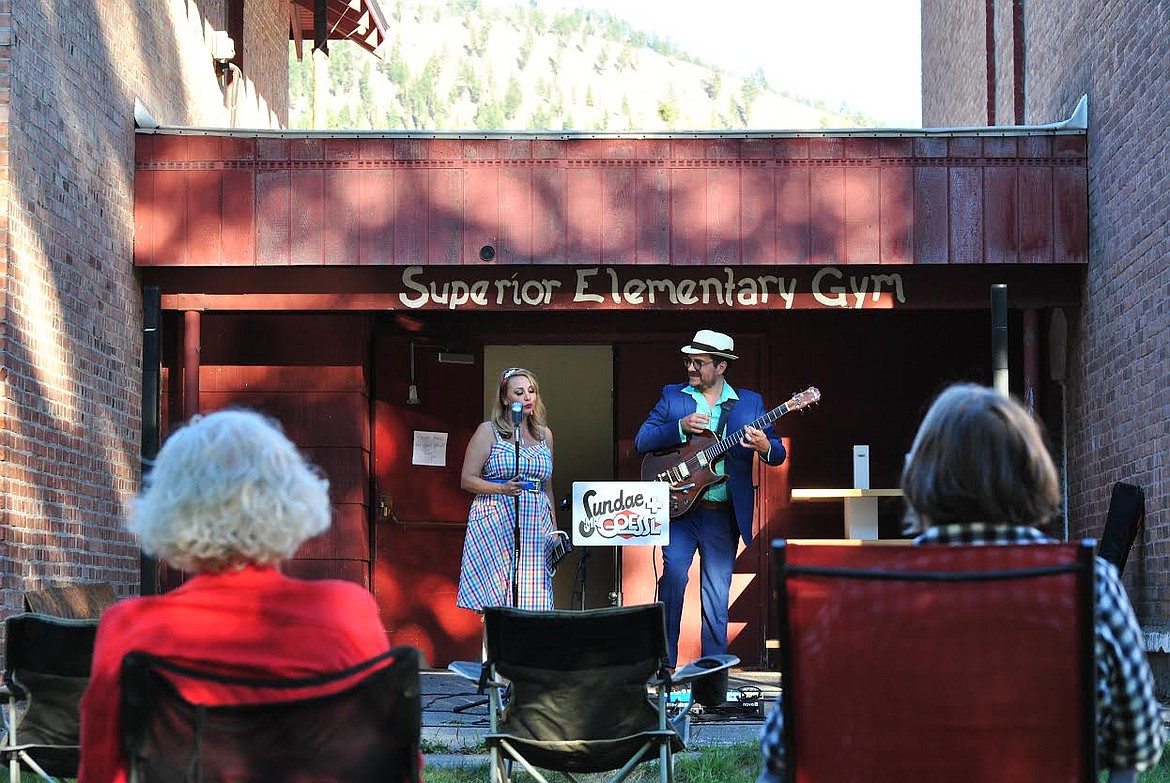 Deborah Lewis and Diane Magone had front row socially distanced lawn chair seats at the Mineral County Performing Arts Council curbside concert featuring Sundae + Mr. Goessl on Wednesday, Sept. 9. (Amy Quinlivan/Mineral Independent)
|
September 16, 2020 12:00 AM
By AMY QUINLIVAN
Mineral Independent
With the sun setting behind the maple trees that line the old Superior Schoolhouse lawn locals gathered in family unit socially distanced squares to take in a delightful end of summer outdoor concert.
The first musical event to take place in several months, featured the sweet couple, Sundae + Mr. Goessl. After countless weeks of staying at home it was an exceptional evening on Sept. 9 to experience the vintage jazz tunes in a COVID friendly fashion.
The Mineral County Performing Arts Council had to work quickly to secure the husband and wife duo from Seattle who is currently touring around the country. Jim Goss is the treasurer for MCPAC and he also had the pleasure of presenting the musicians to the audience Wednesday night.
"I thought we had a decent crowd considering that we were rushed to get the word out," Goss said. "More importantly, MCPAC got to get their face out to the public."
Kate Voss, whose stage name is Sundae because, "I'm just so sweet!" she said. "This has definitely been the weirdest year for us touring, things have been hard. We are grateful we got to make the stop in Superior though, it was good to be back."
Between songs Sundae cajoled the crowd with some of her best jokes and one-liners.
While Mr. Jason Goessl demonstrated his accomplished jazz guitar skills, Sundae wowed the audience with a very unique instrument. The Melodica, a small free-reed instrument related to the pump organ and harmonica. It has a keyboard on top, and is played by blowing air through a mouthpiece that fits into a hole in the side of the instrument. Although not the most flattering instrument to play it produces an exceptional sound that fit with the pair's music style flawlessly.
The charming twosome entertained residents on the schoolhouse lawn for over an hour with "Cowboy Jazz" pieces mixed with blues, and even a few Latino numbers. Everyone who attended seemed pleased with not only the music but the carefully thought out public health measures.
Superior resident Cathy Kuhl remarked, "It was a good concert and social distancing made it so safe." The event was advertised as a curbside concert which gave patrons the option of sitting in their cars with windows down while parked along River Street or laying down a blanket and having a picnic dinner from Whipped Up Café.
Many chose to bring lawn chairs and stake out a designated square for the evening gathering. Superior local Deborah Lewis said "Wasn't that fun? It was so nice to get out and hear some great music."
As far as future events for the Mineral County Performing Arts Council, the remainder of 2020 is looking quite bleak, as well as the beginning of 2021. Most events are postponed to the following year or cancelled due to COVID-19.
Goss sadly conveyed, "Other than this event, I expect it will be over a year before we can continue holding our conventional concerts."
He encouraged folks to check back often on the MCPAC website at http://www.mineralcountyperformingartscouncil.org/ for any changes or updates.
---