Amid COVID-19, St. Regis School BPA moves forward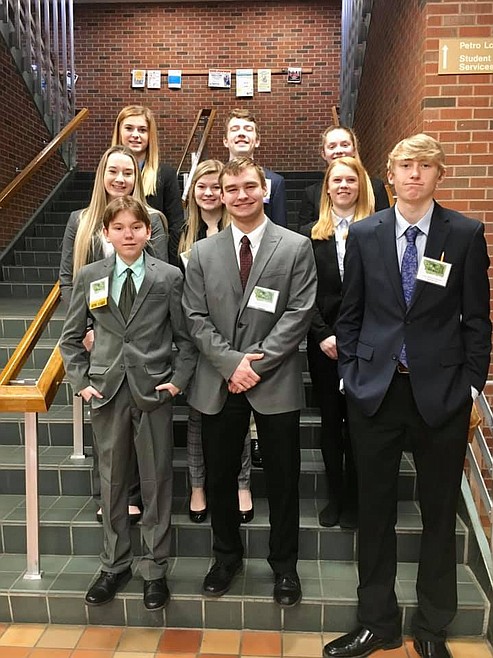 St. Regis Business Professionals of America chapter members excelled at the Montana state chapter earlier this year. (St. Regis School photo)
|
September 30, 2020 12:00 AM
By AMY QUINLIVAN
Mineral Independent
As local school districts diligently navigate new restrictions and health code regulations due to the ongoing COVID-19 pandemic, sports and extracurricular activities look starkly different this year. This new reality is also true for the St. Regis Business Professionals of America chapter.
"Normally, we would run a 50/50 raffle at all home volleyball and basketball games, however, we are not able to do that," said business teacher Michael Cooper, who is a co-advisor for the school's BPA group.
All proceeds from the raffles in the past have gone to the Special Olympics of Montana. The St. Regis chapter has consistently been one of the largest donors to Special Olympics of all the chapters in Montana. Last year they finished in third place with a donation of $525.
Cooper stated, "Since we can't do the raffle, this year we may place donation cans around the area business to see what we can gather in."
As sports seasons get underway, the commencement of each school year is also the time for new students to join and participate in various activities.
Cooper shared, "This year we will have between eight to 10 kids in BPA. This is down from previous years. I guess this is due to graduating Seniors and small incoming classes. Also, we no longer have any mandatory business or technology class which kills the enrollment."
A major recruiting tool was the school's mandatory Freshmen Computer Tech class that is no longer required.
He added, "I lost my main recruiting tool, which was the freshman class. However, that is small beans compared to the strength of the students I have that are returning to BPA."
Students like Andrew Sanford who was a 2020 National Qualifier in 'Legal Office Systems and Procedures.' Baylee Pruitt was a 2019 National Qualifier in 'Economic Research Project Team.' She was also top 10 in the nation for this event. Junior Carter Jasper was elected as a state BPA officer, and is a two-time national qualifier in the event 'Business Law and Ethics.'
This past spring due to COVID the Nationals event was cancelled altogether. Jasper shared, "It was supposed to be held in Washington, D.C. It was hard for everyone who qualified because we all worked very hard, but for me it was especially hard because I'm interested in politics so I was disappointed not to be able to go to the heart of the action."
As a club, BPA meets twice a month. In addition, they conduct after school workshops to help the students prepare for their competitive events. The first competitive event is in January, so up until November students will garner a deeper understanding of each event and decide which ones they'd like to compete in.
With the uncertainty of large group gatherings Cooper detailed, "We are taking the current year one event at a time and are currently getting ready for the Regional Leadership Conference in December."
Once students choose their events, they can focus on drafting research papers or presentations for projects. Then members can begin practicing proficiencies such as word processing, graphic design, and spreadsheet skills.
Cooper said, "We do not know yet if we will be having virtual events or will be able to go live. I assume this will be something we will find out in time. For the moment, we are preparing and practicing as if we will be in Missoula for the regional competition in December."
Not having in-person conferences has been a challenge on students, but in his third year of BPA Jasper remains optimistic. "Since July we have been trying to find ways to keep people engaged and still getting the same information as if they were in person. We have attended different virtual workshops by professional speakers to develop strategies to accomplish our goals."
Tentatively the calendar schedule for BPA events is the Regional Leadership Conference in Missoula in December. March of 2021 is the State Leadership Conference in Billings. The National Leadership Conference next spring is in Orlando, Florida in May.
Carter remarked, "I do not believe that BPA will be like it was in years past, but that's not a bad thing. Everyone whether they live in Montana or Maine has had to adapt to COVID-19, and I believe that this challenge will show to the state that whatever cards BPA is dealt we can adapt and overcome. I am confident that we will find ways to make sure that our chapter can still experience all that BPA has to offer."
Ultimately Cooper expressed, "We have a strong core of members that each bring their own strength to the St Regis Chapter, and I can't mention chapter strengths without mentioning Tina Hill, my BPA co-advisor."
He has high expectations for his BPA members during 2020–21 school year and looks forward to being able to take their National Qualifiers to Orlando and Disney World.
In light of the pandemic that began this past March, the student's accomplishments at the Montana State BPA Conference were unfortunately overshadowed.
Here are the top 10 finishers for the St. Regis chapter from March of 2020:
Kylee Thompson - 1st place in Advanced Word Processing (National Qualifier)
Ian Farris - 2nd place in Economic Research Paper (National Qualifier)
Ian Farris - 7th place in Advanced Word Processing
Ian Farris - 7th place in Business Law and Ethics
Andrew Sanford - 7th place in Legal Office Systems and Procedures
Andrew Sanford - 10th place in Economic Research Paper
Jakob Lohman - 10th place in Legal Office Systems and Procedures
Baylee Pruitt - 10th place in Intermediate Word Processing
Carter Jasper - 3rd place in Business Law and Ethics (National Qualifier)
Carter Jasper was also elected as Montana State BPA Officer, filling the role of Montana BPA Membership Director.
---