Hot Springs volleyball drops hard-fought match to Seeley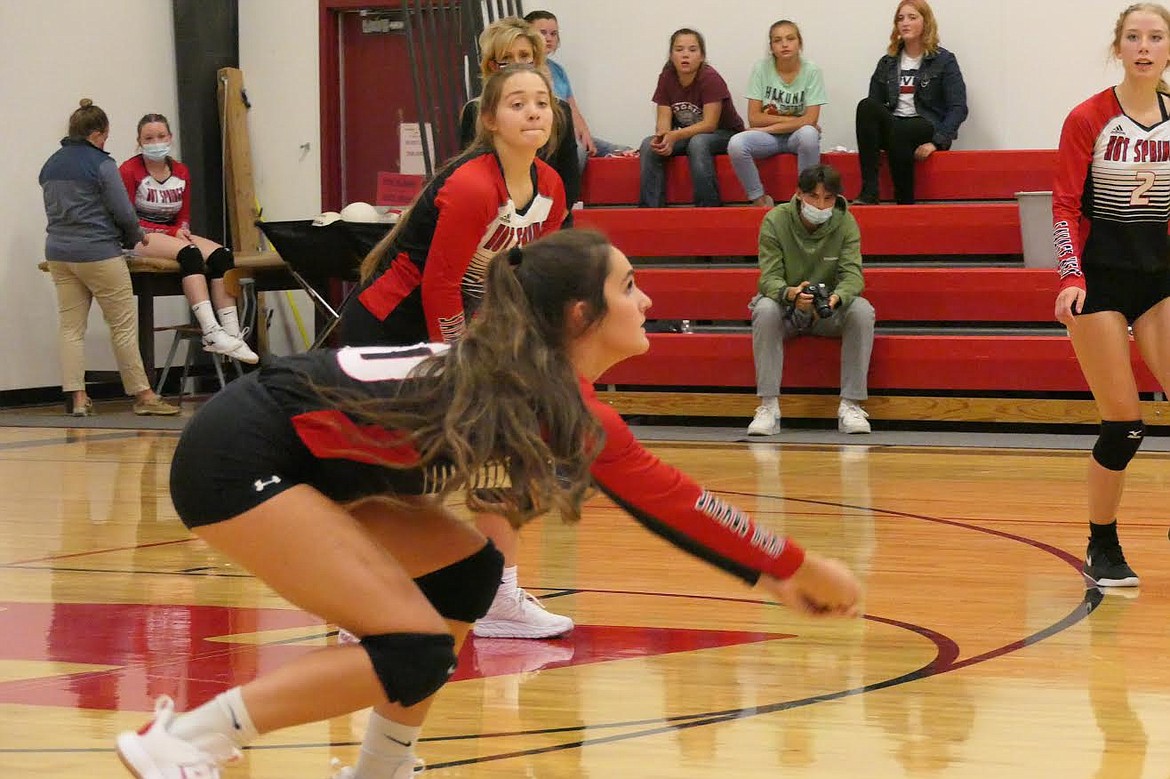 Hot Springs volleyball player Lily Winn gets ready to make a dig during a recent match. (Chuck Bandel/Valley Press)
|
September 30, 2020 12:00 AM
By CHUCK BANDEL
Valley Press
On paper, this shaped up to be a dandy of a high school girls volleyball match.
Two teams with sparkling season records, high flying front lines and skilled players at all positions.
In the end, it was as expected.
Visiting Seeley came into the match with a 5-2 record with both losses coming to powerhouse Charlo, the only team to put a blemish on Hot Springs' 6-1 season effort.
Height, as slight an advantage as it may have been, was perhaps the deciding factor as The Lady Blackhawks chalked up a 3-1 match win over Hot Springs Thursday evening on the Lady Savage Heat home court.
In a back-and-forth battle that featured spectacular long volleys and outstanding net defense by both teams, the taller Seeley squad was able to triumph, led by talented six-foot senior Klaire Kovatch who had 11 kills, four blocks and six digs on the night.
Hot Springs took the opening game 25-22 behind the stellar work put in by junior standout Katelyn Christensen who had an outstanding game, six service aces, 12 kills, two blocks and eight digs. She had plenty of help from seniors Savannah Roosma (10 kills and four blocks) and Lizzy Fisher (four aces and 16 assists) for the game.
Game one was an indicator of things to come as Hot Springs jumped out to a narrow early lead in a game that featured six ties before the Savage Heat managed to put the opener in the win column.
The second game started in much the same fashion with three early ties before Kovatch and company took advantage of outstanding front line play in building a 21-9 lead. The Blackhawks cruised to a 25-15 win to even the match at one game each.
Seeley pulled out to an early lead in game three and appeared to be in control of the match before Hot Springs roared back from a 17-13 deficit to tie the game at 17-all. After regrouping with a timeout, the Lady Blackhawks came out and forged a 24-19 lead and took game three 25-20.
Game four of the match was nearly identical to the third set, with the teams trading points early before Seeley pulled away behind its superior shot blocking effort. A 25-17 win in that game sealed the win for the visitors, three games to one.
The Seeley win left both teams with identical 6-2 records on the year.
Up next for the Lady Savage Heat is a rematch Tuesday in Plains, a team they beat at home early this month. They then return home Thursday evening for a rematch with Charlo in what promises to be an outstanding volleyball encounter.
---