St. Regis volleyball collects first win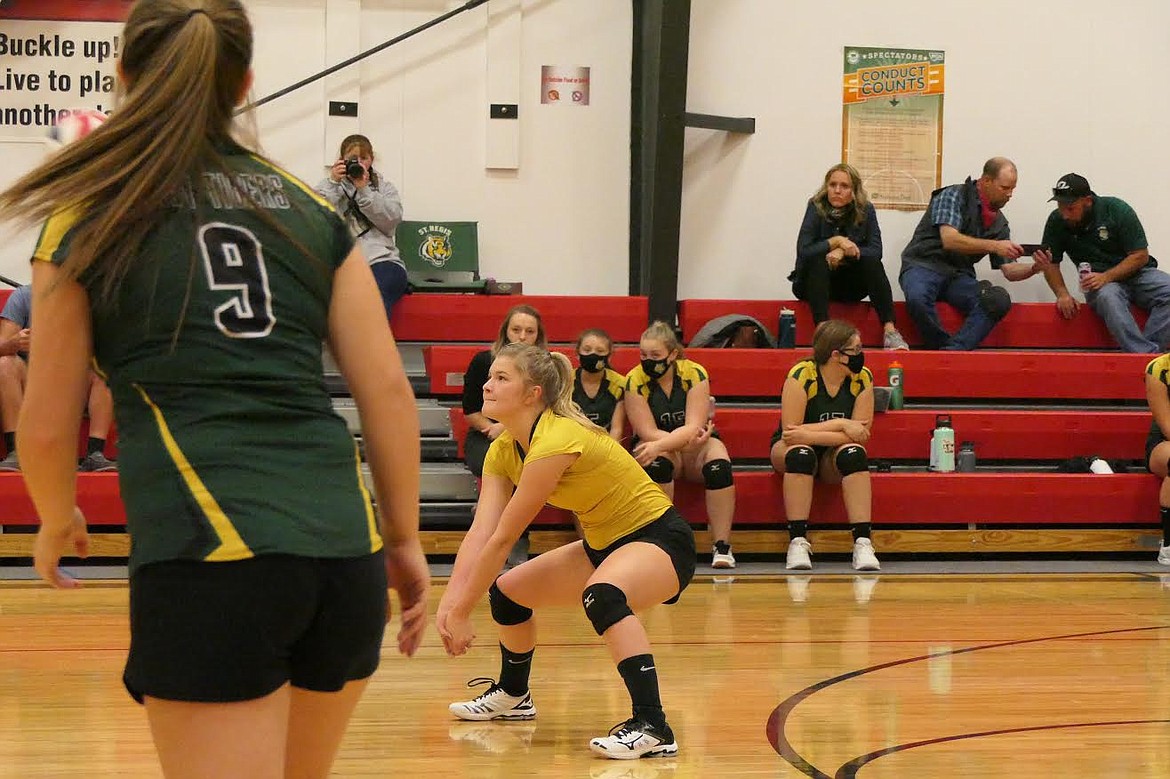 St. Regis volleyball player Macy Hill prepares to return a shot during a recent match. (Chuck Bandel/Mineral Independent)
|
September 30, 2020 12:00 AM
By CHUCK BANDEL
Valley Press
This was the one that was bound to happen and a glimpse of future potential for the young St. Regis Lady Tigers volleyball team.
The Lady Tigers, with just one senior on their roster, got their first win of the year Thursday night when they traveled to Lincoln and came away with a 3-1 match win over the Lady Lynx.
The win came on the heels of a valiant effort the week before against the powerful Hot Springs team, a match they ultimately lost 3-1 but not without putting up a good fight.
Against Lincoln, St. Regis jumped to an early game one lead and never looked back on their way to a 25-14 opening set win. They followed that with an equally convincing 25-15 win in game two to grab a solid 2-0 match lead.
However, Lincoln, who came into the game with a 1-5 season record, rallied before the home crowd to take a 25-20 game three victory.
St. Regis recovered from that game loss and held on to win a see-saw game four and lock up their initial season win three games to one.
The St. Regis win gives them a 1-6 season mark, identical to Lincoln's record.
A few days earlier, the Lady Tigers traveled to Hot Springs where they faced a 4-1 Lady Savage Heat team coming off their first loss of the year, a 3-1 setback at the hands of undefeated Charlo.
Hot Springs took game one of that match 25-17, then recorded a 25-5 victory in game two for a 2-0 match lead. However, the gritty Lady Tigers clawed their way to a 25-23 win in game three and fought hard but eventually fell to Hot Springs in game four to give the host Lady Savage Heat a 3-1 match win.
Up next for the Lady Tigers is a pair of road games, beginning with a match Tuesday in Drummond. They go back on the road Thursday for a match against I-90 rival Clark Fork in a match to be played in Alberton.
---