Burk paces Blue Hawk thinclads to fourth at Bigfork Invite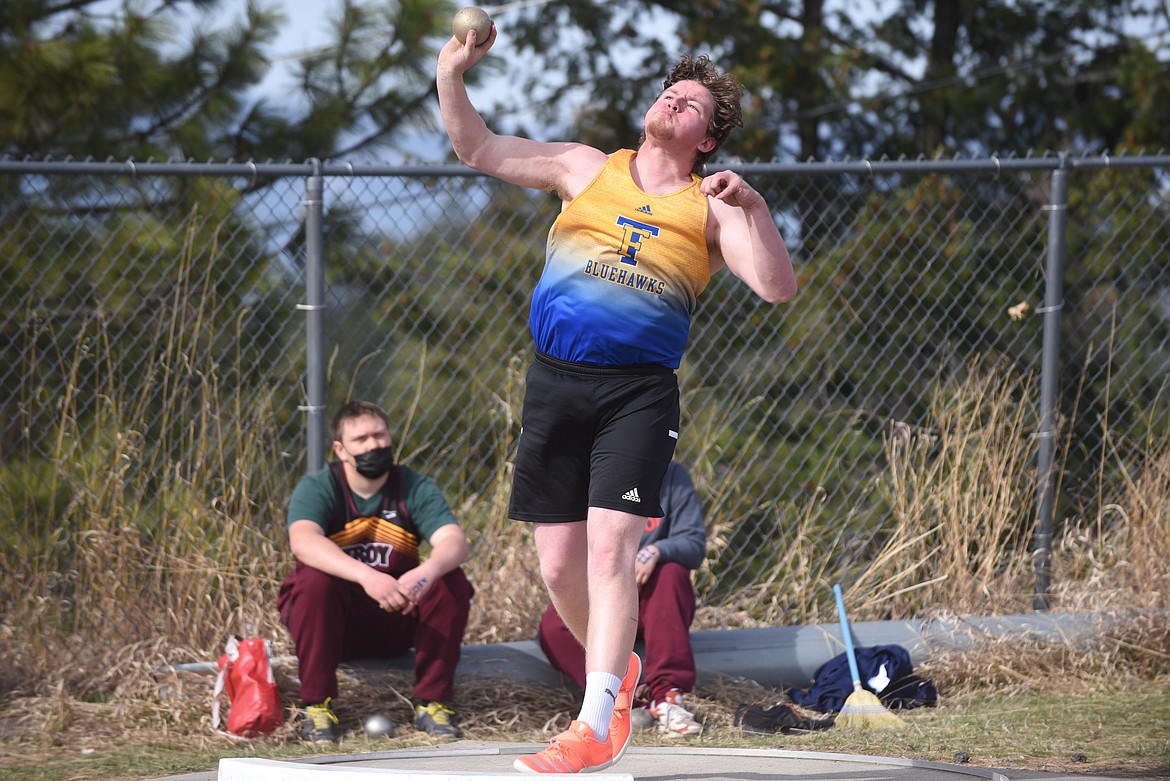 Thompson Falls senior Cody Burk's 47-foot toss was a winner in the shot put at the Bigfork Invitational Saturday. (Scott Shindledecker/Valley Press)
by
SCOTT SHINDLEDECKER
Clark Fork Valley Press/Mineral Independent
|
April 7, 2021 12:00 AM
It was a solid opener for three Sanders County schools Saturday at the Bigfork Invitational as competitors from Western Montana faced off after coronavirus wiped out the 2020 season.
Host Bigfork rolled to the team title with 124.5 points. Thompson Falls was seventh with 41.5 points. Plains was 12th with six points and Hot Springs was 14th with 1.5.
Senior Cody Burk led the Blue Hawks with a win in the shot put at 47 feet and fourth in the discus at 124 feet, 7 inches. He also placed 10th in the javelin.
Senior miler Justin Morgan also had a good day with a runner-up finish in the 800 run and a third in the 1,600.
Senior Dante Michelli placed third in the 200 dash and sixth in the high jump. He was seventh in the long jump
Sophomore Breck Harris was 13th in the 200, fourth in the high jump and fifth in the long jump. He was seventh in the triple jump.
Sophomore Keinen Williams was 11th in the 100,
Freshman Justin Haagenson was 11th in the 400 and 13th in the long jump.
Junior Watson DiBona was 15th in the 800 run,
Their 4x100 relay team, which included Owen Fernstrom, Lance Palmer, Keinen Williams and Justin Haagenson, was eighth.
The 4x400 relay of Breck Ferris, Dante Michelli, Justin Morgan and Levi Myers was fifth.
In the high and long jump, Owen Fernstrom was eighth and ninth in the triple jump.
For Plains, sophomore Mason Elliott was third in the 300 hurdles while freshman Nicholas Hill was 16th in the 100 dash, Brenden Vanderwall was 16th in the shot put.
The 4x100 relay team of Mason Elliot, Nicholas Hill, Joseph Martin and Brenden Vanderwall was ninth.
Martin was 16th in the javelin and Hill was 22nd.
Martin was 13th in the triple jump and 19th in the long jump.
For Hot Springs, freshman Quincy Styles-Depoe led the Savage Heat with a fifth in the 110-meter hurdles and 10th in the 300 hurdles. He was 14th in the javelin and 15th in the high jump.
Bert Detienne was eighth in the 400 run, 16th in the 200.
Syrrius Robinson was 15th in the long jump.
The 4x100 relay team was seventh. It included Will James-Courville, Michael Marrinan, Bert Detienne and Syrrius Robinson.
Senior Jesse Uski was 17th in the discus.
Complete results may be found at https://www.athletic.net/TrackAndField/meet/417895/results.
Plains and Hot Springs are back in action Friday at the Dave Tripp meet in Polson. Thompson Falls will be at the Frenchtown Invitational Saturday.
---