Juanita Jean Adolph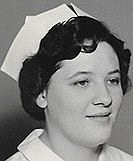 |
April 21, 2021 12:00 AM
Juanita Jean Adolph passed away on March 5, 2021 at Clark Fork Valley Hospital in Plains, Montana.
Juanita was born in Morrison Hospital in Illinois, on Aug. 17, 1948, the daughter of Richard and Alice (Queckboerner) Adolph.
Juanita attended and graduated from Fair Haven grade school and then from the Chadwick High School Class of 1966. She wanted to be a nurse and received her Licensed Practical Nurse degree from CGH Hospital in Sterling in 1967 and began her working career.
In the 1970s she went to Baylor Medical School in Dallas, Texas, where she took a course in operating room technician skills. She loved the outdoors, open spaces and wildlife and went to Plains, Montana, from Dallas, applied for a job, received it, and never returned to Illinois except to visit.
She enjoyed the mountains, hiking, antler hunting, and the wildlife. All were her favorite.
Juanita was an avid and skilled quilter and made many quilts and wall hangings etc. for others. She and a few friends would go to quilt stores on the hunt for the perfect piece of fabric.
Juanita is survived by one sister, Sharon Kappes and a sister-in-law, Deb Adolph. She also leaves six nieces and nephews, 13 great-nieces, nephews, and also many friends that she considered family from Montana.
She was preceded by her parents; a brother, Terry; many aunts and uncles and a great-great nephew.
Condolences may be sent to www.schillingfuneralhome.com.
To plant trees in memory, please visit our Sympathy Store.
---