Lady Bobcats cruise to victory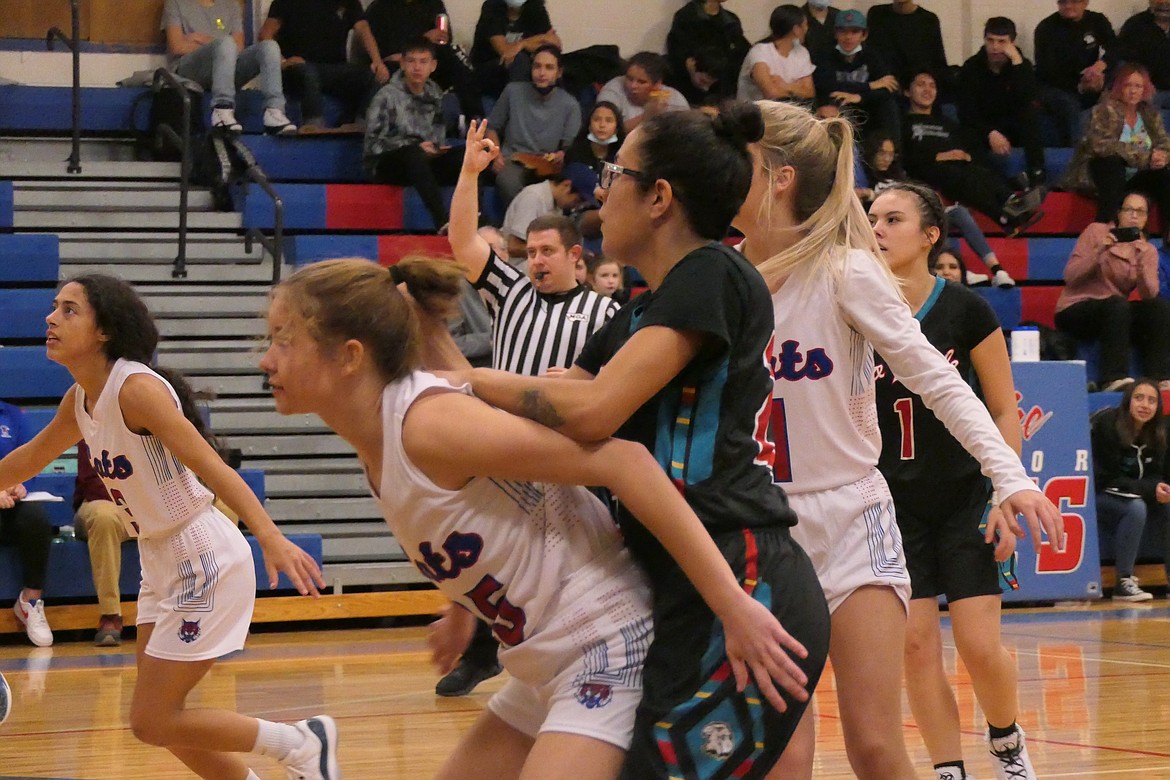 Superior's Payton Milender boxes out Two Eagle River's Chul DuMontier as both battle for a rebound during Tuesday night's game in Superior. (Chuck Bandel/Valley Press)
by
CHUCK BANDEL
Valley Press
|
December 29, 2021 12:00 AM
In their last game before the Holiday break, the Superior girls basketball team continued to improve on their slow start to the season with a resounding 53-17 thumping of the winless Two Eagles River Lady Eagles Tuesday night in Superior.
The mismatch was evident from the opening tip-off as the Lady Bobcats blasted out to a 16-0 lead midway through the first quarter behind their frenetic, swarming defense and the rounding and scoring of senior post Cassie Green.
Green racked up several steals which she converted into lay-ups and short jump shots as the host team overwhelmed the Lady Eagles on their way to a 25-2 first quarter lead. Two Eagle River scored only once in the first eight minutes of play, their lone two coming with three minutes left in the quarter.
And while the Lady Eagles managed to find some semblance of offense in the second quarter it was once again too little, too late. This time a majority of the damage was done by junior guard Payton Milender, who like Green had several steals which she converted to easy baskets.
Midway through the second quarter Superior's lead had grown to a whopping 36-2 margin before a three-point basket from the Lady Eagles temporarily slowed the onslaught.
Much as it had been in the first quarter, the Lady Bobcats defense was just too much for the Two Eagle River girls to solve. The visitors did manage a three-pointer and a two pointer with a free throw the rest of the second quarter, along with a two pointer at the buzzer but Superior was still in command, 41-10 at the halftime break.
Despite the slight glimmer of hope for the Lady Eagles, the third quarter was more of the same as Green rattled off the first five points of the period to boost the home team to a 51-10 lead.
The 40-plus points lead triggered the Mercy Rule, which keeps the clock moving non-stop except for time outs, as the Lady Eagles fell behind 53-10 with the fourth quarter still to play.
Superior's reserves played most of the rest of the game, including the fourth quarter when the Lady Eagles managed to hold the Cats scoreless while trimming four points off the huge lead.
When the final buzzer sounded, the host team had a 36-point advantage.
Green led all scorers with 15 points, while Milender added 14 and Molly Patko chipped in 10 for the Superior girls.
The win improved the Lady Bobcats to 3-3 overall and 2-1 in conference play.
Superior resumes its basketball season Thursday, January 6 with a home game against I-90 rival St. Regis. They then hit the road for a Saturday night game in Hot Springs against the Lady Savage Heat.
Recent Headlines
---