Superior grad returns home to open salon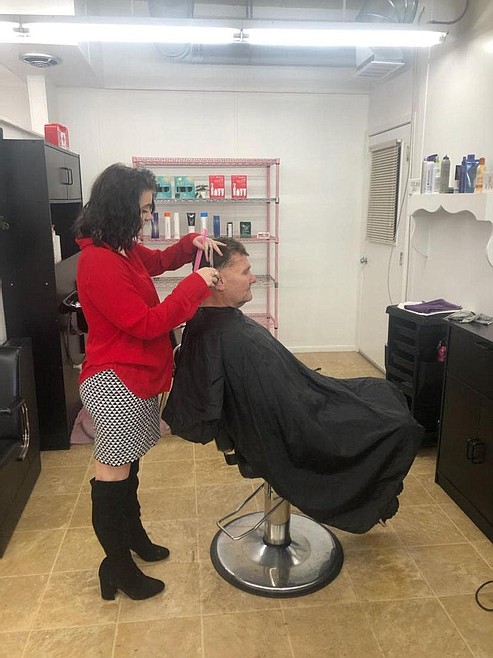 Kaylee Ray finishes up some final touches on a clients haircut at her salon, called Hello Beautiful in Superior. (Photo courtesy/Kaylee Ray)
by
AMY QUINLIVAN
Mineral Independent
|
December 29, 2021 12:00 AM
Superior graduate and owner of Hello Beautiful Salon, Kaylee Ray, sort of stumbled into a career of being a hair stylist.
"Honestly this was something that came from chance. I always enjoyed doing my makeup and stuff but never thought of it as a career," explained Ray.
After finishing school in Superior in 2017 she went on to study at the University of Montana with a focus in business. Following an unfortunate turn of events Ray knew that she needed to take time away from college for a while.
She said, "I didn't want to waste a year so I went to cosmetology school to have a good job to help pay through college then just fell in love with it."
Ray completed her cosmetology training at the Bitterroot School of Cosmetology and decided not to look back. In hindsight she remarked, "Without that occurrence happening I would have never thought of this as a career, so I am a big believer of everything happens for a reason. I really enjoy every minute of it so I never went back."
Back in September, she opened her very own salon in her hometown of Superior. Hello Beautiful Salon offers men's and women hair services from cuts, colors, and balayage. She also offers lash extensions, lash and eyebrow tints, face waxing, and a basic facial.
"Growing up my Mom and I would always get our nails done together, which is a great core memory to spend time together. But I also did get my hair done as well, I liked to try different colors," Ray reflected.
Spending much of her childhood in Superior she felt fortunate for small town connections and the local support when she started her salon.
Ray shared, "Growing up here I knew a lot of people so the salon space was pretty easy to get into. I wasn't looking anywhere else. I was pretty set on Superior because with some other stylists here retiring it seemed like a great opportunity with timing."
One of her biggest challenges so far, is building clientele, but she feels like she has a good balance of younger and older folks. Ray also noted, "Finding the hours that work during the week with myself, as well as students, and working people. Learning to say no, and keeping boundaries so I'm not working 7 long days but sometimes it is what you have to do first starting a business."
Despite the struggles of just starting out, Ray feels like she's doing something she loves.
She expressed, "I would absolutely say it's a passion of mine. I love getting to meet new people, and it's crazy how the smallest thing, like a flattering haircut or adding lashes can make someone feel so much more confident. I love that. Enhancing features, helping someone feel more confident and beautiful makes it really enjoyable."
She appreciates that every day at the salon is new. Ray said, "I love the variety of everything, makes my days never boring cause it's always different. Some days are better than other though but that's with any career."
As far as returning to her hometown roots and establishing a life and a career in Superior, Ray is grateful. "It's honestly refreshing being able to have a salon in the town I grew up in. I love Montana, and I love the laid-back energy here. Everyone has been so kind and supportive, it's been amazing," she added.
Right now, her career goals are to continue growing her clientele and maybe eventually have another stylist join her at Hello Beautiful. Ray stated, "Building a job where you can be in charge of your time and everything is truly a blessing to have."
Rays mission for each of her customers is to help them feel welcome and to build their self-esteem. She shared, "I truly hope all my clients feel like the salon is inviting, comfortable, with good energy. I hope they feel more beautiful and confident by the time they leave. As well as that they know they can come in if they ever need a little boost. That they know they can trust me and feel comfortable with me doing their service without hesitation."
In just a few short months Ray feels secure in the salon's future. She said, "I absolutely think my business will continue to do well in Superior. I think it's something we all need to be able to give ourselves some self-care and clean up without having to drive to Missoula to be able to do that."
To snag an appointment for a haircut, she'd like to remind her clients, "My hours fluctuate day to day cause it's appointment only. Some days I'm there at 8 a.m. some days I stay until 8 p.m."
But beginning January 1, Ray will be available Wednesdays through Saturdays. The best way to get ahold of me is by texting or calling 406-515-9100, or messaging her on her Facebook or Instagram page at Hello Beautiful Salon MT. She frequently posts her available times a couple weeks in advance, to help with scheduling.
Recent Headlines
---