Clark Fork wrestlers building steam for postseason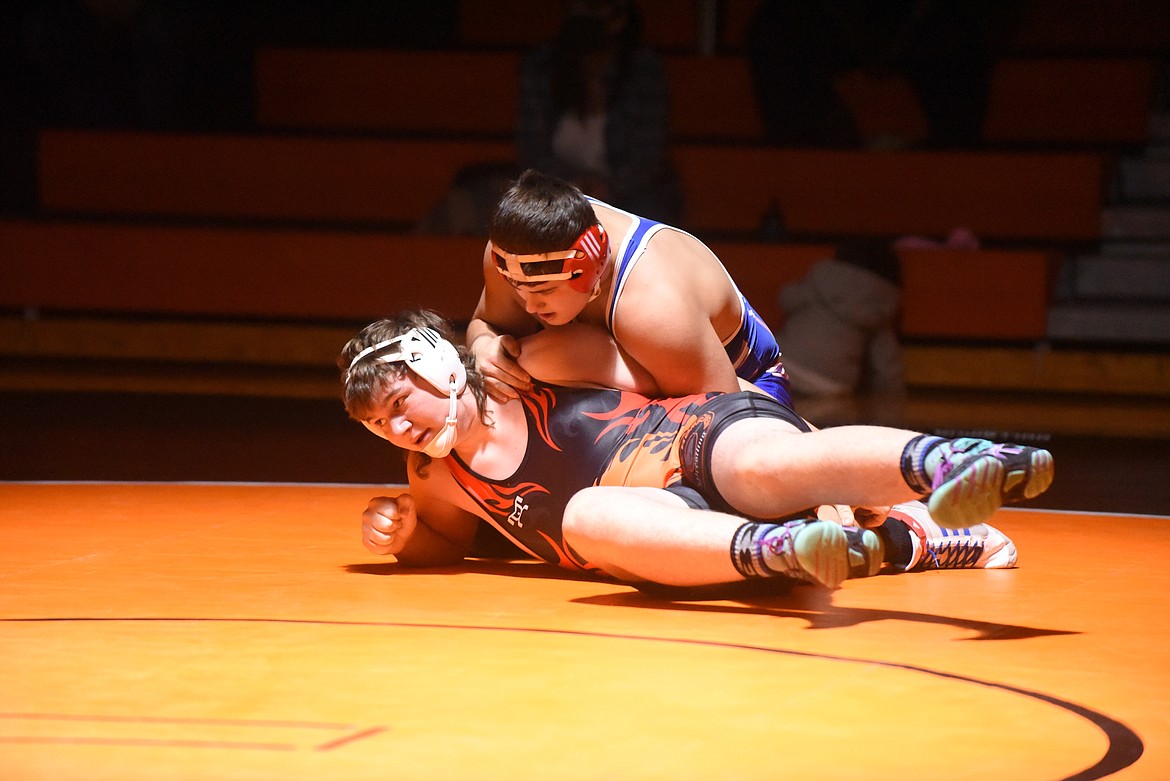 Clark Fork Wildcats wrestler Chandon Vulles battles Plains-Hot Springs Denny Black. Dulles won by fall. (Scott Shindledecker/Valley Press)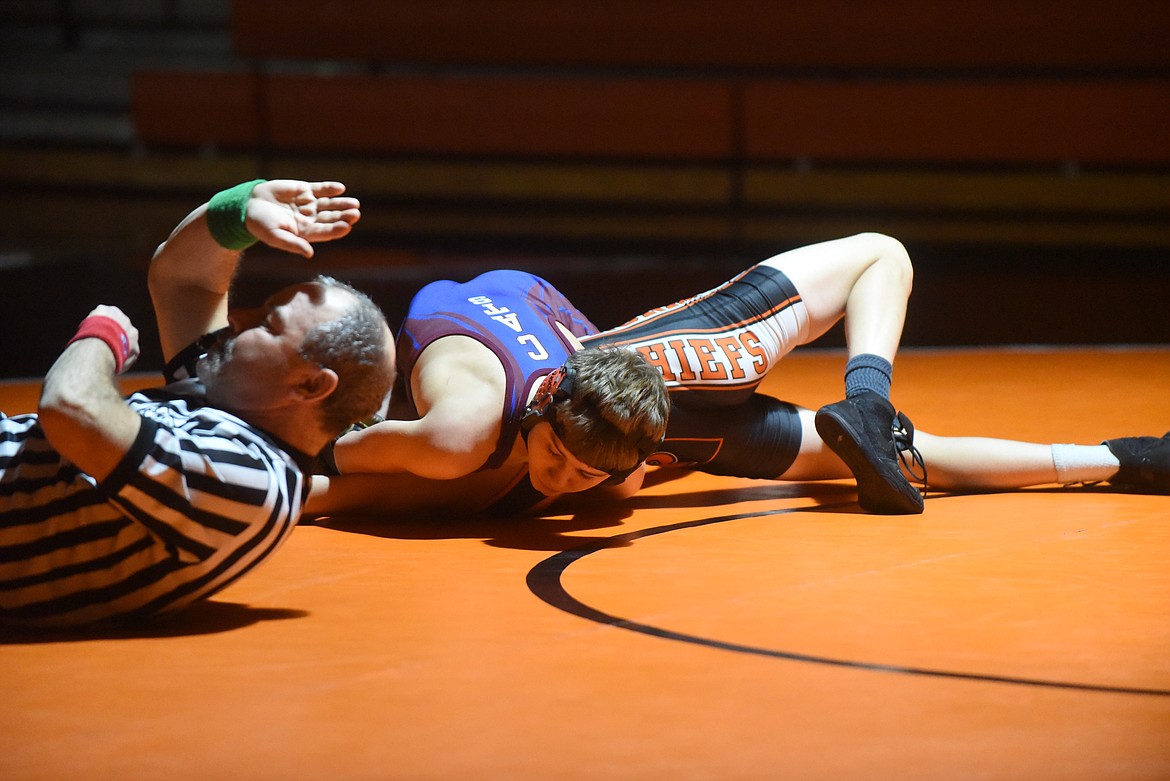 Official Tom Lindsay gets ready to slap the mat to signify a pin by Clark Fork's Micha Acker of Ronan's Ian Dillard during last Tuesday's match. (Scott Shindledecker/Valley Press)
Previous
Next
by
SCOTT SHINDLEDECKER
Clark Fork Valley Press/Mineral Independent
|
February 17, 2021 12:00 AM
Call them Clark Fork or Alberton-Superior, but the Mountain Cats wrestlers are building steam for the 2021 postseason.
Last Tuesday in Ronan, the Cats picked up two wins over the Plains-Hot Springs Savage Horsemen (45-30) and the Ronan Chiefs (39-36).
The Mountain Cats spotted the Savage Horsemen an 18-point lead after seven matches due to three Clark Fork forfeits from 132-145 pounds.
But the second half of the match was all Clark Fork as it collected three forfeit wins, two falls and a decision.
Hunter Haskins collected a forfeit win at 160 pounds for the Cats.
At 170, in the best match of the meet, Carter Woodson stopped Plains' Jesse Useki, 7-3. Silas Acker followed with a quick, 30-second pin of William Dyson at 182 pounds.
At 205 pounds, Clark Fork's Jaxon Green put the Mountain Cats over the top with a forfeit win and a 33-30 lead.
At 285, Chandon Vulles scored two quick takedowns in the first period and decked Denny Black in 1:33. Micah Acker collected another forfeit to set the final at 45-30.
The match opened at 113 pounds with Clark Fork's Ryder Hansen scoring a second-period over Plains' Donnie Nelson. Hansen led 5-0 after one period and 13-0 before scoring the fall.
Decker Milender's pin in 1:28 over Jacob Schulze made it 12-0 for the Cats.
Savage Horseman 126-pounder Peter Carey decked Lucas Kovalsky in 1:27 to make it 12-6. Plains-Hot Springs wrestlers Mason Elliott (132), William James (138) and Brendan Vanderwall (145) each were forfeit winners.
Bert DeTienne (152) had a second-period fall of Clark Fork's William Buchanan to give the Savage Horsemen a 30-12 lead.
Against the host Chiefs, the Cats got a bit more of a battle. Forfeits were still common as Clark Fork claimed four wins in that manner and Ronan won three.
On the mat, the most entertaining match occurred at 285 pounds when Vulles faced Ronan's Max Morency.
The Chiefs big man was decidedly heavier than Vulles, but the Mountain Cat didn't back down against the much bigger Morency.
Vulles led 6-3 after one period and 10-5 after two. Vulles eventually claimed a 13-8 win to complete a 39-36 win. Morency was a major challenge, however, and had Vulles in a few tough spots.
To open the match, Clark Fork's Micah Acker pinned Ronan's Ian Dillard in 2:51 at 103 pounds. Ryder Hansen and Decker Milender picked up forfeit wins, but then Ronan's Trevor Bartel pinned Lucas Kovalsky in 1:25 at 126.
Forfeit wins by Beau Decker (132), Nate Young (138) and Landon Bishop (145) put the Chiefs ahead, 24-18.
Ronan 152-pounder Caleb Cheff decked Buchanan in 1:41 for a 30-18 lead.
But the Mountain Cats came back when Thomas Anderson grabbed a forfeit win at 160.
Then, at 170, Chief Daniel Bishop pinned Hunter Haskins in 5:50 to give the hosts a 36-24 lead.
But the Mountain Cats won the last three matches of the night to win it.
Silas Acker pinned Tristan Fisher in 1:51 at 182, then Green won a forfeit at 205.
The Chiefs ended the tri-meet with a 40-24 win over Plains-Hot Springs.
Six matches were wrestled with Ronan winning five of them.
Savage Horseman 126-pounder Peter Carey pinned Ronan's Trevor Bartel in 1:44.
Ronan had pins by 138-pounder Landon Bishop, Caleb Cheff (145), Daniel Bishop (170), Tristian Fisher (182) and Morency (285).
Chief 132-pounder Beau Decker claimed a major decision for their other win.
Clark Fork finishes the regular season Friday at Thompson Falls while Plains-Hot Springs hosts the regular season finale Saturday.
The Class B-C Divisional will be Feb. 26-27 at Cut Bank.
The state tournament is set for March 5-6 in Shelby.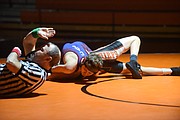 ---