Plains female wrestlers will be part of Montana history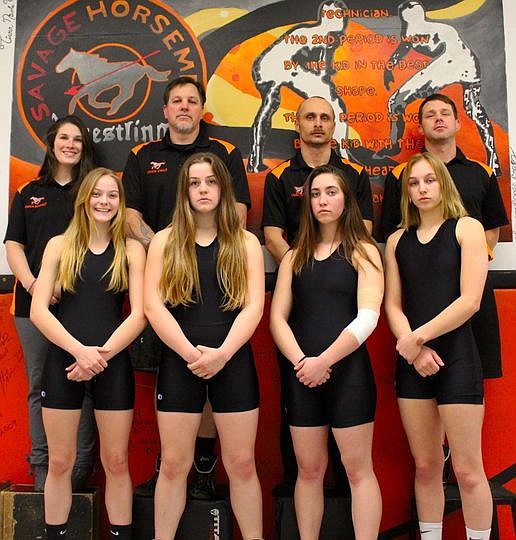 The Plains-Hot Springs girls wrestling will be part of history this weekend when it competes at the first Montana State Girls Championship this weekend. From left, front row, are Olivia Easter, Lily MacDonald, Mykenzi Blood and Taylor Angle. From left, back row, are coach Keaton Bannout, coach Shane Angle, coach Jesse Jermyn and coach Cal Courville. (Photo courtesy Plains Wrestling)
by
SCOTT SHINDLEDECKER
Clark Fork Valley Press/Mineral Independent
|
February 17, 2021 12:00 AM
Shane Angle didn't happen across Plains, Montana, by accident.
He has family in Miles City and he and other family members vacationed in Montana, so they knew what the Treasure State had to offer.
But it was the opportunity for his two daughters to wrestle competitively which led Shane, wife Ashlee, and daughters Kenzie and Taylor, to pull up stakes in Iowa in 2015 and journey to Plains.
Shane, who runs a machine shop, wanted a place where the girls could wrestle.
"We talked to the people at the school and they didn't have a problem with girls wrestling," he said. "When we got here, there weren't any girls wrestling at the time, but they had female wrestlers before."
Shane wrestled in high school in Iowa. A knee injury prevented him from competing in college, but he relishes coaching. He got into it after finishing college and 2021 is his first year leading Plains-Hot Springs.
"Ken Marjerrison was running things when he got here and it was great to get to know him and work with him," Angle said.
Marjerrison, who led the Savage Horsemen wrestling program for 15 years, died tragically in October 2017 in a traffic crash near Arlee.
The Savage Horsemen have had a bumpy road since, but they are still competing hard and this weekend, the four-person female team will be part of history when they compete at the first Montana High School Association all girls state tournament Feb. 19-20 at Lockwood High School.
"I am very proud to be a part of the very first year of all girls wrestling team here in Plains Montana," Angle wrote in a recent social media post. "I am very proud also of their accomplishments along the way, they have made big strides since their first start."

Kenzie Angle competed for the team before graduating in 2019.
But now it's younger sister Taylor's turn, along with teammates Lily MacDonald, Olivia Easter and Mykenzie Blood.
"Taylor got Lily into it and she's come leaps and bounds," Angle said. "Lily is a second year wrestler and will be a handful for any girl at her weight to step on the mat in front of her," Shane Angle said.
MacDonald was 2-0 at last week's mixer in Cascade with a pair of first-period falls. According to the latest wrestling rankings, MacDonald is No. 2 at 152 pounds.
"Taylor is a silent assassin and will be hard to put away for any girl at her respective weight, and has many years of battling boys and girls in the circle."
Angle is 6-4 this season, wrestling mostly boys. McDonald is 8-6 while wrestling boys and girls in 2021.
"Olivia is a first year freshman and has broken her shell and become aggressive and showing much improvement," Shane Angle said. "Mykenzie is also in her first year. She is a senior and used to be the team manager. She has fought an injury all year, but wrestled yesterday (Feb. 9) and is now preparing herself for her first competition."
Shane Angle had words of praise for his assistant coaches - Keaton Bannout, Jesse Jermyn and Cal Courville.
"I'm grateful to have Keaton coaching with us," Angle said. "She wrestled in high school and college and she has knowledge being a female wrestler I don't have."
Bannout, a Colorado native, wrestled at Menlo College in California.
"I'm thankful to the administration to have a girls team and we're hoping to have some success at states and build the interest in the team in the future," Angle said.
Wrestling at Lockwood High School begins Friday before concluding Saturday. About 170 wrestlers will compete in 10 weight classes.
---