Trotters on win streak heading into playoffs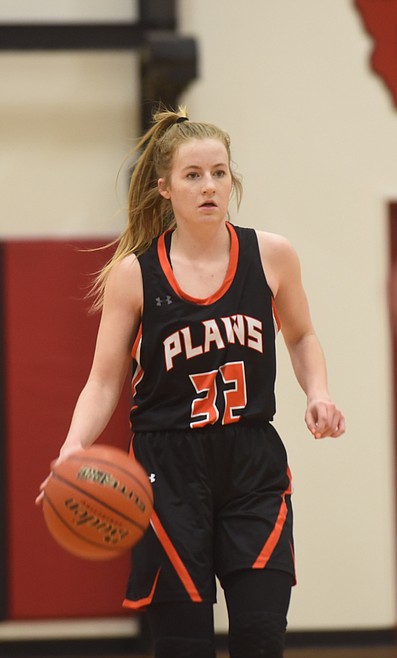 Plains basketball player Kimmy Curry scans the court against Hot Springs last Friday. The Trotters won 38-22. (Scott Shindledecker/Valley Press)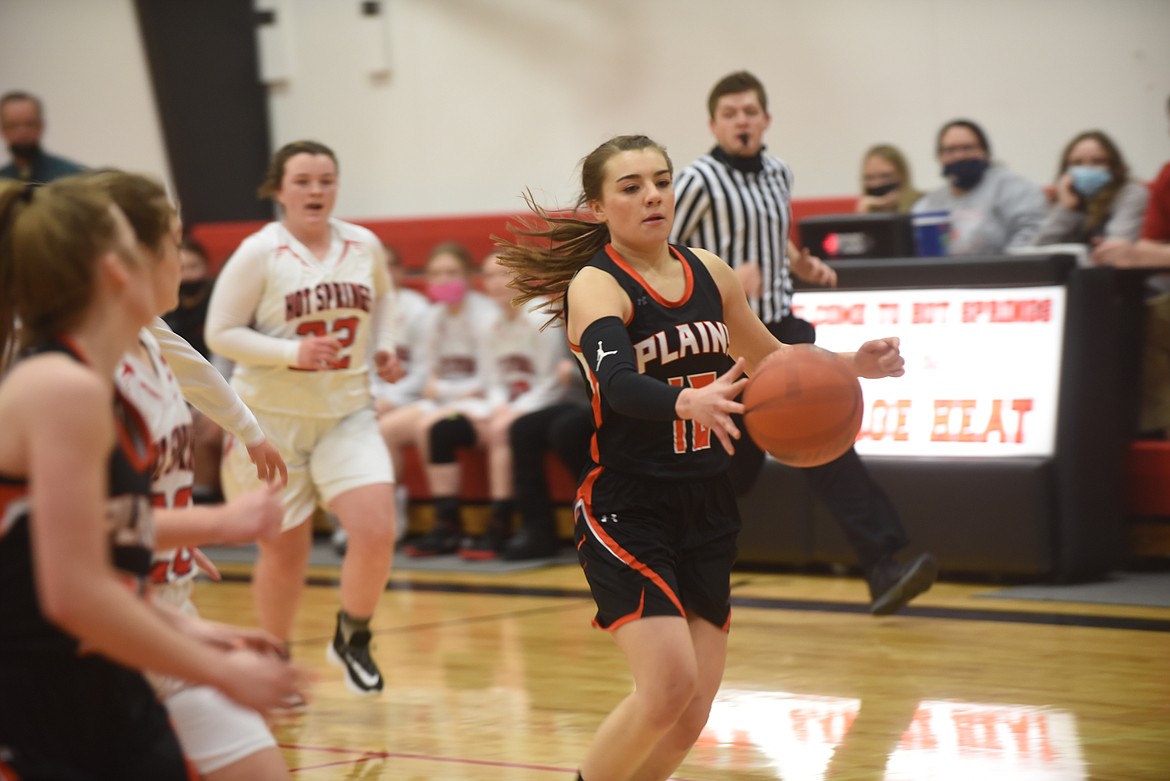 Plains basketball player Carlie Wagoner drives to the basket against Hot Springs last Friday. The Trotters won 38-22. (Scott Shindledecker/Valley Press)
Previous
Next
by
SCOTT SHINDLEDECKER
Clark Fork Valley Press/Mineral Independent
|
February 17, 2021 12:00 AM
The Plains Trotters enter the 14-C playoffs on a winning streak after edging St. Regis, 46-42, last Thursday and rolling past Hot Springs, 38-22, Friday.
The previous week, they ended it with a 51-32 win over Noxon.
Trailing 25-21 at the half against St. Regis, a strong second half in which the Trotters outscored the Lady Tigers 25-19 was the difference.
Friday at Hot Springs, the Trotters led wire-to-wire in the low-scoring affair.
Plains led 7-2 after one quarter and 15-6 at halftime.
Kaylee Cole's putback with 5:15 left in the half made it 9-3, then she grabbed an offensive rebound, was fouled and hit one of two free throws to a 10-3 lead.
After Lauryn Aldridge hit a free for Hot Springs, Kimmy Curry made a steal and scored for a 12-4 lead. Carlie Wagoner hit a free throw, then followed it with a driving layup for a 15-4 lead.
Josie Uski hit a jumper with nine seconds left to trim the Plains lead to 15-6 at the half.
The Trotters built their lead to 14 points after three quarters.
Wagoner hit a pair of free throws to open the scoring, then Curry grabbed a Hot Springs miss and went coast-to-coast before getting fouled. Curry hit one shot from the charity stripe to make it 18-6.
Lizzy Fisher's putback with 6:32 left made it 18-8.
But a free throw by Kaylah Standeford and a Wagoner putback made it 21-8.
The Trotters had their largest lead, 25-10, at the 4:05 mark when Cole scored on a nice drive to the basket.
Curry scored five straight points to give the Trotters their largest lead, 35-14, with 2:51 left.
Curry led her team with 12 points, while Wagoner scored 11 and Cole added seven.
The 14-C playoffs begin Tuesday.
In other Class C girls basketball:
Charlo 49, St. Regis 25
No. 5 Charlo stayed unbeaten Friday with a 49-25 rout of St. Regis.
Mila Hawk led the Lady Vikings with 12 points while Kassidi Cox and Liev Smith each scored eight points apiece.
Charlo led by 12 after one quarter and 24 at halftime.
Averie Burnham had seven points for St. Regis.
Noxon 57, Clark Fork 42
Avery Burgess' 21 points and another 14 from Emily Brown spurred Noxon to a 57-42 thumping of Clark Fork Thursday.
The Red Devils trailed by five points entering the fourth but a 25-5 surge turned it into an easy win. Clark Fork was led by Lanie Crabb's 13 and Darby Haskins' 12.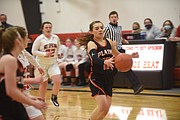 ---