Sanders, Mineral Co. boys basketball roundu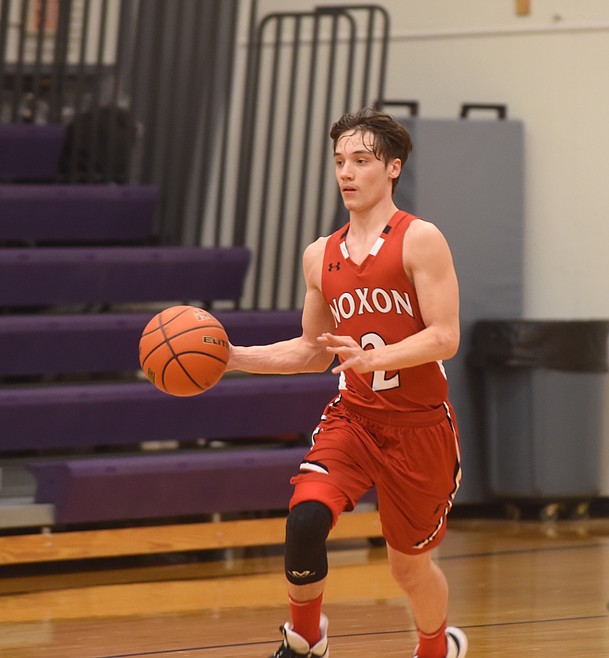 Noxon's Brody Hill heads upcourt against Charlo Friday night. Hill scored 11 points for the Red Devils in a 63-53 loss in the District 14-C playoffs. (Scott Shindledecker/Valley Press)
by
Clark Fork Valley Press
|
February 24, 2021 12:00 AM
BOYS BASKETBALL
DISTRICT 14-C
QUARTERFINALS
TUESDAY, Feb. 16
No. 3 Hot Springs 54, No. 6 Noxon 36
Kyle Lawson scored 14 points while Mario Garcia and Nathan Lawhead each scored 10 for the Savage Heat.
Cade Van Vleet led the Red Devils with nine points.
No. 4 Charlo 47, No. 5 Plains 38
Charlo got 15 points from Roper Edwards.
Nathan Feliksa and Parker Flock each scored eight points for the Horsemen. Gunner Gannarelli and Duncan Chisholm each scored six points while Gavin Regalado and Garth Parker rounded out the scoring with five each.
THURSDAY, Feb. 18
Semifinals
No. 1 Clark Fork 58, No. 4 Charlo 44
The Mountain Cats topped the Vikings as Danner Haskins led with 22 points. Carson Callison had 14 and Aaron Waddle 11.
No. 2 St. Regis 54, No. 3 Hot Springs 28
Caleb Ball's 19 points and Andrew Sanford's 15 pushed St. Regis over Hot Springs. Tanner Day added 11 for the Tigers.
FRIDAY, Feb. 19
Loser Out
No. 4 Charlo 63, No. 6 Noxon 53
Keaton Piedalue's 20 points and the Vikings beat Noxon in a loser-out game. Stetson Reum scored 13, and Phil Marquez and Roper Edwards each had 11 for the Vikings. Brody Hill and Wyatt Lackner scored 12 apiece, and Jeriko Smith-Roach added 10 for Noxon.
No. 3 Hot Springs 45, No. 5 Plains 31
Kyle Lawson's 22 points keyed Hot Springs past the Horsemen.
Tucker Foster and Parker Flockn each scored eight points for Plains.
SATURDAY, Feb. 20
Consolation
No. 4 Charlo 46, No. 3 Hot Springs 42
Phil Marquez's 21 points helped the Vikings rally past the Savage Heat.
Roper Edwards scored nine and Stetson Reum added eight for the Vikings.
Hot Springs led 35-31 after three quarters. Jack McAllister scored 17 and Kyle Lawson had nine for the Savage Heat.
REGULAR SEASON
SATURDAY, Feb. 20
Thompson Falls 80, Florence-Carlton 71
The Blue Hawks raced past the Falcons as Nathan Schraeder scored 21 points.
Kade Pardee scored 18, Cody Burk added 13, Dante Micheli had 12 and Tristan Subatch chipped in with10 for the Blue Hawks, who led 29-15 after just one quarter.
---