Clark Fork Lady Cats fall to Seeley Swan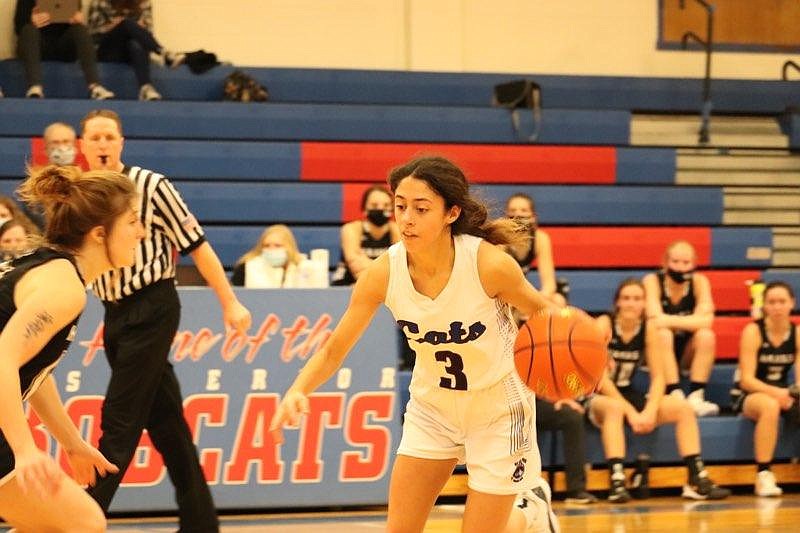 Clark Fork guard Isabella Pereria brings the ball up court against Seeley Saturday night in Superior. (Photo credit to Kami Milender
by
CHUCK BANDEL
Valley press
|
January 6, 2021 12:00 AM
Four players scored in double figures as the Seeley Swan Lady Blackhawks ran away with a 58-39 win over Clark Fork Saturday night in a non-conference Montana girls high school season opener for both teams.
The Lady Mountain Cats took an early lead as Darby Haskins scored five points, including a 3-pointer to stake Clark Fork to a narrow 12-10 first quarter lead on their home court in Superior. Lanie Crabb added four points for the Lady Cats in the opening eight minutes of play.
The Lady Blackhawks came back in the second quarter behind four points from 6-1 senior post Klaire Kovatch and a pair of 3-pointers from her teammates, outscoring the Lady Cats 11-7 on their way to a slim 21-19 halftime lead.
Seeley continued to steadily pull away in the third quarter behind six points apiece from Sarah and Emily Maughan for a 14-7 scoring edge in the quarter, giving them a 35-26 advantage heading into the final eight minutes of play.
Haskins buried a 3-pointer in the third frame, part of her team-high 14 points, which included three treys for the night.
The final quarter belonged to the visitors, who got eight points from Bethany Hoag, including a pair of long-range 3s. Hoag finished tied with Sarah Maughan for team scoring honors, matching the output from Clark Fork's Haskins for game highs.
Kovatch and Emily Maughan scored 12 points apiece for the Lady Blackhawks.
Clark Fork's Payton Milender tossed in six points in the final quarter, giving her 11 for the game. But it was not enough to prevent the Lady Blackhawks from extending their lead by 10 in the final eight minutes.
Next up for the Lady Mountain Cats is a Thursday road trip to Hot Springs to face the always tough Lady Savage Heat. Clark Fork will then return to action with a home game against county rival St. Regis Saturday night in Superior.
---