St. Regis Tigers slam Darby, 67-53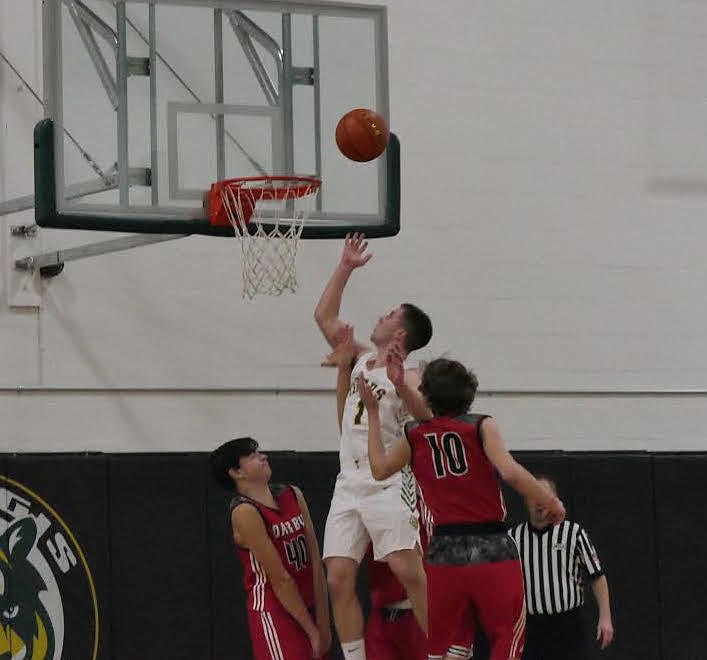 St. Regis basketball player Caleb Ball scores two of his game-high 27 points Saturday night in St. Regis. (Chuck Bandel/Valley Press)
by
CHUCK BANDEL
Valley press
|
January 6, 2021 12:00 AM
It happened in the pre-game warmups, a thundering, rim-bending twang that turned every head in the St. Regis High School gym.
It was a sound, perhaps, of good things to come for the Tigers boys basketball team.
Andrew Sanford, St. Regis' senior center, threw down a gym-rattling dunk.
He added another during the game as the host St. Regis team fended off a scrappy crew of Darby Tigers on their way to 67-53 season-opening win Saturday night.
With the St. Regis defense constantly swarming and disrupting Darby's offense, the host Tigers jumped to an early lead and never trailed in the non-conference Montana Class C contest.
Sophomore guard Caleb Ball, a standout quarterback for the Tigers' football team, poured in a game-high 27 points on the night, many of them on defensive steals and driving lay-ups.
St. Regis jumped to an early 11-2 lead using ball-hawking defense to overwhelm the visitors. By the end of the opening stanza, St. Regis held a 16-7 advantage on what had the makings of a rout.
However, Darby used a pair of long-range 3-pointers to keep the game from getting out of hand in the second quarter. They finished the game with seven treys, including four from lanky guard Cullen Duggan and three from forward Preston Smith.
Darby used an aggressive double-team strategy on the 6-5 Sanford, holding him to just two points in the first quarter and four in the second period. At halftime, St. Regis held a 30-20 advantage.
With a solid starting five playing a lot of minutes, St. Regis coach Jesse Allan turned to a pair of eighth graders and a senior transfer from Plains to try and give his starters some rest throughout the game.
"We are solid in the first five, and hoping to find some depth," Allan said after the game. "We got some good minutes from several players."
The third quarter saw Caleb Ball erupt for 12 points as he continued to garner steals and lead St. Regis break-away efforts for quick lay-ins. Ball also sank a pair of long-distance 3s in the third quarter.
Ball was joined in the third quarter offensive show by Sanford, who had six of his 16 points, while junior forward Tanner Day dialed in a pair of 3-pointers of his own.
St. Regis hit 10 3-point shots for the game.
With foul trouble looming among the St. Regis starting five, Allan inserted a pair of eighth-grade players who had earlier participated in the junior varsity contest between the two teams.
One of those underclassmen, Ayden Rael, sank a crucial 3-pointer from the sideline to halt a Darby rally and give the host Tigers a 56-40 lead with just over five minutes remaining in the game.
Other reserves, including senior Nathan Franks, provided much-needed rest for the starters and the building of depth sought by coach Allan.
"It's a good win, we saw some good things," Allan said after the contest. "There are things we need to work on but I was overall happy with the outcome."
Joining Caleb Ball and Sanford in double figure scoring was Day, who tallied 13 points on the night.
Although he was held to just two points, junior forward Adam Ball was a force on defense and rebounding throughout the game.
The Tigers return to action Friday when they take on Hot Springs in a home game. They then travel 14 miles down Interstate 90 Saturday evening for a road game against Mineral County rival Clark Fork, in Superior.
---