Breaking winter doldrums with fly fishing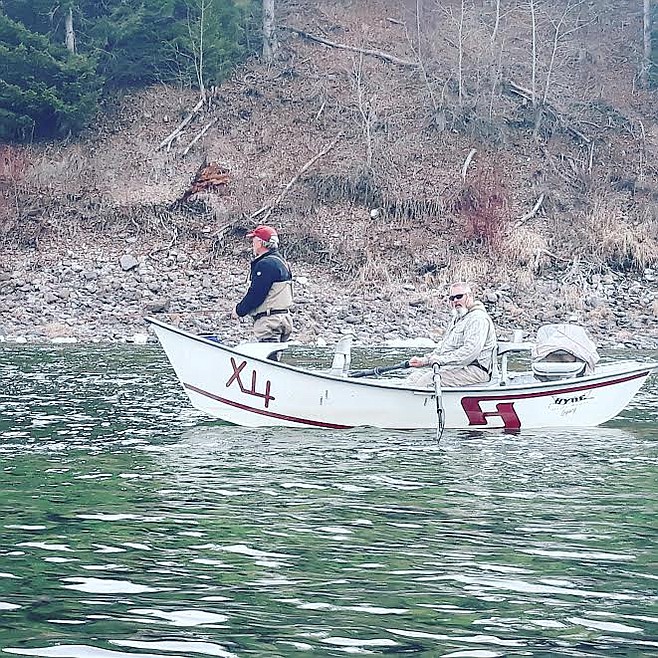 Layne Hansen, of St. Regis, fishes aboard his X Bar 4 drift boat on a winter day with David Griggs as his guide. Fishing on the Clark Fork in the winter can still bring ample opportunities to catch trout while also offering a quiet solitude on the river. (Photo courtesy Brooks Sanford)
by
AMY QUINLIVAN
Mineral Independent
|
January 13, 2021 12:00 AM
For some Montana fishermen, even once the snow flies, they keep the flies casting. With streams and rivers quieter during the winter months local fly-fishing enthusiasts take advantage of mild temperature days and brave the icy waters.
As most outdoor recreationists head to slopes this time of year, for a few the fish still call.
St. Regis resident Layne Hansen joked, "Standing in the cold water, fishing during the winter being strange? Well yes, but fly fisher people are known for being perhaps different. Suspect people driving down I-90 seeing someone standing in the water thinking that is different, but I think if a fly fisherman sees that, they would say something like, good for them being able to fish today!"
Hansen grew up in Great Falls and began fly fishing when he was around 10 years old. He shared, "I started fishing using worms, then progressed to fly fishing. Didn't really know what I was doing to begin with. My dad did not fish, but there was a friend of the family who took me to start with."
Over time his love of fly fishing grew and Hansen has fished waters all across Montana during all seasons. "Since retiring I have had the opportunity to fish a lot, especially during the prime time of the year which for me is the fall. Spring fishing on the Clark Fork can be epic, as well as summer. However, I have found that winter fishing on the Clark Fork can be rewarding, with less people on the river."
Winter fishing can be difficult to navigate and prepare for depending on temperatures, wind, and ice on the river. Hansen noted, "Dressing correctly is very important, especially if you are wade fishing versus fishing out of a boat. Layering on your upper body works best, with some combination of down and wool being best." He continued, "Under your waders there are fleece or thermal wading pants available plus something warm for your feet. Gloves can be worn, but they can make fishing somewhat difficult. Head wear should also be considered wool caps/hats with ear protection works well. If there is any wind, a windproof layer is necessary to create a boundary."
Once your layered up and ready for the elements, winter fly fishing is more or less sticking to the basics. Hansen explained, "I think the main principals of fly fishing would be using the correct fly first, then working on the actual presentation. Presenting a fly that does not match what the fish are keyed in on usually does not work as well as matching the hatch, at least when it comes to dry fly fishing."
Colder months in Montana bring vastly different bugs. Hansen described, "The flies used in winter are different than those used during the rest of the year, primarily due to the fact that the bugs hatching are really limited to midges. Other flies used can be a streamer and sometimes larger nymphs also produce fish."
Some might argue what's the point of winter fly fishing when you can setup a tent and just go ice fishing instead? Hansen remarked, "It's just too cold for me, plus I find the casting action of fly fishing therapeutic. Most fly fishermen tie flies in the winter months, waiting for better weather."
So, when it comes to cold weather where do fly fishermen draw the line, so to speak? Hansen said, "I would say when the guides on your rod ice up or there is ice in the river itself." But he also offered, "I think most fly fishermen prefer to fish when the weather is comfortable, that actually makes winter fishing somewhat attractive. Solitude!"
Although he'll brave a bit of Montana's winter weather to continue fishing year-round Hansen prefers fishing in the Fall. "Less fishermen on the river, the temperature is cooler than summer, and the colors around here can be absolutely incredible."
Regardless of the season, one of the best ways to fish the Clark Fork River, is to go with a guide. Hansen expressed, "Even being someone who had fly fished for close to 40 years, my wife purchased me a guide trip and I then discovered what I did not know. Think of it as having a "coach." All professional athletes have coaches, no matter the sport. Fly fishing is really no different."
"My fly fishing improved exponentially once I had coaches, specifically Brooks Sanford and Bryan Duncan. They, like most guides, know fly fishing. Again, with the Clark Fork being a very difficult river to fish, a coach is the deal maker, the difference between a 10-fish day and a 30-plus day," imparted Hansen.
After running Clark Fork Trout and Tackle fly shop in St. Regis for 17 years, Brooks Sanford is now a high school science teacher, who still guides on the side. During his college days Sanford learned how to fly fish on rivers in Idaho including the St. Joe, Salmon, Selway, Lochsa, and Clearwater rivers.
He stated, "While fly fishing is mostly a spring, summer and fall activity, winter can offer some unique opportunities to get outdoors and spend time with friends and family chasing trout. We typically fish out of a drift boat opting to steer clear of wading in the icy winter waters."
Aside from the challenge of staying warm and dressing for winter conditions Sanford remains resourceful aboard his drift boat. "We use hand warmers and often pack a propane grill in the boat to cook lunch and stay warm. It can be peaceful on the river in the winter where we encounter few if any other fishermen and temps in the 40's are not uncommon in western Montana during the months of December, January and February."
With his years of knowledge and expertise Sanford shared, "Fly fishing in the spring, summer and fall offers opportunities to catch fish on dry flies but those opportunities are very limited in the winter so fishing near the bottom with nymphs is key to finding success in the winter." If he were out on the water today, he'd recommend using a strike indicator or bobber with split shot to help the flies sink and two nymphs. Sanford mentioned, "Stonefly nymphs, pheasant tail nymphs, San Juan worms, and egg patterns are good choices for the winter months."
Collectively Sanford estimates that spends a third of the year casting his fly rod on the waters around Montana. He said, "I spend approximately 150 days per year fishing split between guiding and fishing with family and friends. 30 or more of those days during the winter but occasionally a cold snap will freeze the river and we have to wait for warmer weather."
As a newcomer to the fly fishing scene, when Deputy Ryan Funke isn't busy protecting and serving the people of Mineral County, he tries to fish as often as possible. He shared, "I've been fly fishing for five years seriously. Last year was my best year fly fishing as it's the most I've ever fished. It's hard to say no to the river when it's right out your back door."
And Funke knows that the Clark Fork continues to entice even on cold winter days. "I've got a lot of strange looks while standing in the water fishing in the winter time. Fishing in the winter time is challenging as the cold water makes the fish more lethargic. Make sure you buy quality gear especially waders and boots."
"The best thing about where we live is there is a lot of people who share the same passion of fishing. Layne Hansen has given me most of my information as far as what to use and when, he has been a ton of help and very knowledgeable."
For fishers like Funke, Sanford, and Hansen they know how addicting the pastime can be. Hansen shared, "The guys I fish with joke that the "tug is our drug". But that being said, being outside, in all of nature's glory, is an attraction as most Montanans know, plus being with people you like to fish with is also an attractor."
---