Clark Fork basketball teams sweep St. Regis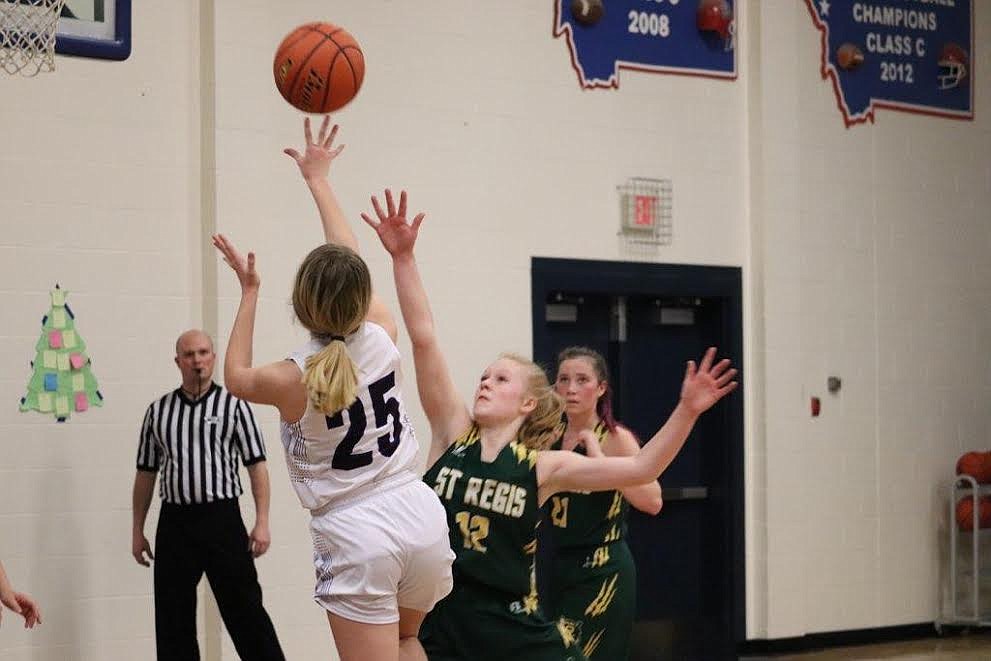 Clark Fork's Payton Milender is guarded by St. Regis' Macy Hill during the game Saturday night. (Kami Milender photo)
by
CHUCK BANDEL
Valley press
|
January 13, 2021 12:00 AM
It could be called Montana's own version of the "Freeway Series."
Only around here, it's an interstate and the 14 miles separating St. Regis and Superior are not clogged with traffic.
But the intensity and popularity of this friendly Mineral County rivalry has been given new life thanks to basketball conference realignment.
Round one of the rivalry went to Clark Fork Saturday night as both the boys and girls teams captured wins in a pair of games played in Superior.
The Clark Fork boys downed their nearby neighbors from St. Regis 51-48 in a tight battle, while the Clark Fork girls handed the St. Regis counterparts their first loss of the young season, 48-22.
In the boys matchup, the early advantage went to the visiting Tigers, 20-17 at halftime.
St. Regis senior Andrew Sanford led the Tigers' first half charge with plenty of help from sophomore guard Caleb Ball. The two, who have finished at the top of the scoring list for the Tigers in all three games in the early going, continued to provided St. Regis with a potent inside/outside attack.
Sanford battled throughout the night with Clark Fork's pair of senior forwards Carson Callison and Aaron Waddle. Callison, who scored a game-high 22 points, continued his early season offensive fireworks, while Waddle, the Mountain Cats bruising power forward added 20 on the night.
St. Regis still held a lead going to the fourth quarter, 32-31.
In what may have provided a glimpse of tight battles to come between these two natural rivals, the Mountain Cats, buoyed by the return of senior guard Bryan Mask's floor leadership, outscored the Tigers by four in the final eight minutes and held on for the win.
Sanford paced the St. Regis attack with 18 points, while Ball tossed in 14.
The win boosted Clark Fork to 2-1, while St. Regis fell to 1-2.
The girls game was a different matter, as the young and rapidly improving Lady Mountain Cats jumped to an early 14-3 first quarter lead and never looked back against the equally young and surprising St. Regis squad.
A trio of Clark Fork girls scored in double figures for the night as the Lady Cats built their first quarter advantage into a 22-5 halftime lead.
Super sophomores Isabella Pereira, Darby Haskins and Payton Milender all had solid games in this one, buoyed by what is becoming a smothering defense.
The halftime lead grew even larger after the intermission as the co-op Cats outscored St. Regis 18-5 for a 40-10 lead heading into the final quarter.
Pereira, a diminutive, lightning quick Clark Fork guard, led all scorers with 15 points, while Haskins continued her early going offensive potency with 12 points. The Lady Cats also got 11 from Milender.
Macy Hill, the Tigers tenacious leader, topped St. Regis with nine points.
The loss dropped St. Regis to 2-1, while Clark Fork, which has won two straight since a season opening loss to powerful Seeley, matched the Tigers record at 2-1.
Next up for both Clark Fork teams is a game Tuesday, Jan. 12 against Granite, with the boys game in Alberton and the girls traveling to Granite.
Both Mountain Cats teams will be in Charlo Thursday evening, before returning home for a Saturday day/night matchup with Plains.
St. Regis, meanwhile, has a scheduled road trip to Noxon Saturday, but that game is iffy due to virus concerns in Noxon, which closed its school last week.
---