The "Plains Girls" run and have fun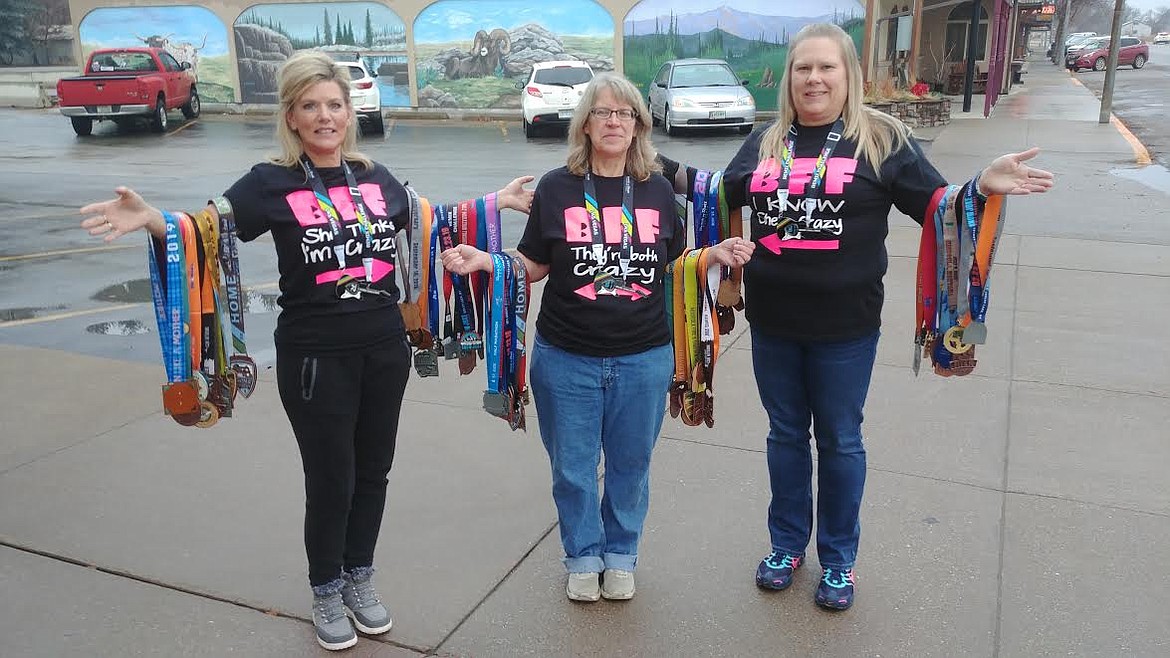 The "Plains Girls" have piled up the miles and the laughs during their frequent runs. (Chuck Bandel/Valley Press)
by
CHUCK BANDEL
Valley press
|
January 13, 2021 12:00 AM
They are known as the "Plains Girls."
The trio of energetic women from the town that bears their moniker were looking for a way to exercise and have fun at the same time.
In the process they discovered running and the realization of their goal.
"We were doing a step aerobics workout one day and it was hot, so we decided to go for a walk and cool down," said trio member Lisa Rice. "We saw a poster for the Bloomsday Run in Spokane and thought that might be a fun thing to do."
Three years later the three have garnered arms full of medals marking their participation in road runs from Missoula to Seattle to Las Vegas. And they've created a following among fellow runners along the way.
"We have averaged about 20 events a year," said Suzy VonHeeder, who is a co-owner of the Beetle Bean café in Plains. "We got hooked. We have fun at the runs, then go shopping and have a lot of fun. We have become known as the Plains Girls at the events we enter."
Their first event was Bloomsday, the Spokane race that at one point was the largest running event in the country, attracting as many as 60,000 runners to downtown Spokane.
Once that was accomplished, they began looking for more running events to enter, bringing their upbeat style to wherever they ran.
"Running and having fun with it like we do is cheaper than therapy," said Plains resident and the third part of the triad Shannon Benson, who is manager of the Little Bitterroot store. "We laugh a lot during the whole process and we have a lot of fun at every event."
Their efforts have paid off in many ways. Not only have they found an enjoyable way to workout, they have shed a lot of pounds in a relatively short time.
"We had a combined weight loss of 100 pounds between the three of us in the first year we started running," VonHeeder said. "We were all like, yeah this works."
With help from Run Wild Missoula, a running organization and others, they learned what works and doesn't work in the sport.
"We needed to know what shoes are good and what other gear we needed with the help of a lot of people," Benson said. "We got a lot of help from the Runner's Edge in Missoula who fixed us up with what we needed."
Once they had the proper equipment, the trio set about developing a running plan and style. In the process they created a unique way of conquering races that most often cover five miles or more.
"We usually run for 30 seconds, then walk for 30 seconds," Rice said. "We keep a steady pace that way and the run/walk approach is a big help."
In the nearly four years they have been running together, none of them have suffered any serious injuries. But they have broken the fun meter on many occasions.
"Sometimes we have been running and one of us falls down," Rice said. "But we usually are all giggling and laughing in the process. A lot of people look at us and say 'get up, this is a race.' We are not serious people, we know we are not going to win the race, but we know we are going to have fun."
During one race, the "11 miles to Paradise" event in southern Sanders County, a fall on a muddy surface epitomized their desire to have fun and enjoy the moment.
"One of us slipped and fell, taking the other two down at the same time," Rice said. "We all ended up covered from head to toe with mud, but we were still laughing and having a great time."
Benson is the group's event coordinator and keeps track of their times, especially in this era where amazingly many of the events have been conducted "virtually" due to Covid concerns.
"I keep track of our miles and we send them to the race organizers to qualify for a T-shirt," Benson said. "That's how we have been doing our latest run, the Frozen Feet Challenge. We would put on snowshoes or strap ice spikes to keep it going."
The three usually run five or six days per week, averaging at least five miles a day as they prepare for upcoming events.
In the course of their training runs, the only negative has been from some who drive by too close for comfort.
"One day we wore blue and red lights during an evening run," VonHeeder said. "There are a lot of drivers who just won't move over and give us a little room. The lights we had on that day made it look from a distance like we were a police vehicle I guess because we got lots of space that time."
So, they will keep running and laughing and having fun, something they all agree has significant health benefits.
"It is very uplifting to run and go to the various events," VonHeeder said. "It's a very positive thing. There's enough negativity in the world."
"It's been shown that laughter is a very healthy thing," Rice added. "Running and laughing have been very good for our health."
---