Jurors hear testimony in Danielle Wood murder case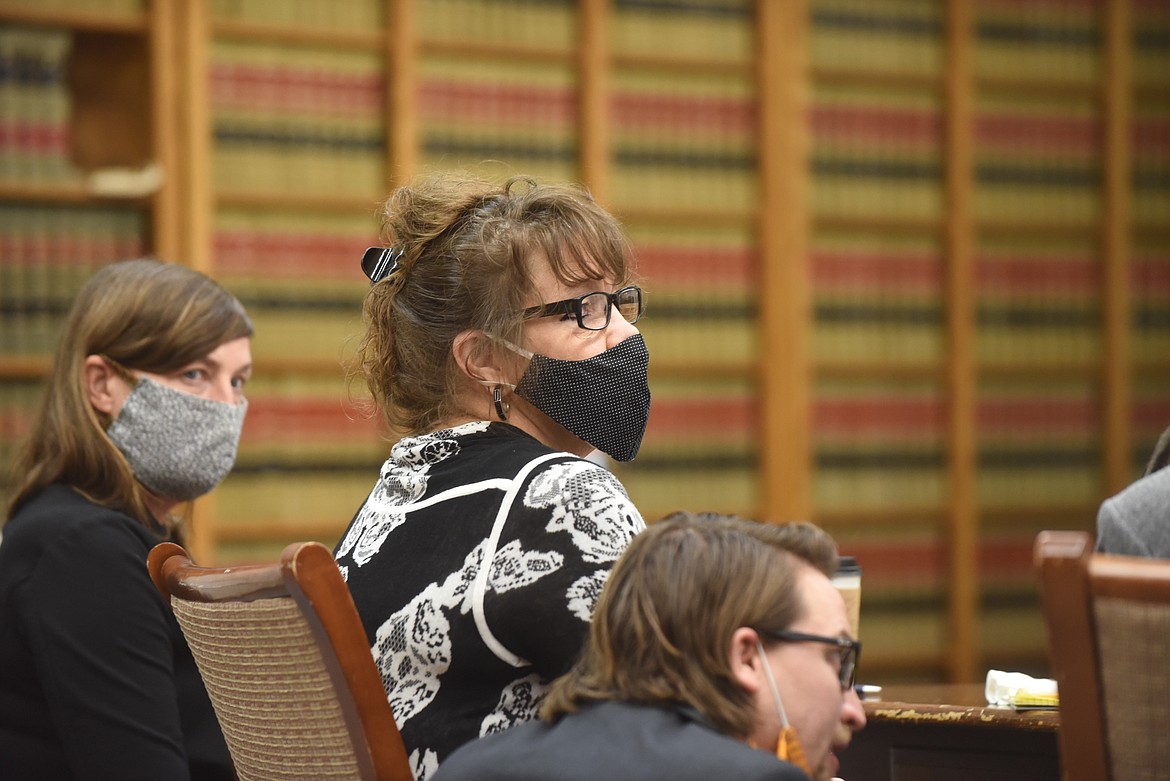 Danielle Jeanette Wood sits with members of her defense team in the Sanders County Courtroom Tuesday morning in Thompson Falls. Wood is accused of her murdering her ex-boyfriend, Matt LaFriniere, in 2018. (Scott Shindledecker/Daily Inter Lake)
|
January 19, 2021 5:30 PM
THOMPSON FALLS — Testimony began Tuesday at the Sanders County Courthouse in the long-awaited trial of a Northwest Montana woman accused of murdering her ex-boyfriend nearly three years ago.
Danielle Jeanette Wood, 56, of Thompson Falls, is accused of shooting Matthew LaFriniere three times with a .38 caliber revolver during the evening hours of May 2, 2018, at his home in Thompson Falls.
In their respective opening statements, Montana Department of Justice attorney Stephanie Robles and defense counsel Keenan Gallagher both offered reasons why the jury should find Wood guilty or be acquitted.
"Danielle Wood was a planner in most everything she did and her plan on May 2, 2018, was to make sure Matthew LaFriniere was gone," Robles said. "Together they had a daughter in 2009. But her problems with alcohol led to Matt wanting sole custody of the girl and she (Wood) was angry over the possibility of losing custody."
Robles said Wood went to LaFriniere's employer, a hardware store, the afternoon of May 2, 2018, picked up the child and went home so she could spend time with her half brother. Wood was also hosting a Pampered Chef party that evening and she told friends during the gathering she had to take the child home to LaFriniere.
But, Robles said, when Wood left the party, she didn't take the child with her.
Investigators with the state Department of Justice who were handling the case because LaFriniere had worked with the Sanders County Sheriff's Office, alleged during this time Wood went to her ex-boyfriend's home and shot him three times, twice in the chest and once in the back.
But Gallagher, the defense attorney, had a much different take on the evening's events.
"The state's story is Danielle left her home baking cookies with friends, shot Matthew, hid his body and returned to the party," Gallagher said. "If the circumstances weren't so tragic, some may say it's comical."
Gallagher, who is being assisted by Greg Rapkoch, said the Sheriff's Office and Thompson Falls Police Department felt pressure to solve it since the crime involved "one of their own."
A friend and Pampered Chef associate, Breyna King, testified Wood left the gathering at about 7 p.m. Wednesday, May 2, because she got a "weird" text message from LaFriniere and he said he was in Trout Creek.
"She said she was going to go to Matt's home to verify if he was there or not," King said. "She thought he might be trying to set her up."
King said when Wood returned home about 30 minutes later, she was wearing the same clothes she wore when she left and she didn't see any blood on her clothes and she wasn't sweating or breathing hard."
Another witness for the prosecution, Rob Olson Jr., of Ronan, testified he sold a .38 caliber handgun to Wood on March 15, 2018.
"She didn't seem happy," Olson said. "It looked like she was completing a task she had to do."
But when Rapkoch cross-examined Olson about the time of day Wood bought the gun, it differed with a time stamp on a receipt for the gun purchase.
"You said it was dark outside, but the time stamp indicated it was 4:01 p.m.," Rapkoch said. "I've lived in Montana my whole life and I don't recall it being dark at 4:01 in March."
Olson said they were his recollections.
A Spokane woman visiting with friends in Thompson Falls said she, her 2-year-old daughter and their friends were walking their dogs after dinner when they heard gunshots near LaFriniere's home the evening of May 2.
"I was concerned about the gunshots because I grew up in San Bernardino and there was a lot of gang violence there," Megan Mio said.
Mio believed she heard the gunshots between 7:25 and 7:35 p.m.
LaFriniere's stepmother, Lydia, testified she saw Wood at Matt's home while she drove to the offices of Thompson River Lumber, near Matt's home. She cleans homes and offices. Security gate logs at the lumber office indicated Lydia LaFriniere checked in at 7:40 p.m.
"I usually slow down when I go past his home and if I see Matt and his daughter outside, I'll wave to them," Lydia said. "I didn't see Matt then, but I did see Danielle."
Lydia also said Wood spoke often about the custody issues with her and Matt's daughter.
"She said 'I will never, ever, never lose custody of Sophia. I'll do everything to not lose her.'"
Testimony will continue Wednesday morning.
---