Sanders County health care workers get coronavirus vaccine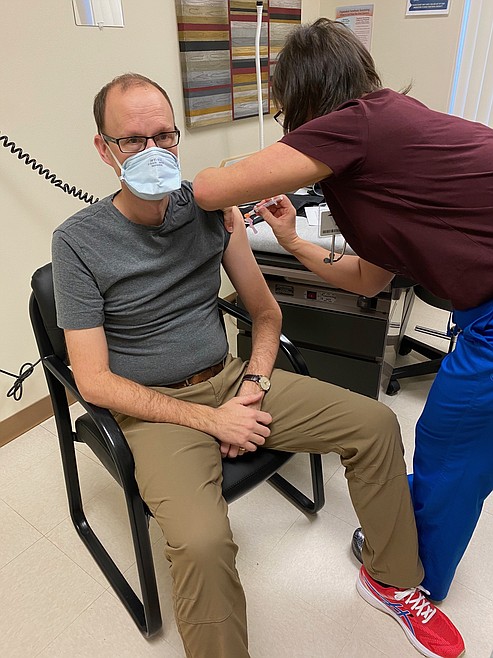 A Clark Fork Valley Hospital nurse gives physician's assistant Nick Lawyer an initial dose of the coronavirus vaccine. (Clark Fork Hospital photo)
by
CHUCK BANDEL
Valley press
|
January 20, 2021 12:00 AM
The first COVID-19 vaccinations are in the arms of healthcare providers and long term care residents at Clark Fork Valley Hospital with more are on the way.
That's the word from hospital officials, who said more than 200 initial doses of the vaccine have been administered to local healthcare providers, including 116 staff members at the hospital and 47 individuals in the long term care unit.
In addition, the Plains-based hospital has launched an electronic survey to help those wishing to be vaccinated obtain information that will allow for planning of who gets the next phase and when.
"We have administered just over 200 COVID-19 vaccines and have completed the first dose of the Phase 1 distribution plan covering healthcare workers and long term care residents," a CFVH news release announced. "We had a few additional vaccines and we contacted each primary care provider, including Dr. Lovell's office (in Thompson Falls) for names of the highest risk individuals they care for, allowing us to assure we did not waste any vaccine."
The release goes on to say the distribution of the vaccine "aligned with getting it out to the most vulnerable as soon as possible and was consistent with the new guidelines put out by Gov. Gianforte's office."
The electronic survey will help the hospital and other area healthcare officials determine the scope and priority for what has become substantial interest in the vaccine among Sanders County residents.
"We have seen a great deal of interest in vaccine availability and are doing our best to keep the community informed as updates are provided and plans are made," the CFVH official said. "Please remember this is occurring as we continue to deal with a high county infection rate leading to a lot of questions for the COVID-19 Nurse Hotline to help individuals decide if they should seek medical care."
Plans are currently underway to begin administering second doses of the vaccine, made by Moderna, with healthcare providers getting the booster shots Wednesday of this week, along with those in long term care.
The survey, which is available in electronic form only at this time, can be reached at cfvh.org/forms/covid19-vaccination-interest-survey/.

The questions on the form walk through the different levels of eligibility, according to age and other factors. Folks who don't meet initial guideline requirements to help determine their eligibility will be provided with information that relates to them.
Plans are to update and adjust the survey as more information becomes available.
"We have started a much-anticipated time in this pandemic with hope that life will soon return to a more normal routine", the CFVH release states. "A lot of work and patience is still needed during which we need to remember the basics: masks, social distancing, hand washing and staying home if sick. We at CFVH will continue to do our part and we ask that each of you do the same."
---