Prosecutors present evidence in Wood murder trial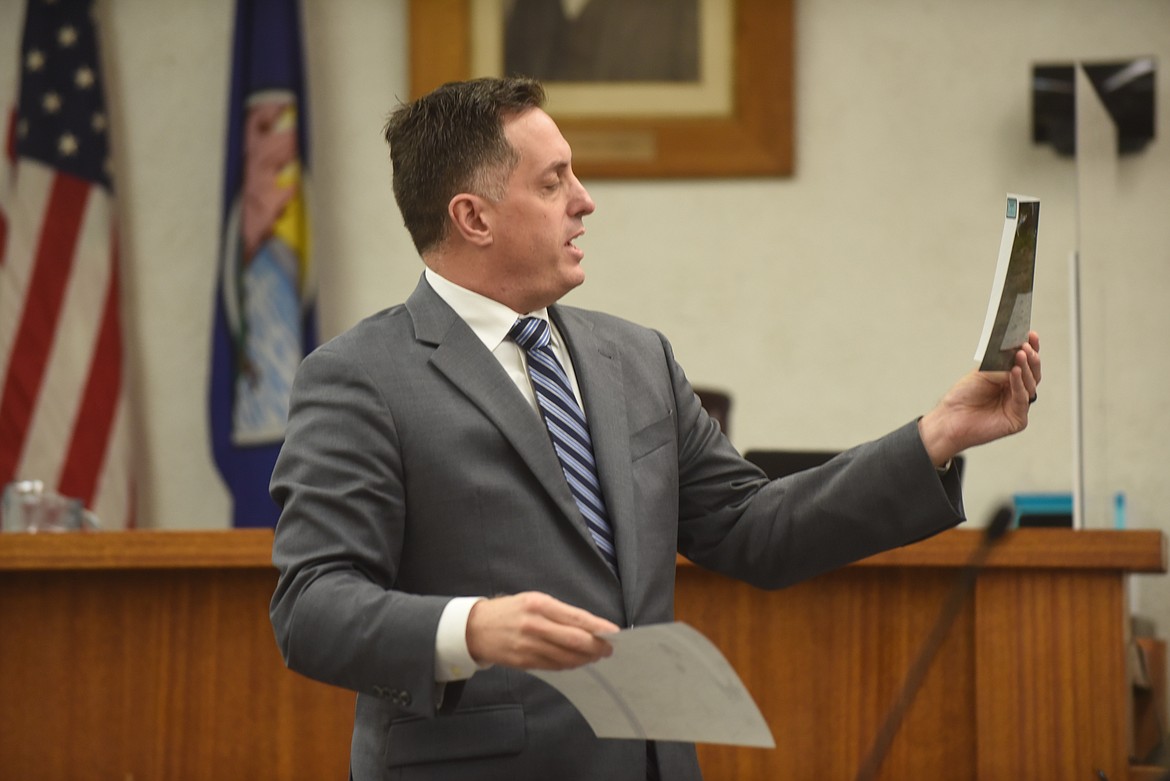 State prosecutor Dan Guzynski shows a crime scene photo to the jury Thursday during the Danielle Wood murder trial in the Sanders County Courthouse in Thompson Falls. Wood is accused of killing her ex-boyfriend, Matt LaFriniere, May 2, 2018. (Scott Shindledecker/Valley Press)
by
SCOTT SHINDLEDECKER
Clark Fork Valley Press/Mineral Independent
|
January 21, 2021 8:30 PM
THOMPSON FALLS — A writing in the margin of a religious study book found inside a murder suspect's vehicle was probably the standout detail of Thursday's testimony in the Danielle Wood trial.
Danielle Jeanette Wood, 56, is accused of shooting Matthew LaFriniere three times with a .38 caliber revolver during the evening hours of May 2, 2018, at his home in Thompson Falls.
Wood is on trial at the Sanders County Courthouse in Thompson Falls.
On May 8, investigators from the Montana Division of Criminal Investigation had a warrant to search Wood's home and vehicle. Inside her vehicle he reported collecting a book titled "Jonah."
Part of the text of the book included a question: "In your wildest dreams, what would God accomplish in this situation?"
In the margin of the page, someone wrote "Matt gone, [daughter's name] with me."
State attorney Dan Guzynski asked retired state criminal investigator Mark Hilyard what it meant to him.
"It shows intent," Hilyard said.
Wood defense attorney Greg Rapkoch objected and Guzynski withdrew the question.
He rephrased it by asking Hilyard if he had arrived at a crime scene on May 3 where someone named "Matt" had died and you became aware of a custody dispute involving [daughter's name]"
Hilyard said "yes" to both questions.
Hilyard, who retired from the department in 2018 and is now a state probation officer in Great Falls, said he was called on the afternoon of May 3 to help with the investigation along with Kevin McCarvel and Mark Strangio, along with the state Division of Criminal Investigation.
Jurors also saw crime-scene photos, which included LaFriniere and how he was found by investigators after a friend and co-worker found him May 3.
"Mark and I started working to get phone records from Verizon from a cellphone found at the scene," Hilyard said. "It wasn't working, so we contacted the company to get records to see who had called the number and any text messages."
Hilyard said it was confusing when they started going through phone records.
On May 2, Wood texted Matt, "It's way past bedtime, we'll snuggle up on the couch and wait for your call. Hope I'm doing the right thing."
Then, a message came to Danielle from another phone. It said "I'm stuck in Trout Creek."
Investigators believe they uncovered a pattern between Wood's cellphone and the other device LaFriniere reportedly had used the night of his death.
Hilyard also testified about collecting evidence outside LaFriniere's home. Photos taken by crime-scene investigators show LaFriniere laying facedown on the ground. An ax was laying next to him and there were logs nearby.
A hole in his blue plaid shirt and stains believed to be blood were apparent to Hilyard.
Another photo showed blood on LaFriniere's hand. "It was flowing downward, it tells me he was probably standing up at one time," Hilyard said.
He said a peeled orange laying on top of some debris near his body wasn't collected because agents didn't feel it had probative value to the case.
Tire tracks next to LaFriniere's body were photographed because they weren't deep enough to be cast, Hilyard said.
A piece of plywood was seen lying to the left of LaFriniere. The friend who found his body said plywood had covered the body and she had removed it to see what was underneath on May 3. Hilyard said a footprint was seen on top of the plywood.
Also at issue was whether LaFriniere's body had been moved after he was shot. According to crime-scene investigators, the body was found 17 1/2 feet from where a pool of blood was found.
Defense attorney Keenan Gallagher asked Hilyard if it were possible for LaFriniere's body to be dragged from where he fell.
Hilyard said it was possible, but he didn't see evidence of it.
"After being shot, he could've stumbled backward before he fell," Hilyard said.
Strangio testified about his involvement in the case.
"After I arrived we held a briefing about what had happened and I asked 'Who would want to hurt him?'
"I was told Matt was well-liked in the community, but I was given three names of people to talk to. One was a next-door neighbor because of a fence-line dispute, one was Danielle Wood's son, Hunter, and the other was Danielle because of their custody battle."
Strangio said the next-door neighbor was ruled out because she was elderly, disabled and in a wheelchair.
Testimony will continue Friday in a trial that is scheduled to last through next week.
---