Fire officials hosting meeting tonight in Thompson Falls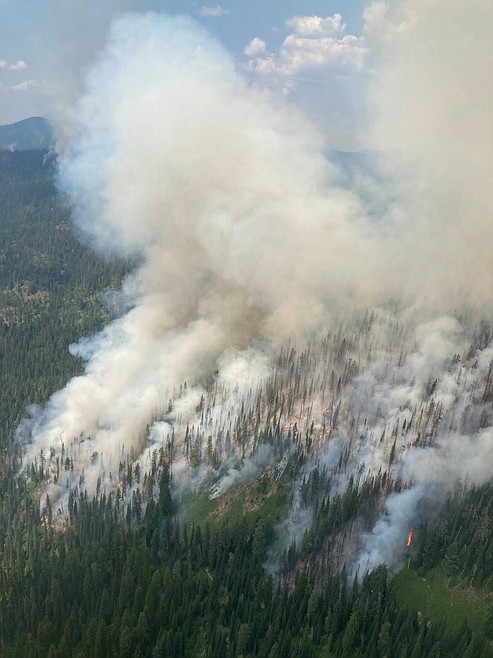 Smoke billows from a wild fire burning in steep, rugged country. (U.S. Forest Service photo)
by
SCOTT SHINDLEDECKER
Hagadone News Network
|
July 15, 2021 12:00 AM
A meeting about wild fires burning in Sanders County will be held at the Thompson Falls Community Center at 6 p.m. tonight.
Local and federal officials will provide updates to the status of work being done on wild fires scattered throughout the county. The center is located at the corner of Eddy and Golf Street.
The meeting will be recorded and available for viewing after its conclusion on the West Lolo Complex Facebook page and the West Lolo Complex YouTube Channel.
According to Northern Rockies Incident Management Team 1 Commander Mike Goicoechea, firefighters have made progress containing several fires initially assigned to the West Lolo Complex.
On the two largest, the Thorne Creek and Winniemuck fires, which total more than 1,300 acres in size and are burning northeast of Thompson Falls, crews are on the ground.
Thursday, firefighters and heavy equipment operators continued to cut down and clear trees and brush to help build lines and provide access points. Fire crews will also scout and assess heavy equipment line prep on the Graves Creek Road from Forest Service boundary to Vermillion Pass. Smoke will be visible from these fires and, at times, could be significant.
As of Thursday, four fires were contained on the West Lolo Complex.
Firefighters and equipment were released from the Sheep and Cataract fires because they are 100% contained. Command of those fires was returned to local ranger districts and patrolled by local personnel.
Fire crews were re-assigned to fires that have been prioritized by their threats to residences or other structures.
Fire crews are focusing their efforts on the Deep Lookout Mountain Fire in Mineral County due to values at risk and high probability of success.
It is listed at 327 acres, located on the upper reaches of the Deep Creek Drainage, north of Interstate 90, 12 miles east of Superior, and five miles west of Stark Mountain Lookout.
Fire officials said crews made solid progress Wednesday with heavy equipment and aerial resources. More fire crews arrived Wednesday, including two
Type 1 Hotshot crews, two Type 2 hand crews and one engine.
Thursday, crews planned to use heavy equipment to build containment lines around two spot fires located southeast of the main fire. Firefighters will also focus suppression efforts establishing direct line around the fire's perimeter.
Recent Headlines
---