'Better Together" seeks equality, inclusion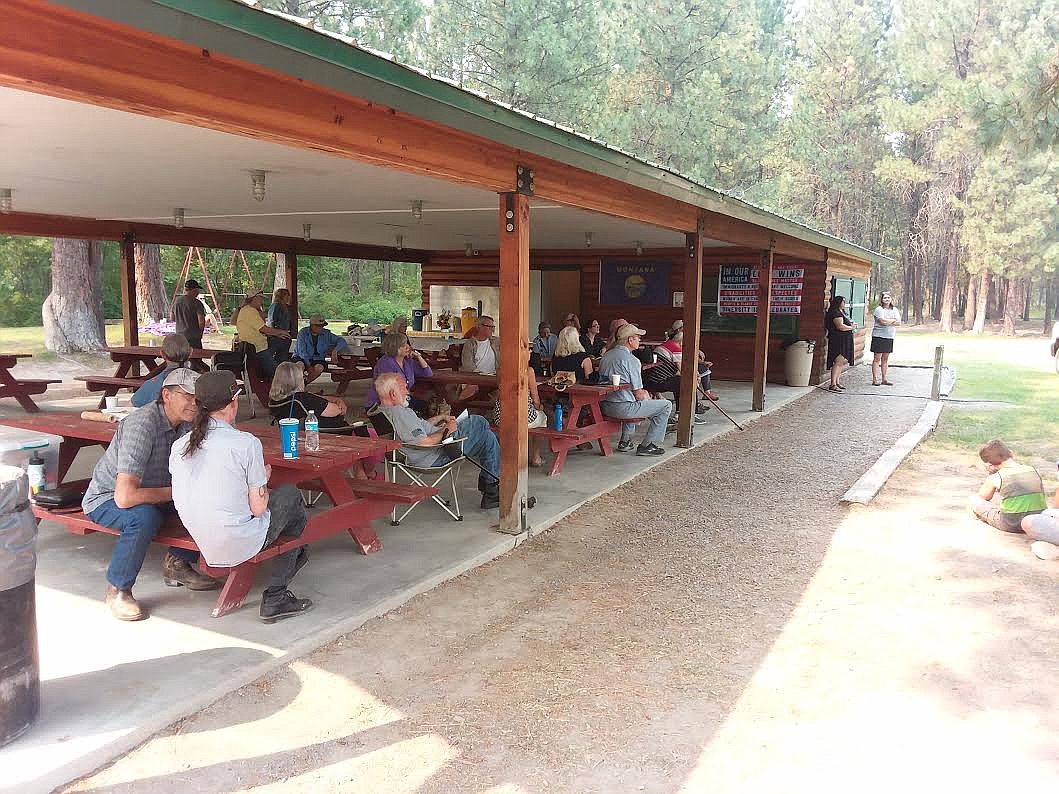 Attendees of the "Better Together" event listen to speaker Netta Linder of the Nakota Nation last Saturday in St. Regis. (Monte Turner/Mineral Independent)
by
MONTE TURNER
Mineral Independent
|
July 21, 2021 12:00 AM
Nearly 30 people were in attendance in the St. Regis Community Park on Saturday for the first 'Better Together' event organized by the Treasure State Values Human Rights Group of Mineral and Sanders counties.
"This is a gathering for people to come together in a friendly and family setting to visit with old friends and make new ones," event organizer Diane Magone said. "As a human rights group, we support the values of diversity, equality, inclusion and justice through respectful dialog and the sharing of information and advocacy. We are concerned with the rising incidents of white supremacy and racism," she said.
Magone organized the event after reading about the Red Pill Festival taking place in the same location Saturday, July 24, which is the other side of the political spectrum.
This event was to be an alternative with message of 'working together for collaboration.'
"We are living in interesting times, my friends, with pivotal decisions to make. We are facing real problems and need real solutions. In order for those to be made, we must work collaboratively with local folks and decide what is best for their community," said Travis McAdam, program director for the Montana Human Rights Network.
One of the Human Rights Network projects is to organize human rights groups and this was his first time speaking on behalf of the Treasure State Values.
Netta Lindler is a social worker in Missoula and a member of the Nakota Nation.
"Listen to your neighbor with courtesy when political differences arise in your topic of discussion. You'll make progress in difficult decisions if you sit down together and get to know each other first," she said.
Dick Darne from Alberton and Bill Smith of Lozeau were the entertainment with old time country and folk music during the event.
A table with adults helping children making prayer flags and cranes was off to the side with complimentary water and lemonade for everyone.
Walking tacos and cookies for $5 were served at the end of the speakers while mingling and fellowship took place. Doug Austin was also a featured speaker.
He and his wife, Dana, moved to Mineral County in 1968 and have been active community members for 53 years. Doug is also an attorney and lay pastor at the Fold of the Messiah near Tarkio.
"Mineral County has a history of standing up for equality. In 1999, there was a local individual associated with the Church of the Creator who organized a national convention of white supremacy to be held in Superior. Several of us in the faith-based community got wind of this and soon a petition with 450 signatures prevented it from happening," Austin said.
"Equality and racism go back to Biblical times. As hard as we try, we can only go so far because we need help from above and that is where prayer has been so critical. It was Ben Franklin, who was not known to be very spiritual himself, who said during the development of the first Constitutional Convention, that everyone needed to 'pause and pray.'
Prayer, with respectful and dignified conversations is where we must start to make any changes".

In the oval of the parking lot there were half a dozen people sitting in lawn chairs with American flags who said they were there in a peaceful protest.
---