Friends of Scotchman Peaks plans trail work events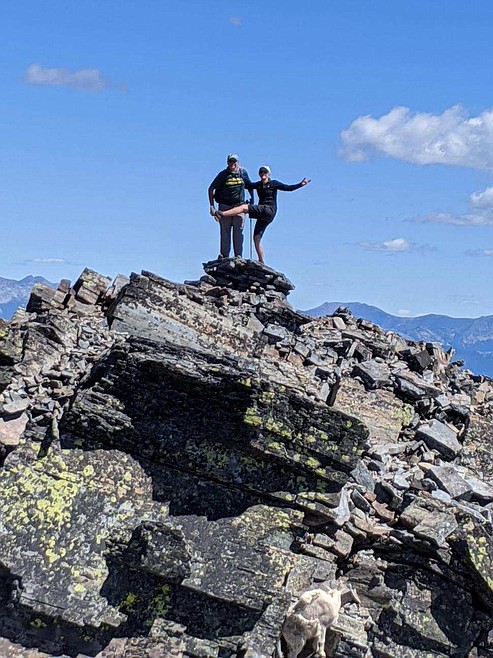 Whether signing up for a trail crew or the Ambassadors program, Friends of Scotchman Peaks volunteers are sure to see some spectacular sights. (Friends of Scotchman Peaks photo)
by
Clark Fork Valley Press
|
July 21, 2021 12:00 AM
The summer is going strong at Friends of Scotchman Peaks Wilderness and with months to go before the fall, there's no shortage of chances to make our wild backyard better for everyone.
Friends of Scotchman Peaks volunteers have done a great job improving trails and educating hikers this season. For those whom haven't had a chance to do their part yet, there are still plenty of dates coming up to pitch in while enjoying nature.
"(With trail work,) you get to see immediate results and get familiar with trails you might otherwise not know," said volunteer Bernard Sheldon. "It motivates me to get in better shape and spend more time on trails in the area."
Feel like swinging a pulaski? There are trails that need a little tender loving care.
Next up is a trail day at Ross Creek set for Sunday, July 25. Then comes more work at Star and Napoleon Gulch on Friday, July 30.
August looks to be just as busy for FSPW trail crews. Saturday, Aug. 7, will see work on Star Peak. For those who enjoyed the overnight expedition in July, another is scheduled for Morris Creek from Saturday, Aug. 21, to Sunday, Aug. 22.
Once again, you can turn out for one day or camp overnight and do both. Then it's back to Morris Creek on Friday, Aug. 27.
Finally, Goat Mountain gets a little love on Saturday, Sept. 25. Enjoy the late summer weather while spending time with fellow wilderness lovers.
Remember, trail crew volunteers are vital in guaranteeing wilderness is open and accessible for everyone. You can't climb a mountain without a well-maintained trail.
Our volunteers have already been busy, handling 55 trees, digging 1,200 feet of tread, clearing 90 drains and brushing a total of seven miles.
"I absolutely love doing this!" said volunteer Perky Smith-Hagadone.
For a different kind of volunteer effort, consider becoming a Trail Ambassador. They hit the trails to remind people that wildlife is best appreciated from a distance.
Mountain goats, in particular, seem friendly, but they're really just after hikers' salty sweat. When a human-goat encounter goes awry, people can get hurt and that can mean trails get closed.
Fortunately, trail ambassadors are on the job to make sure people give the goats their space. In the process, they've met hundreds of hikers—80 in one day alone—and spotted dozens of goats, including 12 on one outing.

Looking for other volunteer opportunities? Keep an eye on www.scotchmanpeaks.org for more events and entertainment!
Recent Headlines
---