State program introduces youths to sport of archery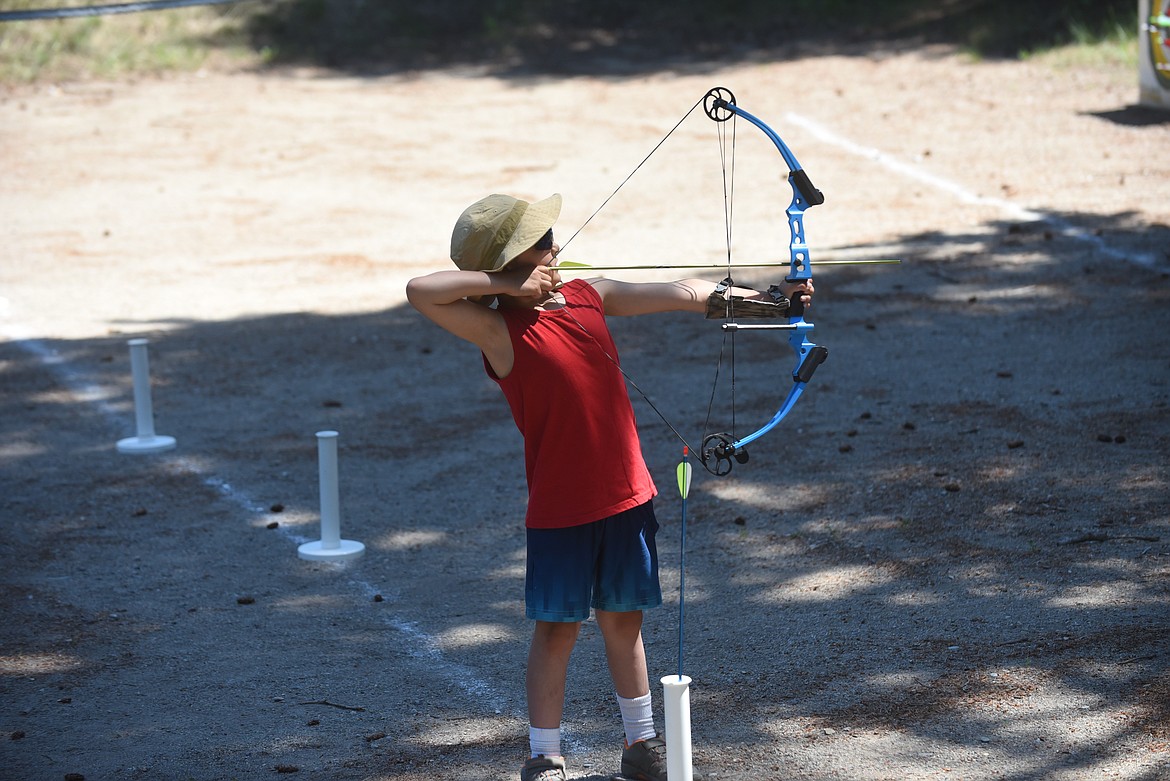 A young archer from Hot Springs prepares to let an arrow go during a recent education program at Lone Pine State Park in Kalispell. (Scott Shindledecker/Valley Press)
The arrows flew. Kids smiled, exchanged high fives and fist bumps with mom and dad, grandparents, too.
Archery continues to increase in popularity by leaps and bounds and Montana Fish, Wildlife & Parks has a program designed to help youth and educators learn a sport which has been practiced for thousands of years.
For several years, the agency has partnered with the National Archery in Schools Program, which was started in 2002, to bring the sport into schools across Montana.
According to Region 1 information and education program manager Dillon Tabish, the program is in 14 schools in Northwest Montana and 70 across the state. Kalispell has several schools involved while Somers, Kila, Marion, Plains, Thompson Falls and Hot Springs also offer it as part of their physical education curriculum.
"It's been a very successful program in Montana and Region 1," Tabish said. "It's a great activity and it gives teachers a way to diversify their PE programs."
Last Thursday at Lone Pine State Park, Tabish and Montana Wild's Ryan Schmaltz hosted a condensed version of the program for several young archers in waiting. The day before they hosted a training session for teachers.
Montana Wild is the education division of Fish, Wildlife & Parks and Schmaltz is in charge of archery clinics, trainings, educational trunks, distance learning programs and statewide education.
They were joined by Sarah Norlin and Kearstyn Cook, both with AmeriCorps, and who are working with FWP for the next year.
The quartet of instructors began their teaching with a loop of string by showing the kids how to stand and the ensuing steps before actually firing a real bow.
Schmaltz covered the 11 steps archers use in the process of firing a bow, including stance, nocking an arrow, anchor point, aiming, release and follow through.
"Learning to do it properly and doing it correctly in a consistent way is the key to success," Schmaltz said.
Then, the kids got to use Mathews Genesis bows and Easton Arrows to fire at large, bull's-eye targets which were set up a few yards from the firing line.
The pairing of Genesis bows and Easton arrows is no accident, either. The bows have no let-off and is adjustable from 10-20 pounds in draw weight at any draw length, making it easy for virtually anyone to shoot.
It was evident to observers and family members how much the kids enjoyed learning to shoot and getting better after a number of rounds of shooting.
One young man from Hot Springs whose father is a bowhunter, truly enjoyed firing arrow after arrow into the target, then a balloon.
"Atta boy," his father said. "That will put an elk down."
After a few rounds of aiming at targets, the balloons were attached to them and the fun ramped up for the shooters.
Tabish also touted archery and the program because it also teaches other things, such as "focus, discipline, patience, and the life lessons required to be successful."
"It's a fun activity and the teachers like it because it can be done inside, too," Tabish said. "We're trying to expand it, so anyone who is interested in getting involved we ask them to contact us."
Grants are also available to assist educators who wish to teach archery or other programs. Montana WILD offers a transportation and lodging grant for Montana schools (fourth-12th grades) to visit the Montana WILD Education Center and participate in a day of conservation education programs. The goal of the grant program is to assist schools in outlying areas, which are more than 50 miles from Helena, to come and learn at Montana WILD.
More information is available by contacting Schmaltz at 406-444-9946 or RSchmaltz@mt.org. In Region, contact Tabish at dillon.Tabish@mt.gov.
Schools may also buy start-up kits, which include bows, arrows, targets, floor quivers and other items, at a substantial discount through the National Archery in Schools program.
More information is available at https://www.naspschools.org/
---