Weather conditions continue dire fire forecast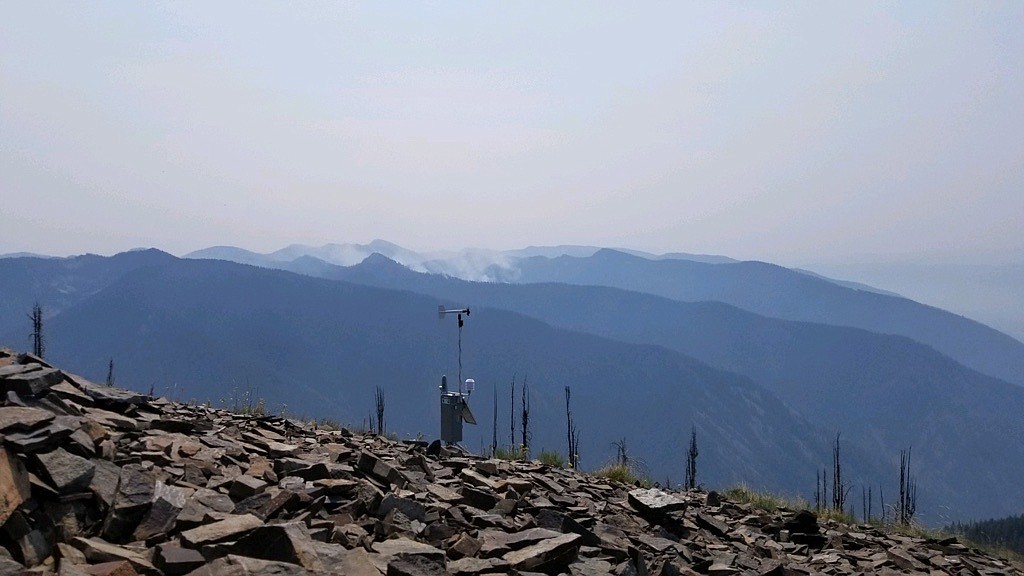 The Remote Automatic Weather Station at Cougar Peak Lookout in Sanders County helps fire officials gauge what a fire may do. In the background, smoke drifts from the Thorne Creek and Winniemuck fires. The fires grew together recently and have been burning slowly in extremely steep and rugged terrain northeast of Thompson Falls. (U.S. Forest Service photo)
by
SCOTT SHINDLEDECKER
Clark Fork Valley Press/Mineral Independent
|
July 21, 2021 12:00 AM
Fire managers and weather forecasters continued their dire predictions for air quality and wild fires with continued hot and dry conditions throughout Western Montana this week.
But there is a small hope that showers and thunderstorms may accompany a weather front this week.
According to the National Weather Service, there is a 20% chance of showers and thunderstorms in Northwest Montana between Tuesday and Wednesday. Once the front passes, winds were expected to drop into the single digits with high temperatures between 88 and 91 and lows in the high 40s for the rest of the week.
Stage II restrictions went into effect last Friday in Lincoln, Sanders, Mineral and Lake counties, meaning all campfires are strictly prohibited. Smoking is not allowed under Stage II rules except within enclosed vehicles or buildings, developed recreation sites, or while stopped in an area at least 3 feet in diameter that is cleared of debris. Operating motorized vehicles off designated roads and trails also is prohibited.
Stage II fire restrictions began last Saturday throughout most of the Missoula area, including the Flathead Reservation, Bitterroot and Lolo National Forests; BLM lands; U.S. Fish & Wildlife lands; Montana Fish, Wildlife and Parks and Montana State trust lands and private property outside of city limits classified as "forested."
In Superior, Mayor Roni Phillips issued an emergency proclamation effective from July 17-27. It prohibits building, maintaining, attending or using a campfire. Using burn barrels are also prohibited.
There is also a total ban on lighting fireworks on all public and private lands. Stage II smoking restrictions are also in effect.
The Superior prohibitions may be extended. For more information, call the Superior Fire Department at 822-4900.
According to Sanders County Wildland Fire Information, the Henry Creek fire was 100% contained last Thursday with mop-up operations continuing on the 202-acre fire. The fire, located about 7 air miles east of Plains on state Department of Natural Resources and Conservation land, started July 6.
Several planes and helicopters dropped water and fire retardant on the fire, and several engines and tenders from the DNRC and the Plains/Paradise Rural Fire Department battled the blaze. Three DNRC engines and a rural fire tender remained on the fire Thursday and firefighters planned on gridding the fire area and putting out isolated smokes in the next few days.
Thursday evening in Thompson Falls, fire officials from Sanders County and the West Lolo Complex held a meeting to update residents on fires burning in Sanders and Mineral counties.
They reported the Thorne Creek and Winniemuck fires have grown together and it will be identified as the Thorne Creek Fire. The fire, located northeast of Thompson Falls, has grown minimally and is at about 1,690 acres and still located in rugged terrain in the Cube Iron-Silcox region at high elevations above 6.500 feet.
Last Friday, fire crews planned to continue scouting and assessing how to prepare along Graves Creek Road from the Lolo National Forest boundary to Vermillion Pass.
On Sunday, heavy equipment continued with line preparation along Bark Table Road to Priscilla Peak and Thompson River Road, and from Bark Table Road to Montana 200. Monday, firefighters will utilize heavy equipment to construct indirect control lines from Weber Gulch Trailhead to the Thompson River Road.
Sanders County Emergency Management Director Bill Naegeli explained that evacuation zones and dates have been established if the fire does come down to the valley.
"We have a notification system set up to alert people of evacuations," Naegeli said. "Cell phone users can call in to register for notifications and they can opt out when fire season ends."
The number is 827-6955.
Northern Rockies Incident Management Team 1 Operations Sections Chief Andy Huntsberger said the Thorne Creek Fire will "be here for the foreseeable future unless there is significant rain."
"It's still in very steep and rocky terrain and while it is rated a full suppression fire, it's not viable to go up there with hand crews or even aerial resources at this point," Huntsberger said. "We'll take a look at more indirect approaches such as Graves Creek Road or Thompson River Road to put fire lines in and we'll be looking to work with private landowners to gain access."
Huntsberger also said winds from the east could push the fire downhill, which would cause much more concern.
"Right now, we're seeing gray smoke, but when we start seeing black smoke it means it's gaining intensity and producing more energy and spot fires," team fire behavior analyst Brian Anderson said.
Some residents who attended the meeting asked what the expectations were for the Thorne Creek Fire.
"We can reasonably predict the weather a few days in advance, but much more than that is very unpredictable and the weather will dictate what the fire does," Anderson said.
Stage I fire restrictions began last Saturday across Flathead County, the Flathead National Forest, Glacier National Park, and the Montana Department of Natural Resources and Conservation's Kalispell, Stillwater and Swan units.
The rules prohibit campfires except for designated sites with approved fire rings.
One new wildfire began last Thursday evening in the Kootenai National Forest. The Ruby Fire is listed at 86 acres and is located northwest of Troy.
The Burnt Peak Fire was at 1,977 acres with containment at 13%.
Friday, the Great Basin Type 2 Incident Management Team took command of the fire. A fire camp is located adjacent to Montana 56, south of the junction with U.S. 2.

Motorists are asked to use caution traveling through the area, as heavy equipment will be entering and leaving the camp, especially in the mornings and evenings.
---