Thompson Falls' Burk is a state champ in shot put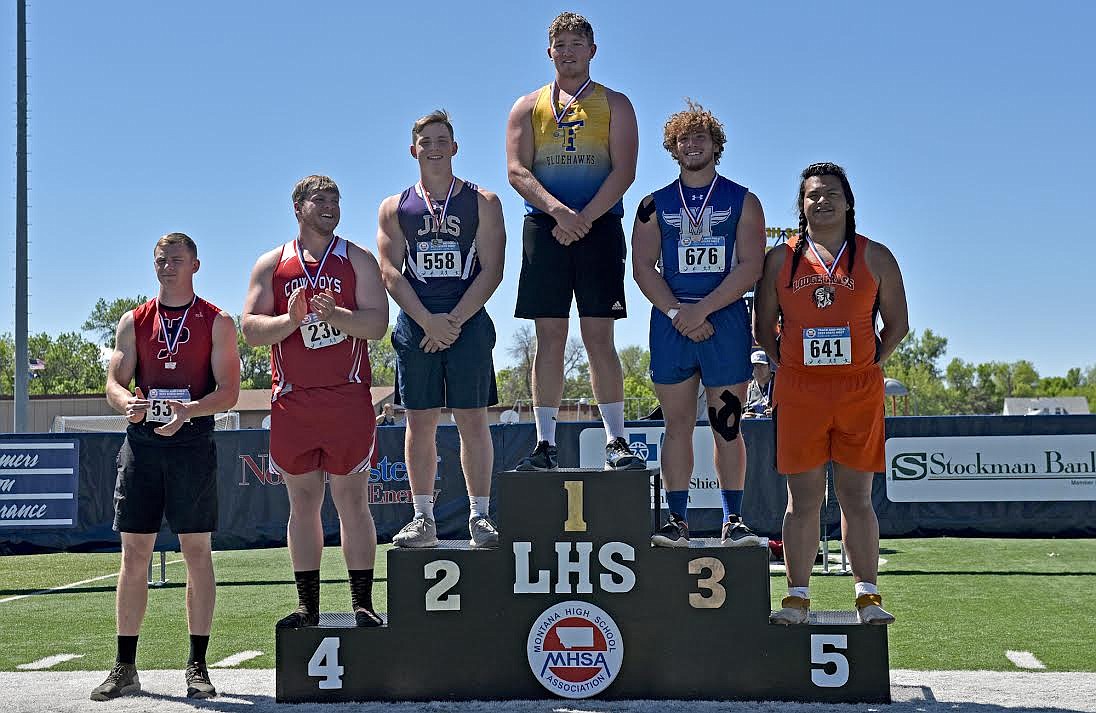 Cody Burk stands atop the podium after winning the Class B shot put state title at the Montana State Track and Field Meet in Laurel on Saturday. (Whitney England/Whitefish Pilot)
by
SCOTT SHINDLEDECKER
Clark Fork Valley Press/Mineral Independent
|
June 2, 2021 12:00 AM
All year, Thompson Falls senior Cody Burk has been among the best throwers in Montana and Saturday at the Class B state championships in Laurel, he cemented that status with a state title in the shot put.
Burk's personal-best shot put of 49 feet, 11 inches was good enough to win a AA title and also place third in A.
Burk added more hardware to his collection when he threw the discus 136 feet, 1 inch to place fourth.
Teammate and distance runner Justin Morgan has also been among Montana's better runners. He was second in the cross country championships last fall and last weekend, he added two more medals to his collection on the track.
Morgan was second in the 3,200 run in 9:54.09 and fourth in the 1,600 in 4:34.17.
The Lady Hawks had some near misses in their respective quests for state medals.
Senior Jody Detlaff was seventh in both the shot put and discus, just missing medals. She did set a personal best in the shot at 32 feet, 11 inches. Detlaff was eighth in the high jump at 4 feet, 8 inches, shared by freshman teammate Hattie Neesvig.
Chesney Lowe was seventh in the pole vault at 8 feet.
Complete results may be found at athletic.net.
---